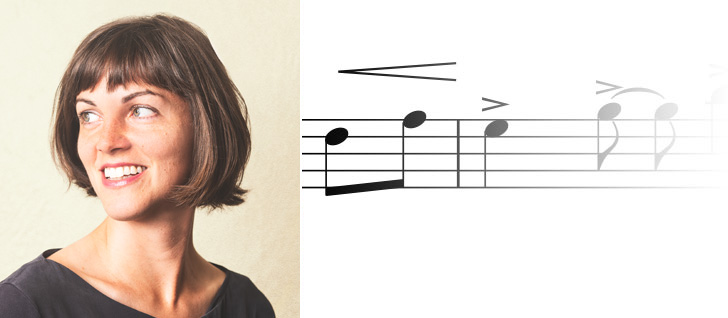 Julie Herndon
Assistant Professor, Music Technology, Composition
Julie Herndon is a composer, performer, and sound artist exploring the body's relationship to sound.  
Her work combines musical instruments and personal technologies and has been described as "truly brilliant and utterly affected" (Kulturpunkt), "like a signal from another world" (Tages-Anzeiger), and "blended to inhabit a surprisingly expressive space" (SFCV). Her compositions and installations have been presented at MATA Festival and National Sawdust in New York, Artistry Space in Singapore, Museo de Arte Contemporaneo de Oaxaca (MACO) in Mexico, Music Biennale Zagreb (MBZ), Sogar Theater in Zurich, and by Forest Collective in Australia. Recent collaborations include the Decoder Ensemble, JACK Quartet, Ensemble Dal Niente, and Kukuruz Quartet. 
Herndon is the recipient of the Elisabeth Crothers Award for Music Composition, American Composers Forum Bay Area Residency, and Georges Lurcy Fellowship. As an artist in residence, she has collaborated with institutions such as the Cité Internationale des Arts, Rock and Roll Hall of Fame, Center for Music and Audio Technologies (CNMAT) at Berkeley, and Djerassi Artist Residency Program. She is currently composer in residence with the Peninsula Women's Chorus and a curator at the San Francisco Center for New Music.
Prior to joining the the Cal Poly Music Department, Herndon taught composition and electronic music production techniques at San Francisco Conservatory of Music (SFCM) and the Center for Computer Research in Music and Acoustics (CCRMA) at Stanford. She holds a DMA from Stanford University, MA in Music Composition from Mills College, and BA from St. Mary's College of Maryland. Her writing, "Embodied Composition: Composing the Body with Sound" can be found in Leonardo with MIT Press. 
For sounds, visit Infrequent Seams, pan y rosas, Innova Records, and www.julieherndonmusic.com