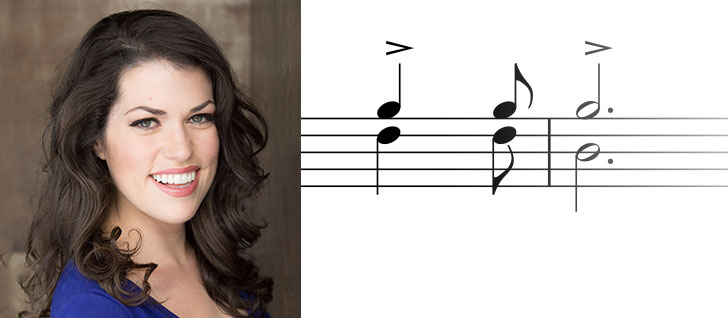 Soprano Amy Goymerac is thrilled to begin her 2019-20 season with a return to Opera San Jose singing Dew Fairy in "Hansel and Gretel," and both Gretel ("Hansel and Gretel") and Adele ("Die Fledermaus") for its student matinée productions. The rest of her season will live on the concert stage. In 2020 she will be the soprano soloist for both Gustav Mahler's Symphony No. 4 and Samuel Barber's "Knoxville: Summer of 1915" with San Luis Obispo Symphony and both the Francis Poulenc "Gloria" and Gabriel Fauré "Requiem" with the San Luis Obispo Master Chorale, her debut engagements with both organizations.
The 2018-19 season was filled with professional firsts. One bucket-list item — to premiere a role in a new opera — was realized in April 2019, when Goymerac portrayed the role of Charlotte in the concert premiere of Kirke Mechem's newest opera, "Pride and Prejudice," with Redwood Symphony in Redwood City, California. She also performed two of her Mozartean dream roles: Pamina in "The Magic Flute" with Opera San Luis Obispo, continuing as its resident artist, and Susanna in "Le nozze di Figaro" with Center Stage Opera in Southern California.
In the 2017-18 season, Goymerac had her Opera San Jose debut as Georgette in "La rondine" as well as Annina in "La traviata" with Independent Opera Company in Los Angeles. In the fall she portrayed the role of the Aunt and Kate Pinkerton (cover) in Opera San Luis Obispo's production of "Madama Butterfly." In spring 2018 she brought her saucy rendition of Parthénis in "La belle Hélène" with Pocket Opera of San Francisco and concluded the year with the ever-obnoxious Gertie Cummings in "Oklahoma!" with Opera San Luis Obispo.
Goymerac was the 2017 winner of the Mayflower Choral Society Scholarship, an award given each year to a small number of promising singers in the San Francisco Bay Area.
In the world of early music, she has performed a recital of works by Barbara Strozzi with the Berkeley Festival, two roles in two rarely performed operas at the Amherst Early Music Festival in 2017: Fortune from Francesco Cavalli's "L'Erismena" and Mrs. Peachum from John Gay's "The Beggar's Opera," plus several concerts and operas with the San Francisco Conservatory of Music Baroque Ensemble. One of her favorite performances was when she portrayed three roles in the same evening: Fortuna, Valletto and Pallade in Claudio Monteverdi's "L'incoronazione di Poppea."

A skilled comedic actress, Goymerac charmed hundreds of children in 2017 in her portrayal of the mischievous Banana Rabbit in a contemporary children's opera by Hector Armienta titled "Los Coyotes y Las Conejas" with Opera Cultura. With over 25 performances at elementary schools and public venues throughout the Bay Area and Monterey County, this lovable bilingual piece was a highlight of her season.

Goymerac earned her Master of Music degree from the San Francisco Conservatory of Music, where she studied vocal performance with Sylvia Anderson. She holds a Bachelor of Arts in philosophy and minors in music and religious studies from Cal Poly. She was awarded the Janet Lee Memorial Scholarship for her dedication and work within the Music Department.
Goymerac currently studies with Sheri Greenawald in San Francisco, and lives in San Luis Obispo with her husband, Michael, and dog, Bogie.