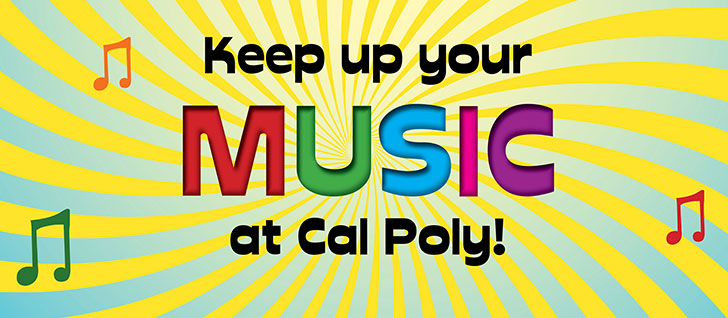 Keep up your music at Cal Poly! There's a place for you!
Music Department Ensembles
Bands
Additional Ensembles

Cello Ensemble

The cello's incredible versatility gives it a unique place in the world of ensemble playing. With its historic roots as a bass line instrument and a tone and range that evoke the human voice, the cello is called to play every basic musical role whether in a string quartet, a symphony orchestra, a jazz ensemble, or a rock band. Like other department ensembles, Cello Ensemble is both a class and an ensemble. As a class, we will dive deeply into how each role — bass line, melody, inner voice — requires different ways of playing and listening, and how to play them so the ensemble "grooves," rather than "slogs." As an ensemble, we will build our repertoire of pieces, which may include: Baroque sonatas with continuo; music for small and large cello ensemble; and arrangements from a mix of genres, such as Western classical, classic rock, jazz, world music, and more. Each quarter will culminate in a performance and/or recording project. Cello Ensemble is a relatively new ensemble at Cal Poly, and now is a great time to join and shape it for the future. Cello Ensemble will meet virtually viz Zoom for the fall quarter 2020. For more information, please contact ensemble director Laura Gaynon.

Guitar Ensemble

The Cal Poly Guitar Ensemble is a group of classical guitarists whose focus is learning repertoire for performance. The repertoire is generally classical in nature, though other genres are sometimes included. Concerts consist of ensemble pieces as well as solo, duo and trio performances. Students must be able to read music on the guitar and be proficient in classic guitar technique "beyond a beginning level." For more information, please contact the guitar instructor Jim Bachman.

Percussion Ensemble (not offered fall quarter)

The Polyrhythmics, Cal Poly's Percussion Ensemble, is dedicated to performing a wide range of percussion chamber music, from modern masterworks to the "classics" of the twentieth century. Comprised of music majors and non-music majors alike, the performers bring a diversity of experience to the group, but share in the common goal of committing themselves wholly to the music. The Polyrhythmics are known for their dynamic and thoughtful performances of some of the genre's most fascinating works. The director of the ensemble is Dr. John Astaire.
Brass Ensembles

The members of the Brass Ensembles include Cal Poly students from a variety of majors. Several groups comprise the ensembles, including two brass quintets and a brass choir. The Brass Ensembles perform concerts each quarter, and are also featured on the annual "A Night at the Mission" Chamber Ensemble Concert.

String Ensembles

Several string chamber groups are active each quarter through the String Ensembles program. These groups involve students from many majors on campus, and range from string trios, quartets and quintets to chamber groups that also include piano or wind instruments. These chamber ensembles perform on a yearly "Evening of String Music" recital as well as for school functions, professional engagements and student recitals. The String Ensembles are coordinated by David Arrivée, conductor of the Cal Poly Symphony. Each group is coached by Arrivée and periodically by other faculty and outside artists. For more information on the String Ensembles, contact Dr. Arrivée.
Frequently Asked Questions
Why should I join ensembles?

The thrill of being in a powerful university music ensemble that fills the hall with beautiful music for a large audience is something that will instill memories for a lifetime. Membership in a close-knit group of proud, enthusiastic individuals who love to perform will make your college days meaningful and joyful. Don't miss it!

Will I have time to participate?

Since 80% of most ensemble members major in something other than music, they are carefully designed to be compatible with all academic majors on campus. With only 4 or fewer hours of rehearsals per week, most students have no problem working an ensemble (or more!) into their busy schedules. The directors are always eager to assist new students with any scheduling conflicts that may arise. Please note the rehearsal schedules and do your best to avoid class conflicts.

Are instruments available?

Yes, for a small use fee ($20) students can check out instruments. Most of these instruments are the finest made. The use fee entitles you to a locker (based on availability) and practice room time.

Any other ensembles?

Yes!—including Trombone Choir, Clarinet Ensemble, Saxophone Quartets and Wind Quintets.

When can I sign up to audition?

Sign up for your interview/audition during Week of Welcome (WOW) or during the first week of classes in the Davidson Music Center (building 45). See the pages of the ensembles in which you're interested to get specific details about auditions.