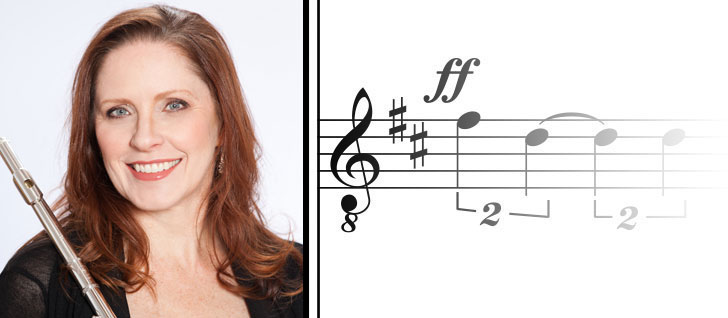 Suzanne Duffy earned a master's degree in flute performance from Indiana University and a Bachelor of Music from Northwestern University. In addition to post-graduate studies at SUNY-Stony Brook, she was a four-year member of the New World Symphony, a Miami Beach-based orchestral fellowship training program led by Michael Tilson Thomas. Her principal teachers have included Carol Wincenc, Peter Lloyd, Walfrid Kujala, Samuel Baron and Mary Louise Poor. Duffy has participated in master classes with William Bennett, James Galway and the late Geoffrey Gilbert.
Duffy is principal flute for Symphony of the Vines, Opera San Luis Obispo, San Luis Obispo Master Chorale and Orchestra Novo, as well as a tenured member of Opera Santa Barbara as second flute/piccolo. She has performed with Ventura College Opera Theatre, Palm Beach Opera, Santa Barbara Chamber Orchestra, Santa Barbara Symphony, Florida West Coast Symphony, Florida Philharmonic, and the Indianapolis Symphony, and has served as guest principal flute for the San Luis Obispo Symphony and Santa Maria Philharmonic.
In March 2020, she was a featured faculty performer with the Cal Poly Wind Ensemble for Stephen Bulla's "Rhapsody" in the Performing Arts Center. She was scheduled to perform the work with the group on March 21 for the 2020 College Band Directors National Association Western/Northwestern Division Conference at the University of Puget Sound in Tacoma, Washington, but he host organization needed to cancel the conference due to the COVID-19 pandemic. In May 2019 she was featured in Mozart's Flute and Harp Concerto in C Major, with Symphony of the Vines for its season finale concert at Mission San Miguel. In December 2018 she was a soloist with harpist Marcia Dickstein for the Cal Poly Symphony's performance of Howard Hanson's "Serenade for Solo Flute, Harp and String Orchestra."
Chamber music collaboration is an important part of her enjoyment as a flutist. In February 2019, her trio with flutist Carol Houchens and pianist Lynne Garrett, made its debut for the Symphony of the Vines chamber music series at Cass Winery in Paso Robles. She made a three-concert tour in June 2019 as part of Duo Solaré, Duffy's longstanding duo with guitarist James Bishop-Edwards. It included performances for the Ventura Guitar Society and at the San Luis Obispo Museum of Art. She collaborated with Santa Barbara-based pianist Kacey Link in May 2019 for the Santa Barbara Music Club's series finale program. More recitals are being planned for upcoming seasons.
Duffy and seven other flutists from the U.S. and Mexico are set to give a rescheduled performance titled "Looking Bach and Forward: Honoring Samuel Baron" for the National Flute Association's convention in Washington, D.C., in August 2021.
Duffy is a featured soloist in a recording project of music by UCSB Black Studies composer Earl Stewart ("From the Heart," 2007) and has appeared on recordings for folksinger Susan Marie Reeves, fiddle player Michael Mendelson, and three recordings for the Santa Barbara-based Irish band, Dannsair. Duffy's 2013 "Music at Trinity" recital, with New West Symphony principal flutist Paul Fried and pianist Christopher Davis, was also broadcast on KDB 93.7 radio.
A member of Cal Poly's Music Department since fall 2013, Duffy has held flute instructor positions at Indiana and Indiana State Universities. In addition to her successful private studio teaching in the greater San Luis Obispo and Santa Barbara communities, she also has a diverse arts administration background with symphonies, ballet companies and chamber music organizations, including having previously served as production manager for Camerata Pacifica, of Santa Barbara, Scholarship Chair for the Santa Barbara Music Club, and most recently artistic operations coordinator for the Santa Barbara Chamber Orchestra.