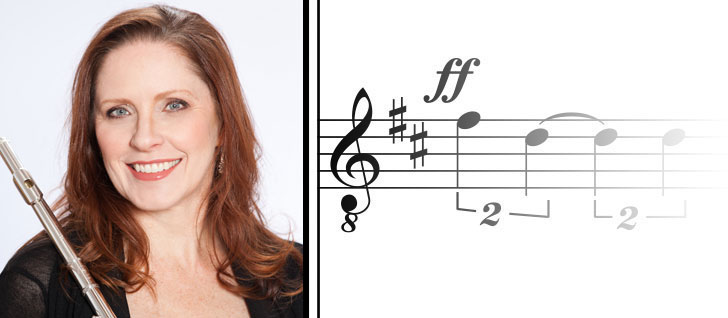 Suzanne Duffy earned a master's degree in flute performance from Indiana University and a Bachelor of Music from Northwestern University. In addition to post-graduate studies at SUNY-Stony Brook, she was a four-year member of the New World Symphony, a Miami Beach-based orchestral fellowship training program led by Michael Tilson Thomas. Her principal teachers have included Carol Wincenc, Peter Lloyd, Walfrid Kujala, Samuel Baron and Mary Louise Poor. Duffy has participated in master classes with William Bennett, James Galway and the late Geoffrey Gilbert.
Duffy is principal flute for Symphony of the Vines, Opera San Luis Obispo, San Luis Obispo Master Chorale and Orchestra Novo, as well as a tenured member of Opera Santa Barbara as second flute/piccolo. She has performed with Ventura College Opera Theatre, Palm Beach Opera, Santa Barbara Chamber Orchestra, Santa Barbara Symphony, Florida West Coast Symphony, Florida Philharmonic, and the Indianapolis Symphony, and has served as guest principal flute for the San Luis Obispo Symphony and Santa Maria Philharmonic.
Duffy and seven other flutists from the U.S. and Mexico participated in a virtual collaborative performance titled "Looking Bach and Forward: Honoring Samuel Baron" for the National Flute Association (NFA) in August 2021. Duffy was also very pleased to have two student competition winners for the 2021 NFA convention:  a high school junior for the High School Flute Choir and a recent Cal Poly graduate in the Jazz Flute Big Band ensemble! Duffy also served as a judge for the first NFA Adult Amateur Flutist Competition and was again a flute evaluator for California Music Educators Association-Central Section's 2021 virtual Solo Festival
A member of the Cal Poly Music Department since Fall 2013, Duffy has held flute instructor positions at Indiana and Indiana State Universities. In addition to her successful private studio teaching in the greater San Luis Obispo and Santa Barbara communities, she also has a diverse arts administration resumé with symphonies, ballet companies, and chamber music organizations, including having served as Production Manager for Camerata Pacifica of Santa Barbara, Scholarship Chair for the Santa Barbara Music Club, and Artistic Operations Coordinator for the Santa Barbara Chamber Orchestra.