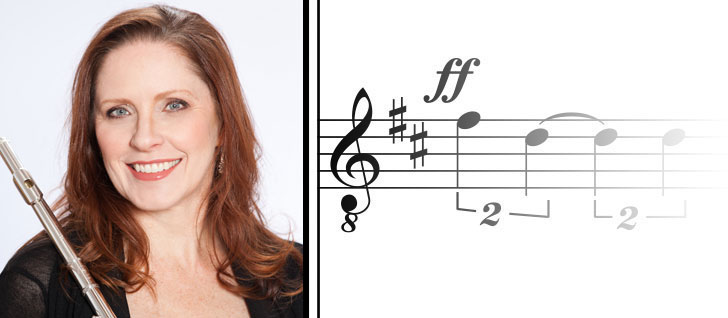 Suzanne Duffy earned a master's degree in flute performance from Indiana University and a Bachelor of Music from Northwestern University. In addition to post-graduate studies at SUNY-Stony Brook, she was a four-year member of the New World Symphony, an orchestral fellowship training program founded and led by artistic director/principal conductor Michael Tilson Thomas. Duffy's principal teachers have included Carol Wincenc, Peter Lloyd, Walfrid Kujala, Samuel Baron, Mary Louise Poor, and she has participated in master classes with William Bennett, James Galway and the late Geoffrey Gilbert.
Duffy is principal flute for Opera San Luis Obispo, San Luis Obispo Master Chorale, Orchestra Novo and Lompoc Pops, as well as second flute/piccolo for Opera Santa Barbara. She has performed with Ventura College Opera Theatre, Palm Beach Opera, Santa Barbara Chamber Orchestra, Santa Barbara Symphony, Florida Philharmonic, the Indianapolis Symphony, and has served as guest principal flute for the San Luis Obispo Symphony and Santa Maria Philharmonic.
In fall 2022 Duffy performed as principal flute for Opera San Luis Obispo's "Carousel" production, and Ventura Community College Opera Theatre's presentation of Britten's "Turn of the Screw," as well as for the San Luis Obispo Master Chorale's "The French Connection" (Fauré and Poulenc) program. She played second flute/piccolo and served as orchestra manager for Opera Santa Barbara's "Tosca" and "La Scala di Seta" productions.
Other recent performance highlights include having performed J.S. Bach's "Musical Offering" Trio Sonata with Cal Poly faculty colleagues in virtual recital for Cal Poly's January 2021 Bach Week. In March 2020, she was a featured with the Cal Poly Wind Ensemble in Stephen Bulla's "Rhapsody" in the Performing Arts Center. On the June 2022 Lompoc Pops concert, Duffy was a featured soloist with principal rlarinet Ryan Glass for  Camille Saint-Saëns "Tarantella," to a standing ovation!
A 2021-22 season chamber music highlight was working with composer Deon N. Price and Cal Poly colleagues, Amy Goymerac, soprano; and Susan Azaret-Davies, piano; to bring together Price's song cycle, "To All Women Everywhere," for a performance of her works in San Francisco's Interfaith Center at the Presidio series in March 2022. Recording sessions took place the next day to eventually be a part of a recording release of Price's works.  In preparation for this song cycle project and in honor of International Women's Day (March 8), the trio performed a fuller recital program in the Performing Arts Center Pavilion around the song cycle work featuring a few other selections by Price as well as works by other women composers.
In 2020, Duffy was part of a collaborative performance proposal with seven flutists from around the U.S. and Mexico titled "Looking Bach and Forward: Honoring Samuel Baron" which was accepted for the August 2020 National Flute Association (NFA) convention in Dallas. Due to the COVID-19 pandemic, that performance was deferred to the August 2021 NFA virtual convention. For spring 2021, Duffy served as a first-round judge for the debut NFA Adult Amateur Flutist Competition and also flute evaluator for CMEA-Central Section's 2021 virtual Solo Festival. For the NFA's 2022 annual convention in Chicago, two of Duffy's high school students were selected by competitive recorded audition to join approximately 20 others from around the country to perform in the 2022 High School Flute Choir!  Two more high schoolers are aiming for the August 2023 NFA Convention in Phoenix (along with other students aspiring for other competitions:  Adult Amateur Competition and the Jazz Big Band)!
A member of the Cal Poly Music Department since fall 2013, Duffy has held flute instructor positions at Indiana and Indiana State Universities. In addition to her successful private studio teaching in the greater San Luis Obispo and Santa Barbara communities, she also has a diverse arts administration resumé with symphonies, ballet companies, and chamber music organizations, including having served as production manager for Camerata Pacifica of Santa Barbara, scholarship chair for the Santa Barbara Music Club, and artistic operations coordinator for the Santa Barbara Chamber Orchestra.