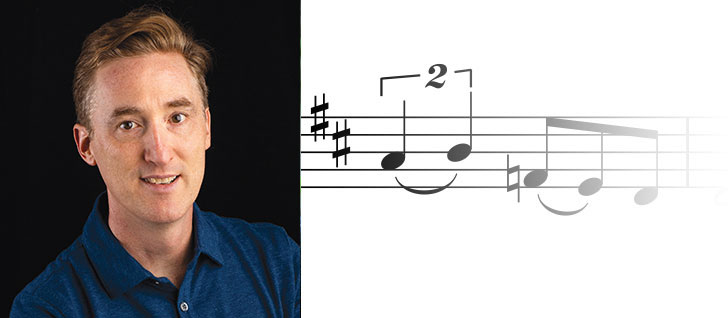 Contact information
Related Links
Originally from Monterey, Calif., David Arrivée has been fortunate to work with a variety of ensembles as a conductor, pianist, harpsichordist and clarinetist. He is director of the Cal Poly Symphony and a professor in the Cal Poly Music Department, where he teaches theory, musicianship, conducting, topics in history and chamber ensembles. For seven years, he also served as the associate conductor of Festival Mozaic (formerly San Luis Obispo Mozart Festival).  
With music Professor Thomas Davies, he founded Cal Poly's annual Bach Week, which brings together faculty, students and guest artists to perform the vocal and instrumental works of J.S. Bach. He has also conducted Bach cantatas with the Trinity Baroque Orchestra of Trinity Wall Street in New York, N.Y.
Before moving to the Central Coast, he served as the assistant conductor of the Chicago Youth Symphony Orchestras and the Elmhurst Symphony Orchestra, and taught music theory at Northwestern University. He has guest conducted the Prelude Choir in Budapest, Hungary; the Charles University Choir in Prague, Czech Republic; Prague Singers and Cantus Novus Wien in Vienna, Austria. In the U.S. he has guest conducted the Green Lake Festival Orchestra, San Luis Obispo Symphony, Princeton University Orchestra, Auros Ensemble for New Music, Bradley University Orchestra, South Bend Youth Symphony Orchestra and the Northwestern University Philharmonic.
Arrivée earned a bachelor's degree from Princeton University and a Master of Music degree in orchestral conducting from Boston University, where he studied with David Hoose. While in Boston, Arrivée was active as a clarinetist in the Boston University Symphony Orchestra, as a vocal accompanist and as a conductor. He served as the assistant conductor of the Boston University Symphony Orchestra and the Marsh Chapel Choir of Boston University, conducted the Auros Ensemble for New Music and sang with the Cantata Singers.
During a period abroad, Arrivée lived and worked in Leipzig, Germany, where he served as a pianist and conductor for the Schola Cantorum. He moved to Chicago to pursue a doctorate in orchestral conducting at Northwestern University with Victor Yampolsky, and wrote a dissertation on the use of other arts in educational concerts.
He has participated as a conducting fellow at the Tanglewood Music Center, as a pianist in the Schumann Duos Program at The Britten-Pears School for Advanced Musical Study, England, and as a conductor at the International Workshop for Conductors in the Czech Republic. He has studied under Robert Spano, Larry Rachleff, Gustav Meier, Zdenek Macal, Charles Bruck, Victor Yampolsky, David Hoose and Michael Pratt, among others. He lives near the ocean with his wife, Janet Joichi, and son.