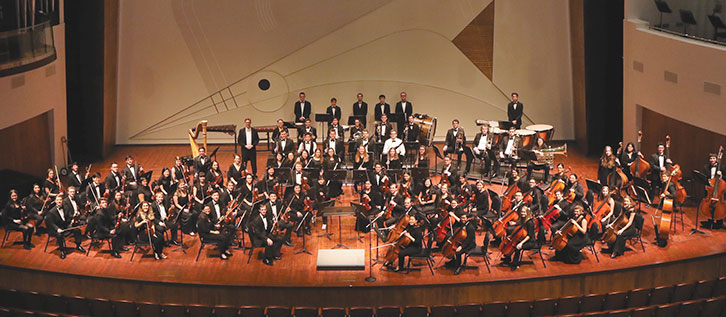 Cal Poly Symphony Winter Concert: Soloist Showcase and Music from the Movies
Sunday, March 5, 2017
3 p.m. Harman Hall, Performing Arts Center
Every year the symphony holds a solo competition for student musicians from any major. The prize is a performance with the symphony! Come hear this year's winners and celebrate musical talent from across the university.
The symphony will also perform music from the movies, including Joe Hisaishi's music from the Studio Ghibli films "Howl's Moving Castle," "Spirited Away" and "My Neighbor Totoro."
Tickets ($12 and $14 general, $9 and $12 students)


Cal Poly Symphony Spring Concert: Symphonie Fantastique
Saturday, June 10, 2017
8 p.m. Harman Hall, Performing Arts Center
In September 1827, the young composer Hector Berlioz attended a performance of "Hamlet" at the Paris Odéon and saw the actress Harriet Smithson for the first time. The evening changed his life. The instant and passionate love she sparked in Berlioz did not lead at first to the relationship he pursued but did inspire him to write what the great annotator Michael Steinberg has called "the most remarkable First Symphony ever written."
Don't miss this most autobiographical of symphonies in a visceral performance. Witness the composer's dreams, the vision of his beloved across a crowded dance hall, his lonely musings and finally his hallucinogenic vision of his own execution and the grotesque celebration that follows.
Tickets ($12 and $14 general, $9 and $12 students)