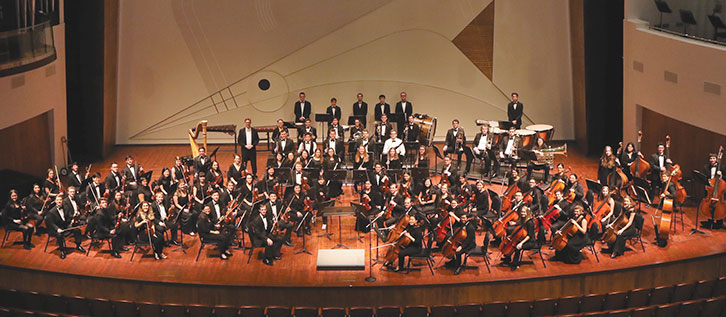 Cal Poly Symphony Spring Concert: Symphonie Fantastique
Saturday, June 10, 2017
8 p.m. Harman Hall, Performing Arts Center
The Cal Poly Symphony's season finale will begin with two small-scale works: Paul Dukas' "Fanfare to precede 'La Péri,'" written for orchestral brass, and Richard Strauss' "Serenade in E-flat Major, Op. 7," written for orchestral woodwinds. These short works are intended to complement the massive work that follows.
After a brief intermission, the full orchestra will assemble to perform Hector Berlioz' "Symphonie Fantastique," which has been called "the most remarkable First Symphony ever written." The work reflects Berlioz' early life: in 1827, the young composer attended a performance of "Hamlet" at the Paris Odéon theater and saw actress Harriet Smithson for the first time. The passionate love she sparked in Berlioz did not lead at first to the relationship that he pursued, but inspired him to write this symphony.
In the program Berlioz handed out to the first audience, he describes in lavish prose how the music reflects his dreams, the vision of his beloved across a crowded dance hall, his lonely musings in the countryside, and finally his hallucinogenic vision of his own execution and the grotesque celebration that follows. Don't miss this most autobiographical of symphonies in live performance.
Tickets ($12 and $14 general, $9 and $12 students)