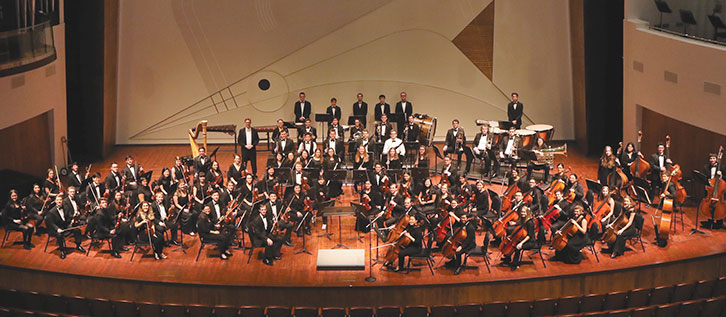 Cal Poly Symphony Fall Concert: Rachmaninov and Dvořák
Sunday, Dec. 4, 2016
3 p.m. Harman Hall, Performing Arts Center
The Cal Poly Symphony will be joined by pianist W. Terrence Spiller for its Fall Concert.
Spiller will perform Sergei Rachmaninov's Piano Concerto No. 1 in F-sharp minor. It was written at breakneck speed when the composer was 18, said symphony conductor David Arrivée.
The concerto earned the young composer high marks and the Moscow Conservatory's Great Gold Medal when it was performed among other student works. Dissatisfied, Rachmaninov revised the work years later and declared, "I have rewritten my first concerto; it is really good now."
Spiller, chair of the Cal Poly Music Department, has won awards in international piano competitions, and has performed across the U.S. as soloist, recitalist, chamber musician and accompanist.
The symphony will also perform Anonín Dvořák's Symphony No. 8 in G major, which alternates frequently between dark and cheerful music. Despite this mixture of moods, Dvořák biographer Hans-Hubert Schönzeler observed that "the whole work breathes the spirit of Vysoká, and when one walks in those forests surrounding Dvořák's country home on a sunny summer's day, with the birds singing and the leaves of trees rustling in a gentle breeze, one can virtually hear the music … "

Tickets ($12 and $14 general, $9 and $12 students)


Cal Poly Symphony Winter Concert: Soloist Showcase and Music from the Movies
Sunday, March 5, 2017
3 p.m. Harman Hall, Performing Arts Center
Every year the symphony holds a solo competition for student musicians from any major. The prize is a performance with the symphony! Come hear this year's winners and celebrate musical talent from across the university.
The symphony will also perform music from the movies, including Joe Hisaishi's music from the Studio Ghibli films "Howl's Moving Castle," "Spirited Away" and "My Neighbor Totoro."
Tickets ($12 and $14 general, $9 and $12 students)


Cal Poly Symphony Spring Concert: Symphonie Fantastique
Saturday, June 10, 2017
8 p.m. Harman Hall, Performing Arts Center
In September 1827, the young composer Hector Berlioz attended a performance of "Hamlet" at the Paris Odéon and saw the actress Harriet Smithson for the first time. The evening changed his life. The instant and passionate love she sparked in Berlioz did not lead at first to the relationship he pursued but did inspire him to write what the great annotator Michael Steinberg has called "the most remarkable First Symphony ever written."
Don't miss this most autobiographical of symphonies in a visceral performance. Witness the composer's dreams, the vision of his beloved across a crowded dance hall, his lonely musings and finally his hallucinogenic vision of his own execution and the grotesque celebration that follows.
Tickets ($12 and $14 general, $9 and $12 students)