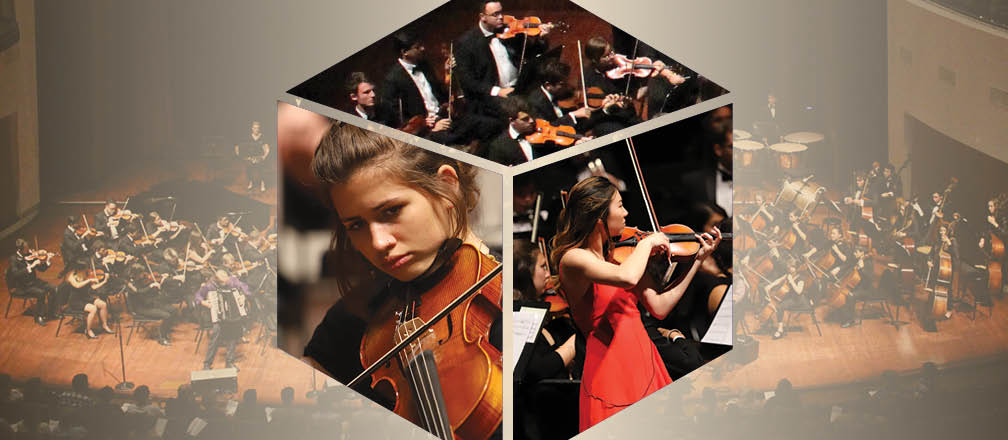 Cal Poly Symphony Winter Concert: Student Soloist Showcase, Finlandia and The Moldau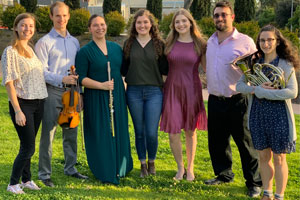 Left to right: Molly Gooch, Timothy Shanks,
Talia Phillips-Ortega, Annemarie Schalde,
Jenna Hansen, Joshua Mueller and Marianna Pallas
Sunday, March 1, 2020
3 p.m. Miossi Hall, Performing Arts Center
The Cal Poly Symphony's Winter Concert will showcase the talents of student soloists at its Winter Concert.
In addition, the symphony will perform works by two composers who celebrate their native land in music: Czech composer Bedřich Smetana's "The Moldau" and Finnish national icon Jean Sibelius' "Finlandia."
The concert will highlight performances by three instrumentalists and four vocalists, all winners of the Cal Poly Music Department's Solo Competition in November. 
The instrumentalists are hornist Marianna Pallas, who will perform Camille Saint-Saëns' "Romance in F Major," Op. 36; violinist Timothy Shanks, who will play Saint-Saëns' "Introduction and Rondo Capriccioso"; and flutist Talia Phillips-Ortega, who will perform Arthur Foote's "A Night Piece."
The vocalists are soprano Molly Gooch, who will sing Jules Massenet's "Frère! Voyez! … Du gai soleil" from "Werther"; soprano Annemarie Schalde, who will perform Giuseppe Verdi's "Volta la terrea" from "Un ballo in maschera"; soprano Jenna Hansen, who will sing Wolfgang Amadeus Mozart's "Deh vieni non tardar" from "Le nozze di Figaro" and bass Joshua Mueller, who will perform Jerry Bock's "If I Were a Rich Man" from "Fiddler on the Roof."
Joshua Mueller is a mechanical engineering major, and the other soloists are music majors.
The symphony will also perform Bedřich Smetana's "The Moldau" and Jean Sibelius' "Finlandia."  "Finlandia" will be conducted by music major Kent Giese.
Tickets ($12 and $14 general, $9 and $12 students)

Cal Poly Symphony and Choirs Spring Concert
Saturday, June 6, 2020
7:30 p.m., Miossi Hall, Performing Arts Center
The Cal Poly Symphony and Choirs have commissioned world-renowned composer Stacey Gibbs to compose a work for chorus and orchestra, which will have its San Luis Obispo premiere at this concert. The commission, which is a partnership with San Jose State University, is a way to celebrate the music of living American composers. Gibbs is best known for his modern and exciting — yet stylistically appropriate ­— arrangements of African American spirituals. The choir and symphony will also perform the work while on a performance tour of France in the summer of 2020.
The combined ensembles will also perform Dan Forrest's "i thank You God for most this amazing day," a lyrical setting of one of E.E. Cummings' well-known poems.
Separately, the choirs will present several motets of Camille Saint-Saëns, and the symphony will perform a set on its own.
Tickets ($12 and $14 general, $9 and $12 students)