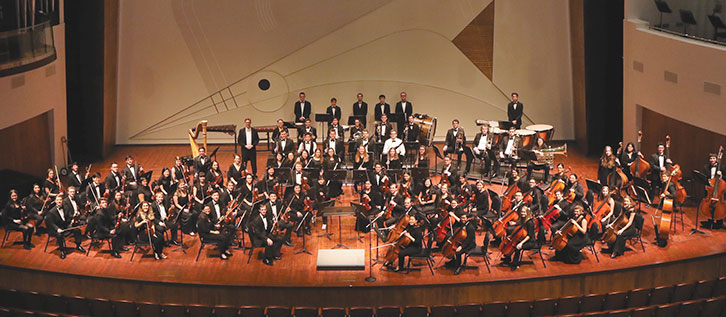 Cal Poly Symphony Fall Concert: The Symphony Dances
Sunday, Dec. 2, 2018
3 p.m. Harold J. Miossi Hall, Performing Arts Center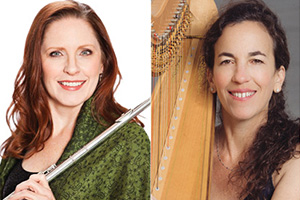 Suzanne Duffy, flute; Marcia Dickstein, harp
The Cal Poly Symphony will explore the rhythm and vibrancy of dance across the historical spectrum in its Fall Concert.
The first half of the program features Ottorino Respighi's "Ancient Airs and Dances," a 20th-century reworking of 16th-century lute music; Claude Debussy's sensuous "Sarabande," orchestrated by Maurice Ravel; and John Adams' "The Chairman Dances." 
"This stylistically varied set of works spans a huge amount of history," said David Arrivée, who will conduct the performance. "This music allows the orchestra to tackle everything from the Galliard, a Renaissance dance found in the Respighi, to John Adams' pulsing, minimalist take on a Foxtrot." 
The second half of the program will feature two guest artists: harpist Marcia Dickstein, and flutist Suzanne Duffy. Dickstein will perform Claude Debussy's "Dances sacrée et profane" ("Sacred and Profane Dances"), a showpiece work commissioned to display the capabilities of the newly invented chromatic harp. Duffy will then join Dickstein to perform Howard Hanson's "Serenade for Solo Flute, Harp and String Orchestra." The concert will conclude with Arturo Márquez' energetic Latin dance, "Danzón No. 2."
Dickstein is a proponent of having new music written for the harp, particularly as a member of The Debussy Trio. To date the trio has commissioned and/or premiered 120 new works. Dickstein is an active studio musician in Los Angeles, and has performed on more than 400 movie soundtracks such as for "Toy Story" (1, 2 and 3), "Ice Age" (2 and 3)," Memoirs of a Geisha," and "Ted" (1 and 2). She can also be heard on the "Family Guy," "Revenge," and "Empire" television shows. She performs with the Long Beach and San Luis Obispo symphonies. Dickstein teaches harp at Cal Poly, and is also on the faculty of Westmont College in Santa Barbara.
Duffy is principal flute for Symphony of the Vines and Opera San Luis Obispo, and second flute/piccolo for Opera Santa Barbara. She has performed with Ventura College Opera Theatre, Palm Beach Opera, Santa Barbara Chamber Orchestra, Santa Barbara Symphony, Florida West Coast Symphony, Florida Philharmonic, and the Indianapolis Symphony. She has presented recitals in Paris and Domfront, France, and performed for the National Flute Association's annual convention in Charlotte, North Carolina. From 2012-15, she regularly presented full chamber music recitals on the "Music at Trinity" community series hosted by Trinity Episcopal Church of Santa Barbara. Duffy teaches flute at Cal Poly.
Tickets ($12 and $14 general, $9 and $12 students)


Cal Poly Symphony Winter Concert: Student Soloist Showcase
Sunday, March 3, 2019
3 p.m. Harold J. Miossi Hall, Performing Arts Center
Every year, the symphony holds auditions for student soloists of any major. The prize for several of them is a performance with the symphony! Come hear this year's winners and celebrate musical talent from across the university.
Tickets ($12 and $14 general, $9 and $12 students)
Cal Poly Symphony Spring Concert - Fate: Tchaikovsky 4
Saturday, June 8, 2019
8 p.m. Harold J. Miossi Hall, Performing Arts Center
"Our symphony progresses." Such were the words that Piotr Ilyich Tchaikovsky wrote in 1877 to Nadezhda Filaretovna von Meck. Madame von Meck, as she is often known, idolized Tchaikovsky's music, supported him for years, shared a very personal and prolific correspondence with him and insisted that they never meet. She also very much wanted to know what "their" symphony was about.
In a rare departure, Tchaikovsky wrote to her a full explanation of the meaning of his fourth symphony, centered on the idea of "Fate, the decisive force which prevents our hopes of happiness from being realized …" Come join the symphony as it traces the crushing depths of despair and passionate moments of hope in Tchaikovsky's epic musical struggle.
Tchaikovsky: Symphony No. 4 in F Minor, Op. 36

Additional works
Tickets ($12 and $14 general, $9 and $12 students)