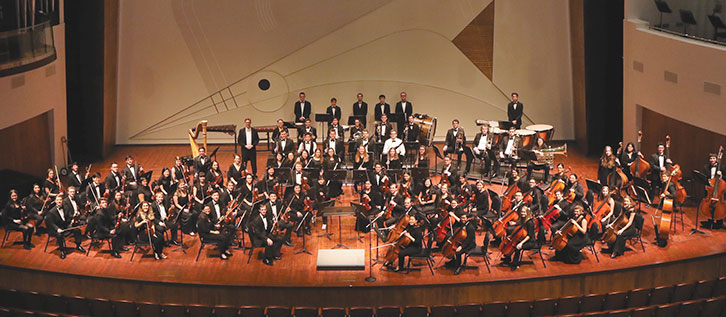 Cal Poly Symphony Spring Concert - Tchaikovsky 4 and Café Musique
Saturday, June 8, 2019
8 p.m. Harold J. Miossi Hall, Performing Arts Center
The Cal Poly Symphony will pair the art of tango with personal struggles against fate in its Spring Concert.
For the first half of the program, the orchestra will be joined by guest ensemble Café Musique for performances of two tangos — Jacob Gade's "Jalousie" and Carlos Gardel's "Por una Cabeza," the latter that was featured in the 1994 film "True Lies" — both arranged by Tim Simonec, a notable film score composer. 
Café Musique, which is based on the Central Coast, has performed around the world and on the stages of several world-class music festivals. The group has shared the stage with the David Grisman Quintet, Los Lobos and Doc Severinsen, and performed and recorded with other Central Coast musical stalwarts Grammy awardee Louis Ortega, musical madman Joe Craven, singer-songwriter Jill Knight and Broadway vocalist Sarah Kleeman.
The group lives up to its name with a musical pallet that includes gypsy, swing, tango and folk, said Lisa Manning, entertainment director for Hidden Valley Music Seminars.
"Leading the way is the siren song of violinist Brynn Albanese," Manning said. "She charms, seduces and delightfully entertains the audience through a whirlwind of musical genres. The group dynamic is part of the fun, with a sassy, musical interplay between accordionist Duane Inglish and Ms. Albanese.
"The band offers range as well as depth, moving from exhilarating tango to the intense folk music of Eastern Europe to the truly lovely songwriting of guitarist Craig Nuttycombe."
The band is rounded out with Fred Murray, who plays bass and sings, and Eric Williams, who plays guitar, ukulele, bouzouki and sings. Albanese also teaches violin at Cal Poly. 
For years, arranger Simonec has been one of the busiest orchestrators in Hollywood. He has credits in more than 80 feature films and 25 television series. Since 1997, he has worked with Academy Award winner Michael Giacchino as his conductor and orchestrator/arranger. Over the years their projects have included video games ("Medal of Honor" and "Call of Duty"), TV series ("Alias," "Lost" and "Fringe") and the films "The Incredibles," "Ratatouille," "The Family Stone," "Mission Impossible 3," "Star Trek," "UP," "Super 8," "Cars 2," "Mission Impossible: Ghost Protocol," "Star Trek: Into Darkness," and 2014's "Dawn of the Planet of the Apes."
The second half of the program will feature Pyotr Ilyich Tchaikovsky's Symphony No. 4 in F minor. In a rare departure, the Russian composer explained the meaning of this work — "fate, the decisive force which prevents our hopes of happiness from being realized" — in a letter to his patron, Nadezhda Filaretovna von Meck.
Cal Poly Symphony Director David Arrivée said this work "explores the full range of one's reactions to this all-powerful force: resigned sadness, escapes into blissful dreams or giddy intoxication, the melancholy of memory and the release of losing oneself in the happiness of the crowd."
Tickets ($12 and $14 general, $9 and $12 students)