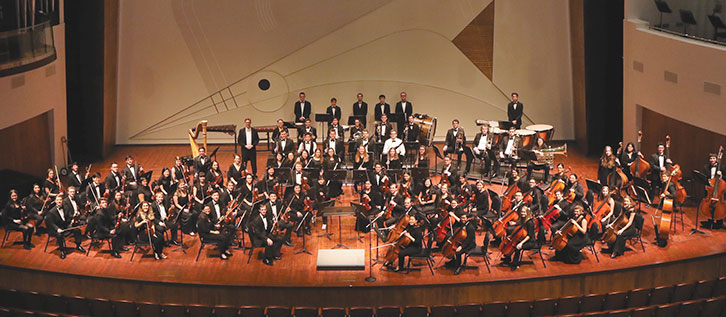 Cal Poly Symphony Spring Concert - Fate: Tchaikovsky 4
Saturday, June 8, 2019
8 p.m. Harold J. Miossi Hall, Performing Arts Center
"Our symphony progresses." Such were the words that Piotr Ilyich Tchaikovsky wrote in 1877 to Nadezhda Filaretovna von Meck. Madame von Meck, as she is often known, idolized Tchaikovsky's music, supported him for years, shared a very personal and prolific correspondence with him and insisted that they never meet. She also very much wanted to know what "their" symphony was about.
In a rare departure, Tchaikovsky wrote to her a full explanation of the meaning of his fourth symphony, centered on the idea of "Fate, the decisive force which prevents our hopes of happiness from being realized …" Come join the symphony as it traces the crushing depths of despair and passionate moments of hope in Tchaikovsky's epic musical struggle.
Come, as well, to see an entirely different musical reaction to the struggles of life: Tango!  Our special guests, the musicians of Café Musique, play two passionate tangos with the Cal Poly Symphony and a set of music all by themselves.
Gade: "Jalousie" (arr. Tim Simonec, with Café Musique)
Gardel: "Por una Cabeza" (arr. Tim Simonec, with Café Musique)
Tchaikovsky: Symphony No. 4 in F minor, Op. 36
Tickets ($12 and $14 general, $9 and $12 students)