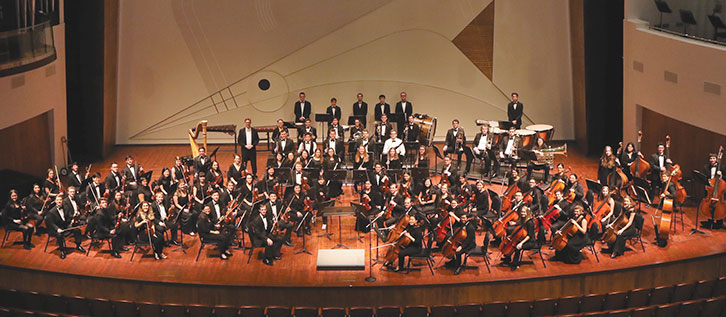 Cal Poly Symphony Winter Concert: Student Soloist Showcase
Friday, March 16, 2018
8 p.m. Harman Hall, Performing Arts Center
The talents of student soloists will be showcased and celebrated at the Cal Poly Symphony's Winter Concert! In addition, the Stockdale High School Symphony Orchestra from Bakersfield will perform as a featured guest ensemble.

The Student Soloist Showcase will include performances by five instrumentalists and one vocalist, all winners of the Cal Poly Music Department's Solo Competition in November.

The student instrumentalists are Tyler Stockton, who will perform Launy Grøndahl's Concerto for Trombone and Orchestra, first movement; Titus Shanks, who will play Édouard Lalo's Cello Concerto, first movement; L. Shaun Fairfield, guitar, who will play Radamés Gnattali's "Suíte Retratos," No. 1; Charlie Huang, who will perform Julius Rietz' Clarinet Concerto, second movement; and Namjoon Joo, who will play Edvard Grieg's Piano Concerto, third movement.
Vocalist Lauren Hartog will sing "Must the Winter Come So Soon?" from Samuel Barber's opera, "Vanessa."
All of the soloists are music majors except Huang, who is a computer engineering major; and Joo, who is a computer science major, both in the College of Engineering.
After intermission, the Stockdale High School Symphony Orchestra will perform a set of pieces. Then, more than 100 string players — students from the Cal Poly Symphony and Stockdale High School Symphony orchestras — will take the stage to perform Ralph Vaughan Williams' "Fantasia on a Theme by Thomas Tallis." This monumental work, based on a hymn by the Elizabethan composer Thomas Tallis, is written for double string orchestra and string soloists.
The program concludes with the Cal Poly Symphony's performance of Rimsky-Korsakov's "Capriccio Espagnol."
Tickets ($12 and $14 general, $9 and $12 students)


Cal Poly Symphony Spring Concert with the Cal Poly Choirs
Sunday, June 3, 2018
3 p.m. Harman Hall, Performing Arts Center
The Cal Poly Symphony joins forces with the Cal Poly Choirs to perform Maurice Duruflé's "Requiem."
Tickets ($12 and $14 general, $9 and $12 students)