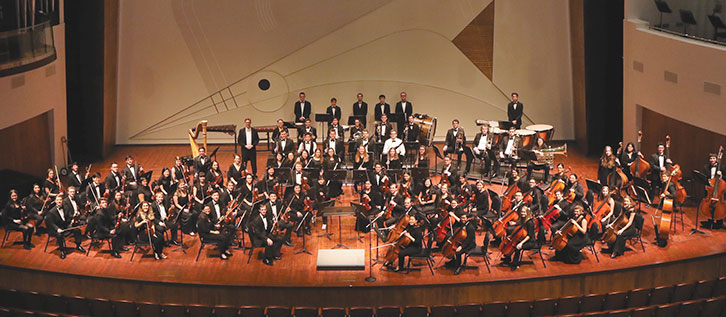 Cal Poly Symphony Winter Concert: Soloist Showcase and Music from Animated Film
Sunday, March 5, 2017
3 p.m. Harman Hall, Performing Arts Center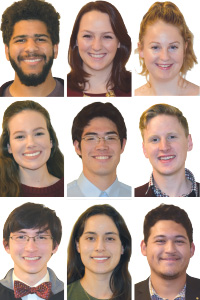 Jordan Adams, Kelsey Beisecker, Gabriela Crolla;
Samantha Foulk, Kent Giese, Corey Hable;
Taylor O'Hanlon, Marisa Romo, Noah Scanlan
The talents of student soloists will be showcased and celebrated at the Cal Poly Symphony's Winter Concert.
The Student Soloist Showcase will include performances by five instrumentalists and two vocalists, as well as the work of one composer, all winners of the Music Department's Solo Competition in November. It will also include a student conductor.
The student instrumentalists are Taylor O'Hanlon and Jordan Adams, who will perform Antonio Vivaldi's Concerto in C for Two Trumpets, third movement; Kelsey Beisecker, who will play François Devienne's Flute Concerto No. 8, first movement; Mariso Romo, who will play Ernest Bloch's "Suite Hébraïque" (Hebrew Suite), first movement, for viola and orchestra; and Kent Giese, who will perform Rimsky-Korsakov's Trombone Concerto, first movement.
The vocalists are Gabriela Crolla, who will sing "Der Schwan" (The Swan) by Cal Poly student composer Corey Hable, and Samantha Foulk, who will perform W.A. Mozart's "Padre, germani, addio!" (Father, Brothers, Farewell!) from "Idomeneo."
All the soloists are music majors except Adams, who is a graduate student in the College of Science and Mathematics' School of Education's credential program for single subject in physics.
The concert program will also include music from animated movies, beginning with three pieces composed by Joe Hisaishi for Studio Ghibli films: "Merry Go Round of Life" from "Howl's Moving Castle," arranged by Fedor Vrtacnik; the main theme from "My Neighbor Totoro"; and "One Summer's Day" from "Spirited Away."
The program concludes with music from both "Fantasia" films by Walt Disney: J.S. Bach's Toccata and Fugue in D minor, arranged by Leopold Stokowski; and Igor Stravinsky's "Berceuse and Finale" from "The Firebird."
Noah Scanlan, a civil engineering student, will conduct Stravinsky's work.
Tickets ($12 and $14 general, $9 and $12 students)


Cal Poly Symphony Spring Concert: Symphonie Fantastique
Saturday, June 10, 2017
8 p.m. Harman Hall, Performing Arts Center
In September 1827, the young composer Hector Berlioz attended a performance of "Hamlet" at the Paris Odéon and saw the actress Harriet Smithson for the first time. The evening changed his life. The instant and passionate love she sparked in Berlioz did not lead at first to the relationship he pursued but did inspire him to write what the great annotator Michael Steinberg has called "the most remarkable First Symphony ever written."
Don't miss this most autobiographical of symphonies in a visceral performance. Witness the composer's dreams, the vision of his beloved across a crowded dance hall, his lonely musings and finally his hallucinogenic vision of his own execution and the grotesque celebration that follows.
Tickets ($12 and $14 general, $9 and $12 students)