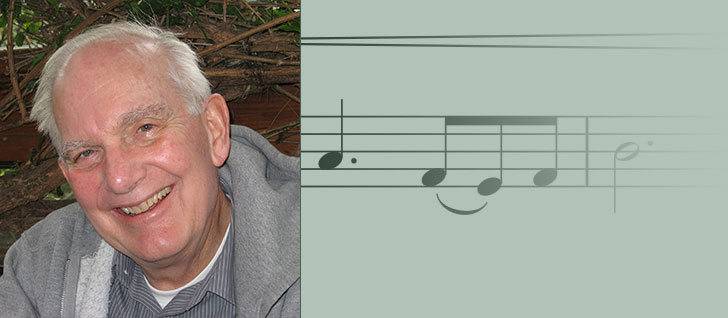 Music Professor Emeritus John Russell passed away on April 6, 2020.
A dedicated teacher and meticulous musician, his commitment to the music he taught, composed and performed inspired four decades of students. In 1996, he was awarded the California Polytechnic State University (Cal Poly) Distinguished Teaching Award. John chaired department committees and served as Music Department chair from 1996-99 with typical care and integrity.
John joined the Cal Poly music faculty in 1968, teaching music theory, piano and voice. He formed the College Singers, a chamber chorus that supplemented the men's and women's glee clubs and provided students the opportunity to perform works for mixed chorus. Then when Cal Poly was designated a university, the ensemble became known as the University Singers. An ensemble of the highest musical quality, the culmination of each year was a tour of California Missions, alternating north and south from year to year.
John loved to compose. His original works for choral ensembles are published by Associated Music, G. Schirmer, E.B. Marks, the Gregorian Institute of America, and Walton Music. A student of Adolph Baller, he was an excellent pianist and piano teacher.
A co-founder of the San Luis Obispo Mozart Festival in 1971, John conducted the Mozart Festival Chorus until 1980. Students from the University Singers along with professionals and community members were deeply affected by their musical experiences under his direction. Many stayed in touch with John and his wife, Carol, for decades.
Former students residing locally have continued their involvement in music performance as members of the Vocal Arts Ensemble — founded by former student, Gary Lamprecht — Canzona Women's Ensemble and San Luis Obispo Master Chorale. John had such a profound influence on the choral scene in San Luis Obispo that he could well be called the father of choral music in San Luis Obispo.
John was a gentle, caring soul, devoted to his wife, Carol — a vocalist in many of his groups — and his two children, Kelly Trost and Bryan Russell. As was noted in 2005, the year of his retirement: "He is a complete person, as well as a complete professor. It's rare that one balances those two categories — work and home — as well as John has. He is always there for the people he loves. And that is one of the many reasons we all love him so dearly."
A great teacher, musician, colleague, husband and father, and friend, he is missed.