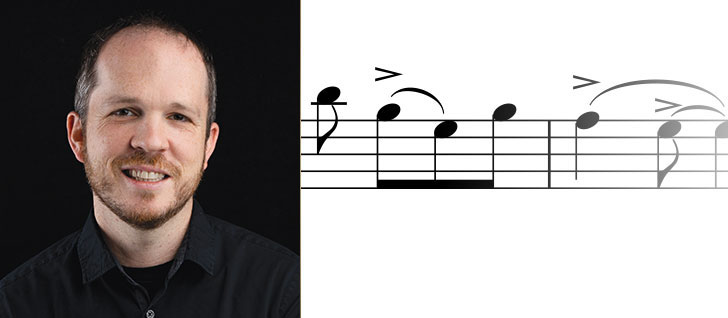 Contact information
Related Links
Scott Glysson is director of choral activities and vocal studies at Cal Poly. He has been recognized for his achievements in conducting in both the choral and orchestral genres. As the conductor of university, high school and community ensembles, he performs both nationally and internationally. His conducting engagements include the Mozart Requiem with the Pazardzhik Symphony Orchestra in Bulgaria, the Dan Forrest Requiem with members of the Royal Academy of Music in Dublin, Ireland, the Vivaldi Gloria with the Bel Canto Chorus and Nairobi Conservatory Orchestra in Kenya, and the Haydn Te Deum with the New England Symphonic Orchestra in the world-famous Carnegie Hall in New York City.
In 2017 Glysson was awarded the American Choral Directors Association (ACDA) International Conducting Fellowship to Kenya, and has since served as clinican and co-founder of the bi-annual Nairobi Choral Conducting Workshop.  As a graduate student, he was honored as one of eight finalists from across the country to compete in the National Choral Conducting Competition sponsored by the ACDA. Upcoming conducting engagements include the Ralph Vaughan Williams "Dona Nobis Pacem" with the Pan-European Philharmonic Orchestra in Athens, Greece, and the Varna International Opera Academy in Varna, Bulgaria.
Glysson previously served as director of choral activities at West Liberty University in Wheeling, West Virginia. He has also held the position of artistic director and conductor of the Tucson Masterworks Chorale, assistant director of the internationally recognized Tucson Arizona Boys Chorus, assistant conductor of the Reston Chorale and teaching positions at several high schools in the Washington, D.C., area.
An active scholar and educator, Glysson has presented and published in the fields of music education and musicology. In 2011, he was honored by the invitation to present his research on the motets of the medieval composer Guillaume de Machaut at the Rocky Mountain Chapter of the American Musicological Society. He has published featured articles in The Choral Journal and presented at both state and regional conferences of ACDA and National Association for Music Education in the area of music education. Glysson's dissertation and current research centers on the choral motets of Camille Saint-Saëns and the 19th-century cecilian movement.
Glysson holds a Doctor of Musical Arts in choral conducting from the University of Arizona in Tucson, Arizona. He also holds a Master of Music in choral conducting from the University of Arizona, and a Bachelor of Music in music education from George Mason University.