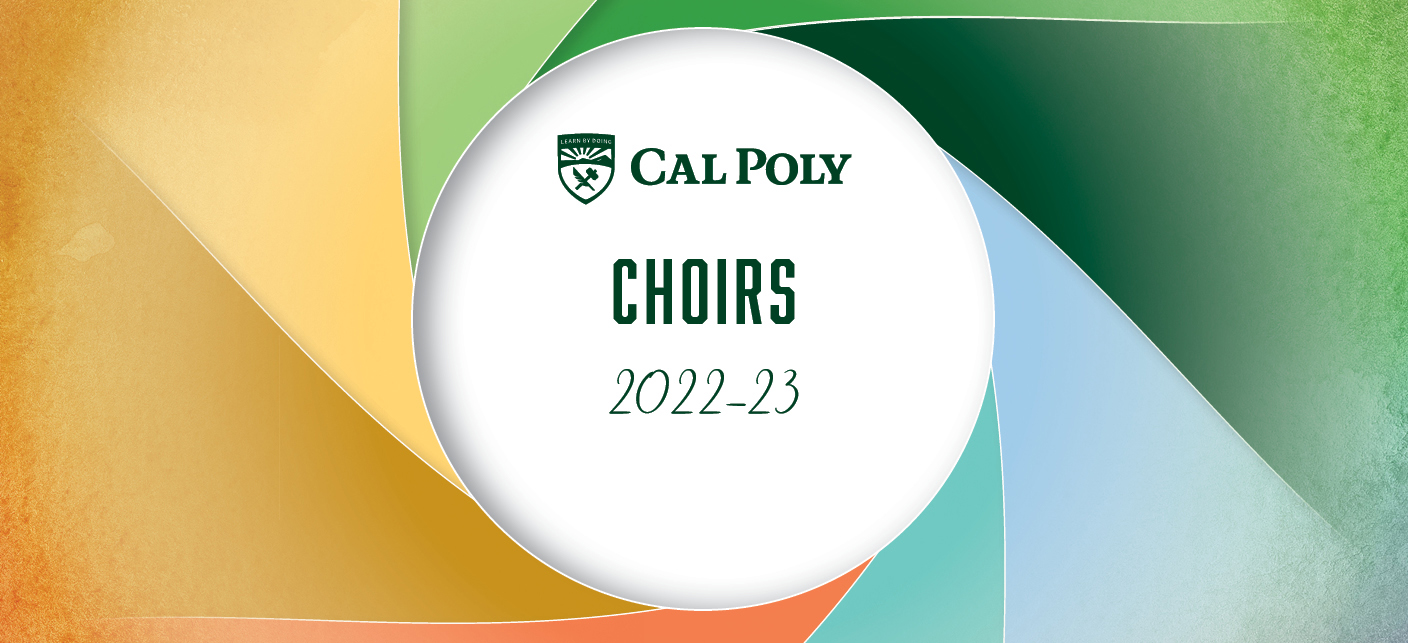 Choirs
Get a 20% discount when purchasing to four or more Music Department events sold through the Cal Poly Ticket Office. New! Cal Poly faculty and staff receive 20% discount for any Music Department event sold through the ticket office.
COVID-19 guest requirements for attending events. A green campus pass is acceptable for students.
Cal Poly Choirs' 'Holiday Kaleidoscope'
Friday, Dec. 2, 2022
7:30 p.m., Performing Arts Center
This marks the sixth annual Holiday Kaleidoscope which has become a Central Coast tradition. The concert brings together all four Cal Poly choral ensembles with local high school and community ensembles. Performance highlights include traditional favorites, new works, sing-alongs with a holiday orchestra and much more!
Tickets ($15 and $20 general, $10 students)
PolyPhonics and Chamber Choir Concert: 'Heaven and Hell'
Saturday, March 11, 2023
7:30 p.m., Mission San Luis Obispo

Cal Poly's PolyPhonics and Chamber Choir will to present a concert featuring two major works from both old and new traditions. PolyPhonics will perform Mozart's famous "Requiem" with an orchestra from 1791, and the Chamber Choir Herbert Howells' "Requiem," which was composed in the 1930s. Cal Poly Art and Design students will have their works displayed in the collaborative, multimedia presentation.
Tickets ($20 general, $10 students)
Cantabile and University Singers Concert: 'Contemporary'
Sunday, March 19, 2023
Two performances: 3 and 7:30 p.m., San Luis Obispo United Methodist Church

The Cal Poly's Cantabile and University Singers will join forces to perform a variety of modern works. Later in the month Cantabile will give a concert in the Lincoln Center for the Performing Arts in New York City, and will give a preview of its performance as well as perform two world premiere pieces by Jocelyn Hagen and Cal Poly Professor Meredith Brammeier.
Tickets ($20 general, $10 students)
Cal Poly Choirs' Spring Concert: 'In Her Words' with the Bel Canto Chorus
Sunday, June 4, 2023
3 p.m., Performing Arts Center
The Cal Poly Choirs will host the Bel Canto Chorus, a very special guest ensemble from Nairobi, Kenya, for its season finale! The concert will focus on the words of female poets. 
Tickets ($15 and $20 general, $10 students)