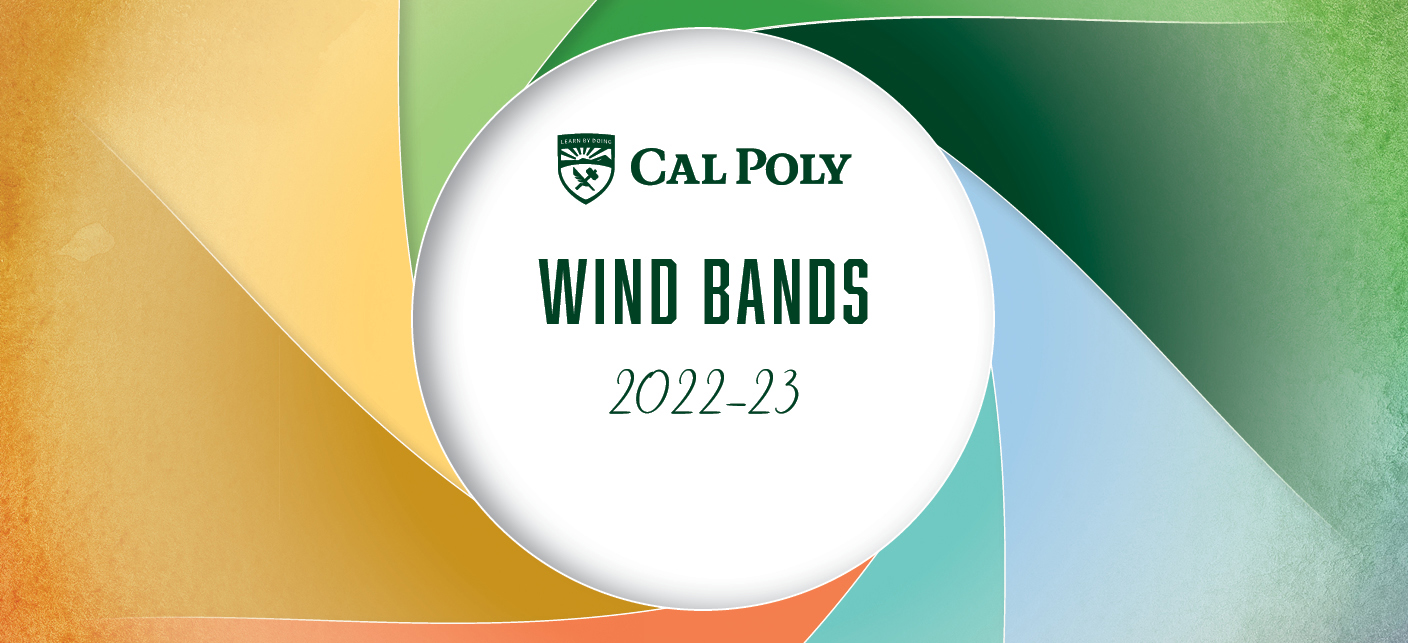 Get a 20% discount when purchasing to four or more Music Department events sold through the Cal Poly Ticket Office. New! Cal Poly faculty and staff receive 20% discount for any Music Department event sold through the ticket office.
Cal Poly Wind Bands: 'Bandemonium'
Sunday, March 5, 2023
3 p.m., Performing Arts Center
The Cal Poly Wind Bands Winter Concert will feature the Cuesta College Wind Ensemble at 3 p.m. Sunday, March 5, in Miossi Hall of the Performing Arts Center's Christopher Cohan Center.
The concert, titled "Bandemonium," will be presented by Cal Poly's Wind Orchestra and Wind Ensemble, and is the second in the Cal Poly bands' season series. "Cal Poly welcomes the Cuesta College Wind Ensemble under the direction of Jennifer Martin," Cal Poly Director of Bands Christopher J. Woodruff said. "Our colleagues at Cuesta College are doing amazing things musically, and we are excited to bring all our students together onto one stage."
The three bands will perform favorite standards of the genre as well as new works for wind bands. The program will include Gustav Holst's "Moorside Suite," John Williams' "Evening at Pops" and James Barnes' "Yama Midori." Russell Peck's "Cave" will be presented in a staging choreographed by students of the Cal Poly Wind Ensemble.
The program will close with Richard Strauss' "Feierlicher Einzug," arranged by Cal Poly Director of Bands Emeritus William V. Johnson, in a combined ensemble of all three bands.
Tickets ($15 and $20 general, $10 students)
Cal Poly Wind Bands Spring Concert: 'Pines'
Saturday, May 20, 2023
7:30 p.m., Performing Arts Center
We celebrate music with our audiences through this final concert of the Cal Poly Bands' season!
Music can transport the listener to another time, another place through melody, timbre and orchestration. The works presented evoke historic imagery, of spaces near and far.
Composers featured on this program include Viet Cuong, Norman Dello Joio and Karel Husa. The Wind Ensemble will close the program with Ottorino Respighi's massive tone poem "Pines of Rome."
Tickets ($15 and $20 general, $10 students)