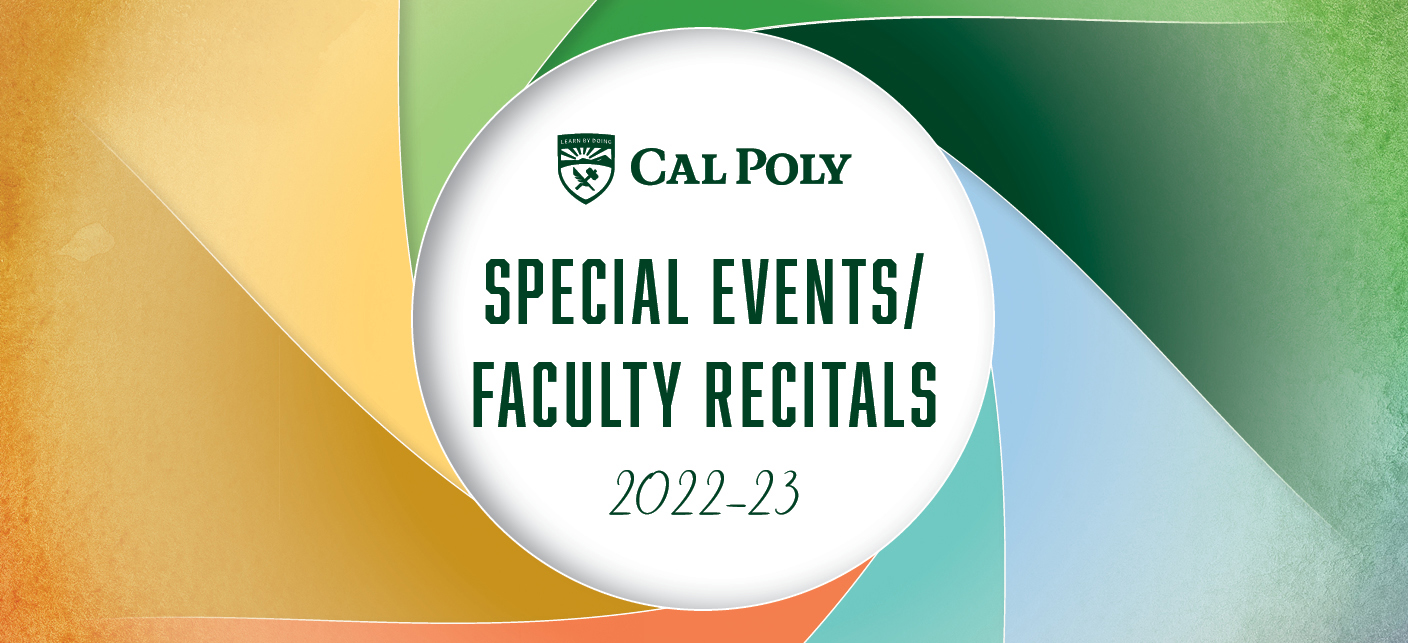 Get a 20% discount when purchasing to four or more Music Department events sold through the Cal Poly Ticket Office. New! Cal Poly faculty and staff receive 20% discount for any Music Department event sold through the ticket office.
COVID-19 guest requirements for attending events. A green campus pass is acceptable for students.
Arthur White and Guests Jazz Recital
Thursday, Oct. 6, 2022
7:30 p.m., Pavilion, Performing Arts Center
Cal Poly Director of Jazz Studies Arthur White will present a recital of original compositions that he will perform on saxophone with guest musicians: Henry Johnson, guitar; Jo Ann Daugherty, piano; Dale Black, bass; and Thomas Taylor, drums.
The program will feature original compositions by White and Johnson.
White is a Kansas native who spent several years of his professional career teaching and performing throughout the Midwest. He has been at Cal Poly since 2019. More information about White is on his faculty website.

Henry Johnson, guitar; Jo Ann Daugherty, piano; 
Dale Black, bass; and Thomas Taylor, drums.
Johnson began playing guitar in his hometown of Chicago when he was 12. His musical roots include blues, gospel, jazz and rhythm and blues. In addition to his hit solo recording projects, he has recorded with vocalists Joe Williams and Vanessa Ruben, saxophonist Richie Cole, among others. He has performed with Nancy Wilson, Marlena Shaw, Angela Bofil, Dizzy Gillespie, Freddie Hubbard, Grover Washington Jr. and other notable artists.
Daugherty, in addition to playing piano, is a conductor, musical director, recording artist, composer and arranger. She is currently touring the U.S. as music director/conductor of "SIX the Musical." As a solo jazz artist, her most recent jazz trio album, "Bring Joy," earned a four-star review from Downbeat Magazine and was listed as one of its Best Albums of 2017. She has collaborated with woodwind specialist Victor Goines of the Jazz at Lincoln Center Orchestra and has led and participated in clinics that focus on jazz and making a life as a professional musician.
Black began playing the clarinet when he was 8, and later became interested in upright and electric bass. In 2008, he moved to from Kansas to Los Angeles, where he has worked with a variety of artists, including Kamasi Washington and the West Coast Get Down, Terence Blanchard, Marcus Belgrave, Terrace Martin, Kenny Burrell and the late Solomon Burke. Black continues to record and tour and is working on releasing his debut album this fall.
Taylor studied classical percussion and music education at the University of North Carolina Greensboro, where he earned his bachelor's and master's degrees. He spent 10 years working, playing and teaching with world-renowned jazz educator Jamey Aebersold. He has shared the stage with Terell Stafford, Branford Marsalis, Joey Calderazzo, Joe Chambers and others. Taylor is assistant professor at North Carolina Central University. He has written articles for Modern Drummer Magazine and The Music Educators Journal, and he has written a hip hop music appreciation textbook, "Yo' Check This: Topics in Hip Hop."
Tickets ($20 general, $10 students)
andPlay duo: Collaborating with Technology
Thursday, Oct. 20, 2022
7:30 p.m., Davidson Music Center, Room 218
andPlay duo — Maya Bennardo, violin, and Hannah Levinson, viola — will present a talk and concert with three pieces they commissioned showcasing three different ways of incorporating technology into performance by Bethany Younge, Lester St. Louis and David Bird.
Based in New York City, Bennardo and Levinson first played to an eager crowd on Fire Island in the summer of 2012 and have since commissioned more than 40 works.
andPlay's debut album, "playlist" (2019, New Focus Recordings), features world-premiere studio recordings of works by Ashkan Behzadi, David Bird and Clara Iannotta. "playlist" was recorded as part of the duo's artist residency at the Experimental Media and Performing Arts Center in Troy, New York, and was listed on Bandcamp's "Best Contemporary Classical: October 2019."
Recent highlights include a five-city tour in Sweden performing their Translucent Harmonies program, appearances at the Oh My Ears Festival in Phoenix, and the Re:Sound Festival in Cleveland. The duo has also performed at venues including the Center for New Music in San Francisco, Monk Space in Los Angeles, Scandinavia House and Roulette in New York, Short North Stage in Columbus, Ohio, and Aftershock Theater in Pittsburgh.
Beyond the concert stage, Bennardo and Levinson are passionate educators offering workshops in contemporary string techniques, chamber music coaching and composition notation for strings. They have given performances and masterclasses at Arizona State University, UC Santa Cruz, Western Connecticut State University, Otterbein University, Bowling Green State University and were artists-in-residence at the Snow Pond Composers Workshop in Sidney, Maine.
Free admission
Faculty Showcase
Friday, Oct. 21, 2022
6:30 p.m. Davidson Music Center, Room 218

Cal Poly music faculty will present a showcase recital at 6:30 p.m. Friday, Oct. 21, in Room 218 of the Davidson Music Center (No. 45) on campus.
The event is part of Cal Poly's Mustang Family Weekend, and will feature several of the Music Department's applied faculty who are recognized across the region for their expertise in solo and chamber ensemble performance. They will present intimate works that highlight their artistic achievements.
Faculty who will perform solos are guitarist James Bachman, who will play Baden Powell's "Retrato Brasileiro"; Keith Waibel, who will perform a movement from Johann Sebastian Bach's "Suite No. 2 in D Minor" on bass clarinet; and W. Terrence Spiller, who will play Frédéric Chopin's "Ballade in A-flat major," Op. 47.
Several faculty members have been collaborating and will perform in duos and chamber ensembles, including Lisa Nauful, bassoon, Richard Dobeck, clarinet, and Paul Woodring, piano; Katherine Arthur, soprano, and Heidi Butterfield, oboe; Amy Goymerac, soprano, and Woodring, piano; Mark Miller, trombone, and Christopher J. Woodruff, trumpet; and John Astaire, percussion, and Nauful, bassoon, who will be joined by 2017 Music Department graduate Emelia Banninger on bassoon. Banninger studied with Nauful while she was at Cal Poly.
For information on the recitalists, visit the Music Department's faculty website.
Music majors at Cal Poly are required to be enrolled in applied or private lessons each quarter. Many non-music majors who are enrolled in larger ensembles like the Cal Poly Symphony, Wind Bands and University Jazz Bands also have lessons with faculty.
Admission at the door: $10 general, $5 students
W. Terrence Spiller Piano Recital
Friday, Jan. 13, 2023
7:30 p.m., Spanos Theatre

Pianist and Cal Poly Professor Emeritus W. Terrence Spiller will perform works by Frédéric Chopin, Wolfgang Amadeus Mozart, Sergei Prokofieff and Maurice Ravel, including Ravel's sparkling "Jeux d'eau," and selections from Chopin's "Etudes," Op. 10.
Tickets ($20 general, $10 students)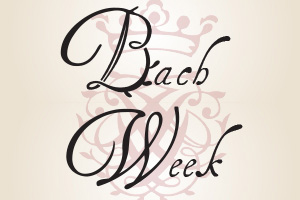 Bach Week: Jan. 17-21, 2023
'The Art of the Fugue' Lecture and Chamber Concert
7:30 p.m. Tuesday, Jan. 17, 2023 | Pavilion, Performing Arts Center

Bach's mastery of counterpoint in general, and the fugue in particular, has served as an inspiration for generations of composers. Join composer Meredith Brammeier, Bach Week co-director David Arrivée, University Organist Paul Woodring and special guests for an exploration of the fugue, from Bach to the present, with an interactive dive into the inner workings of this complex compositional technique. During the combined lecture-recital, selections from Bach's "The Art of Fugue" will be performed by Woodring on harpsichord, a string quartet and woodwind quartet. This work, left incomplete at the time of Bach's death, is the culmination of the composer's lifelong pursuit and a compendium of counterpoint.
Free admission
Instrumental Master Class and Continuo Workshop
Thursday, Jan. 19, 2023
11:10 a.m.-1 p.m., Cal Poly Davidson Music Center, Room 218
For the first half, guest artists Leif Woodward, cello, and Ian Pritchard, harpsichord, will coach Cal Poly students in instrumental repertoire from the Baroque era, with a focus on historically informed performance. During the second half, the guest artists will coach students in effective continuo playing, which is the foundation of all Baroque music.

Free admission
Vocal Master Class
Thursday, Jan. 19, 2023
3:10 p.m., Cal Poly Davidson Music Center, Room 218

Guest artist Mindy Ella Chu will coach several Cal Poly voice students in repertoire from the Baroque era.
Free admission
Chamber Concert: Bach Reconstructed/Deconstructed
Friday, Jan. 20, 2023
7:30 p.m., First Presbyterian Church of San Luis Obispo

Bach Week welcomes back the world-class musicians of Tesserae Baroque! A period instrument ensemble specializing in repertoire of the Renaissance and Baroque, this year the group will present a unique performance of works by Bach that have only survived in "secondary" versions, since the originals have been lost. In an attempt to recreate the sound of the original versions, Tesserae will use modern reconstructions, including their own! Works will include a trio sonata for recorder and violin, based on Bach's A-Major Flute Sonata; his Organ Sonata No 5, performed as instrumental trio; Reincken's Sonata Prima in A Minor; and extracts from reconstructed cantatas.
Tickets ($20 general, $10 students)
Special ticket price: $30 general, $15 students if you purchase both the Jan. 20 and Jan. 21 concerts
Bach Week Finale: Bach and the German Chorale
Saturday, Jan. 21, 2023
2 and 7:30 p.m., First Presbyterian Church of San Luis Obispo

Members of Cal Poly's Chamber Choir, Symphony and faculty join with guest artists to perform a variety of works based on German chorale tunes and texts. The first half of the concert will include a series of motets. The Chamber Choir will begin with a short chorale motet by Heinrich Schütz, who influenced J.S. Bach. The combined choirs will then perform Bach's celebrated motet "Komm, Jesu Komm" followed by two motets by Johannes Brahms, created in the style of Bach. The orchestra will perform instrumental music under the leadership of Tesserae Baroque to close out the first half of the concert. The second half of the concert will feature one of Bach's greatest chorale cantatas: "Jesu, der du meine Seele," BWV 78.
Bach Week Co-Director Scott Glysson will give a pre-concert lecture at 6 p.m. prior to the 7:30 p.m. performance, and is included in the ticket price.
Tickets ($20 general, $10 students)
Special ticket price: $30 general, $15 students if you purchase both the Jan. 20 and 21 concerts
W. Terrence Spiller: Beethoven Piano Sonata Cycle VII
Friday, April 28, 2023
7:30 p.m., Pavilion, Performing Arts Center

Pianist and Cal Poly Professor Emeritus W. Terrence Spiller will give an all-Beethoven recital. It is the seventh in Spiller's complete survey of the composer's piano sonatas.
The program will include the poetic masterpiece Op. 109, as well as two large early works: Sonatas Op. 2, No.2, and Op. 10, No.3
Spiller retired from full-time teaching in March 2021, but he will continue to teach applied piano in the Music Department.
Tickets ($20 general, $10 students)