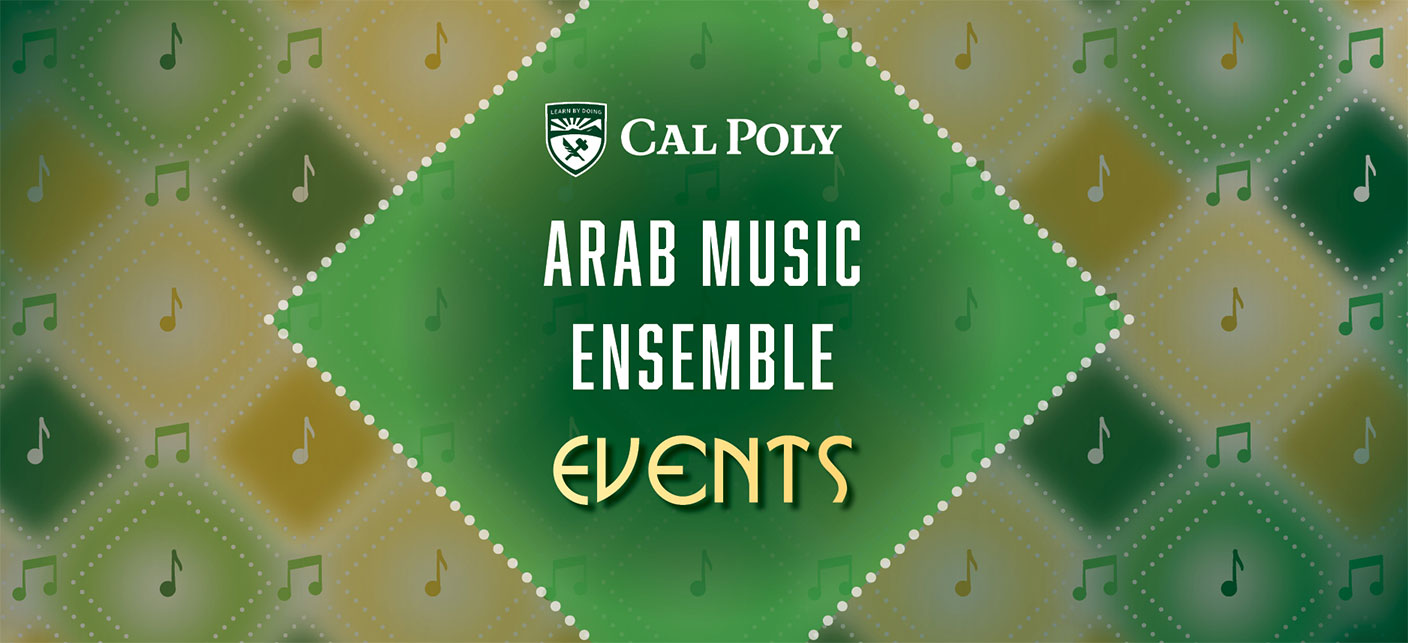 The Cal Poly Arab Music Ensemble will present selections of classic repertoire from Arab art, popular and folk music traditions and from historically interconnected cultures of Southwest Asia and North Africa. The group will feature a choir, orchestra and soloists with instruments that include the oud, qanun, nay, accordion, violin, viola, cello, double bass, riqq, daff, darabukka, and more.
The programs will feature critically acclaimed guest artists whose performance skills and professional stature deepen the aesthetic and educational experience of ensemble and audience members alike. The Arab Music Ensemble Dance Troupe will add further artistic dimension to the shows through its presentations of celebrated dance traditions, original choreographies and beautiful costuming.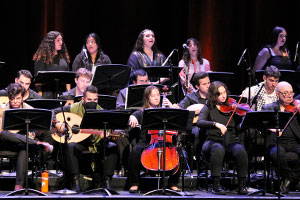 Cal Poly Arab Music Ensemble Fall Concert
Saturday, Dec. 2, 2023
7:30 p.m., Performing Arts Center
Among the features of the ensemble's season opener will be the world premiere of "Tahiyya" ("Salutation") by Ken Habib, the ensemble's director.
"It's an instrumental composition of Arab art music that explores extended melodic and metric territory in relatively concise fashion," said Habib of the piece. "It features an interplay between contrasting tetrachords and different metric modes along with a melodic improvisation at the center of the piece. In the end, a complement of diverse musical materials may be heard in a thoughtful balance."
The concert will open with a suite of instrumental and vocal pieces selected from Arab art and popular music and celebrated across the Eastern Mediterranean, including classic examples of the muwashshah, a genre of poetry and music that arose in 10th-century Andalusia in the southern Iberian Peninsula.
The program will also include a Romanian folksong and a Turkish instrumental piece that reflect the historical interconnectedness of West Asia, North Africa and Europe.
Composers, poets and artists to be represented on the program include Ahmad Abu Khalil al-Qabbani, Anton Pann, Elias Rahbani, Fairuz, George Abdo, the Rahbani Brothers, Sabah Fakhri, Sayyid Darwish, Tatyos Efendi, Toufic El Bacha, and Ziad Rahbani.
Several critically acclaimed guest artists will return to join the ensemble on stage: Ishmael, a renowned qanun (zither) player, performs wide-ranging repertoire from across Southwest Asia North Africa, which originates in his Assyrian heritage; Fathi Aljarrah, kamanja (violin), is a master performer of Arab art and popular music from Aleppo, an artistic center of Syria and of larger Arab society, and home to the eminent Sabah Fakhri with whom he toured internationally; and Faisal Zedan, a virtuoso percussionist from Syria with a deep command of wide-ranging musical styles from across Southwest Asia and North Africa will play riqq (tambourine), daff (frame drum) and darabukka (goblet drum).
San Luis Obispo dance director Jenna Mitchell will lead the dance troupe in original choreography that dialogues with the music in a longstanding collaboration of bringing music and dance from the region to Cal Poly.
Tickets ($15 and $20 general, $10 students)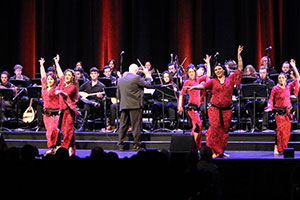 Cal Poly Arab Music Ensemble Winter Concert
Saturday, March 16, 2024
7:30 p.m., Spanos Theatre
Tickets ($20 general, $10 students)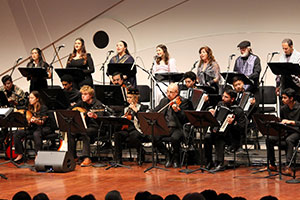 Cal Poly Arab Music Ensemble Spring Concert
Saturday, June 1, 2024
7:30 p.m., Performing Arts Center
Tickets ($15 and $20 general, $10 students)