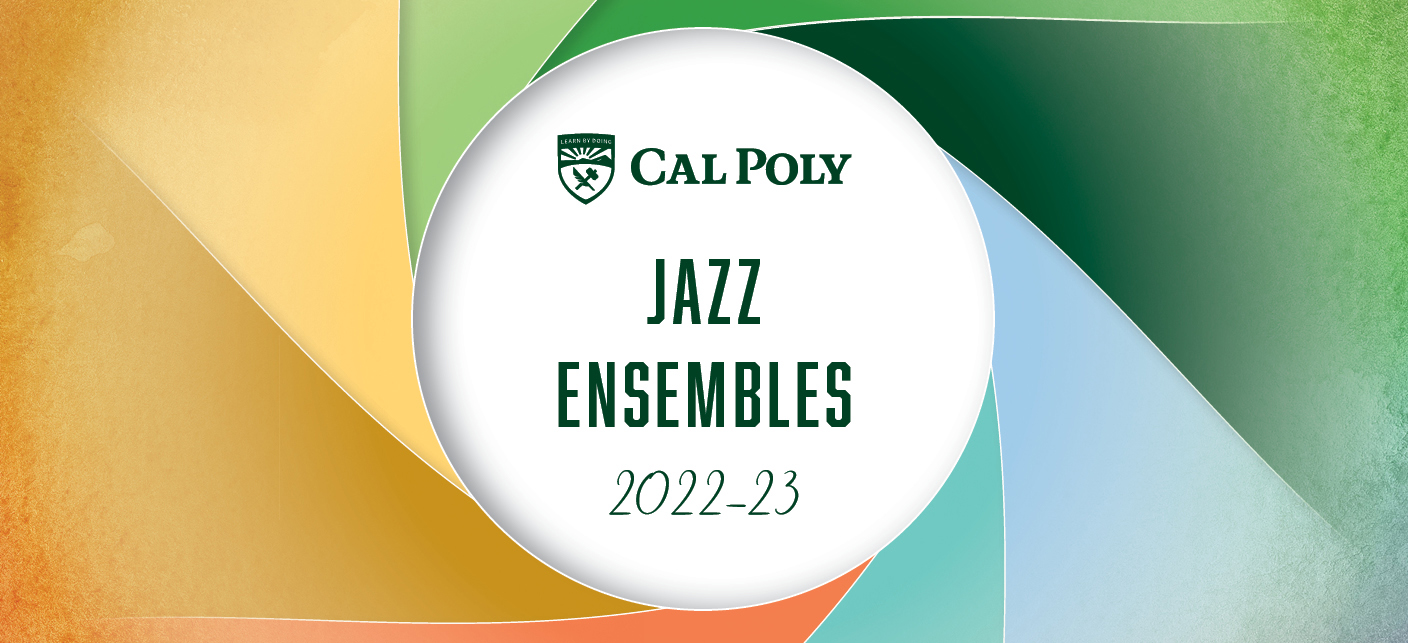 Get a 20% discount when purchasing to four or more Music Department events sold through the Cal Poly Ticket Office. New! Cal Poly faculty and staff receive 20% discount for any Music Department event sold through the ticket office.
Cal Poly Spring Jazz Combos Hang
Friday, May 19, 2023
7:30 p.m. Davidson Music Center
More information is on the free events page.
Cal Poly Spring Jazz Concert
Friday, May 26, 2023
7:30 p.m., Performing Arts Center
The Cal Poly Spring Jazz Concert will include guest artists Inga Swearingen and George Stone!
Swearingen, voice; and Stone, trumpet and piano; will perform with Cal Poly's Jazz Ensemble and Vocal Jazz Ensemble (MOSAIC), directed by Director of Jazz Studies Arthur White. Works composed by Thad Jones, Michael Brecker, Joe Henderson, Tower of Power and others will be on the program.
Graduating seniors will be recognized at the concert, including vocalists Kelley Fredrickson, Danna Dumandan, and Alfred "AJ" Zoppi, who are music majors; guitarist Jacob Cherdak, psychology major; pianist Caeden Schlosser, business major; and saxophonist James Pettis, mechanical engineering major. Cherdak, Pettis, and Schlosser have been fixtures in Cal Poly's large and small jazz instrumental ensembles; and Fredrickson, Dumandan, and Zoppi were founding members of MOSAIC in 2019. The three vocalists and Cherdak were each named "Outstanding Soloist" at the University of Northern Colorado's Greeley Jazz Festival in April.
MOSAIC will soon release its album, "if you look in," with White and guest artists and Grammy Award-winners Kim Nazarian and Darmon Meader from New York Voices, and drummer Gregg Bissonette, who is currently on tour with Ringo Starr.
Swearingen graduated from the Cal Poly Music Department, then earned her master's degree in choral conducting from Florida State University. She performed for the renowned radio show, "A Prairie Home Companion," more than a dozen times; was a first-place winner at the Montreux Jazz Festival Shure Vocal Competition; and was a featured soloist in Weill Recital Hall at Carnegie Hall. She teaches voice and improvisation, including at Cal Poly.
Stone is director of audio technology at Cuesta College where he also teaches music theory and composition. He has been a festival adjudicator and clinician for more than 20 years, and a guest composer/conductor for all levels of jazz honor bands. As a composer he has been commissioned to write for many nationally recognized high school and college programs. He previously worked as a musician and composer for both live shows and television, and has composed for CBS, HBO, NBC, The Tonight Show and Disney. He is an in-demand recording engineer and producer who also performs regularly on trumpet and piano. 
Tickets ($15 and $20 general, $10 students and Jazz Federation members)