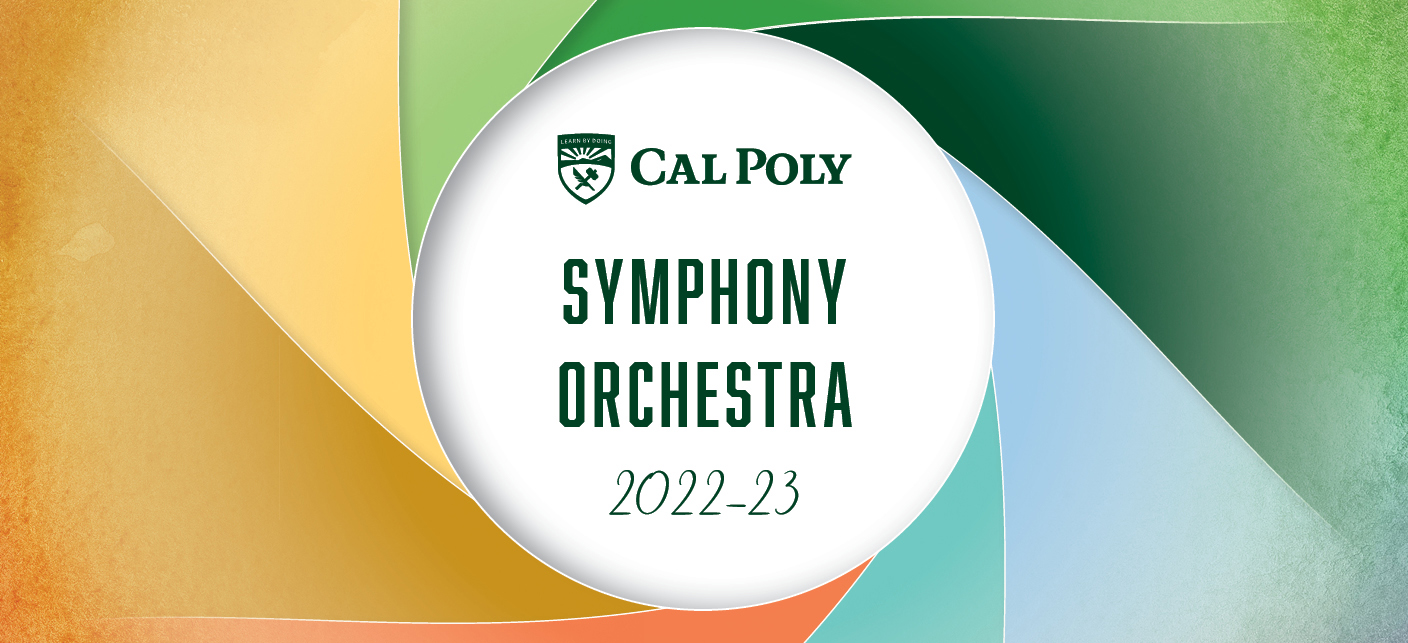 Get a 20% discount when purchasing to four or more Music Department events sold through the Cal Poly Ticket Office. New! Cal Poly faculty and staff receive 20% discount for any Music Department event sold through the ticket office.
Cal Poly Symphony Winter Concert: Student Soloist Showcase and Studio Ghibli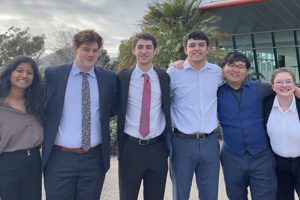 Reenu Kutty, Davis Lerner, Ari Maman
Jayden Perez, Yumin Park, Sarah Jane Scott
Friday, March 17, 2023
7:30 p.m., Performing Arts Center
The Cal Poly Symphony's Winter Concert will showcase the talents of student soloists, composers and conductors.
In addition, the symphony will perform music by Joe Hisaishi from four Studio Ghibli films: "Howl's Moving Castle," "Spirited Away," "Kiki's Delivery Service" and "My Neighbor Totoro." 

Student winners of the symphony's Solo Competition in November will be featured: three instrumentalists, one vocalist and one composer.
The instrumentalists are bassoonist Davis Lerner, a music major who will perform the third movement of W.A. Mozart's Bassoon Concerto in B-flat major, K. 191; violinist Reenu Kutty, a computer science major who will play the first movement of Max Bruch's Violin Concerto No. 1 in G Minor, Op. 26; and saxophonist Ari Maman, a music major who will perform the first three movements of Paul Maurice's "Tableaux de Provence" ("Pictures of Provence").
Music major Sarah Jane Scott, soprano, will sing "Laudate Dominum" from Mozart's "Vesperae solennes de confessore" (Solemn Vespers for a Confessor), K. 339.
The orchestra will perform "Chronicles" by student composer Yumin Park, and assistant conductor Jayden Perez will conduct John Williams' "Theme from Jurassic Park." Both students are music majors.

Tickets ($15 and $20 general, $10 students)
Cal Poly Symphony Spring Concert: Scheherazade and Osqueezadeh
Saturday, June 3, 2023
7:30 p.m., Performing Arts Center
For its season finale, the Cal Poly Symphony presents an orchestral masterpiece inspired by Persian culture alongside vibrant new compositions that blend Persian and Western European traditions.
The first half of the program will feature works by Bahram Osqueezadeh, a multi-instrumentalist, scholar and composer. Osqueezadeh will perform his "Concerto for Santur and Orchestra" and guest vocalist Alireza Shahmohammadi will sing Osqueezadeh's "Rational Insanity."
Osqueezadeh was the co-founder and director of the Drvak Institute of Music in Iran, as well as co-founder of the Drvak Ensemble.  As a soloist, composer and conductor, he has appeared on many radio and television programs in Iran and has toured the country, performing his original compositions.  He received the Gold Award at the Eighth Nationwide Fajr Music Festival and now serves on the faculty at UC Santa Barbara.
Shahmohammadi is recognized as one of today's renowned singers in Iran and a master of Persian classical music repertoires. He began his musical studies at the age of eight under the direction of his father and continued his studies with great masters such as Hatam Asgari Farahani, Mohammad-Reza Shajarian and Mohammad-Reza Lotfi. He recently presented a concert with the legendary Indian musician Pandit Swapan Chaudhure at Z Space in San Francisco. He has 15 published albums. "Majnoon," his most recent, is a collaboration with Theodore Bikel and the Lian Ensemble.
After intermission, the orchestra will present Russian composer Rimsky-Korsakov's "Scheherazade," an orchestral tour de force based on "One Thousand and One Nights." In this collection of Middle Eastern folk tales, and in the music, Scheherazade avoids death by entertaining her husband with tales of adventure and romance. Throughout, Rimsky-Korsakov evokes these tales with dazzling orchestral color and lyricism.
Tickets ($15 and $20 general, $10 students)