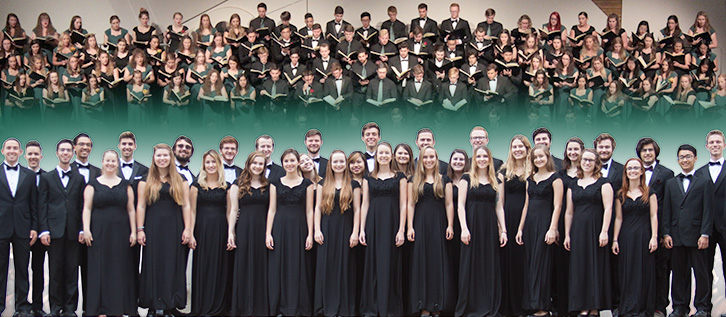 Cal Poly Honor Choir Festival Concert
Saturday, Aug. 4, 2018
2:30 p.m., Mission San Luis Obispo
Free
High school singers from throughout the state will combine with Cal Poly singers for the Cal Poly High School Honor Choir Festival Concert.
This is the inaugural year of the festival, established by Cal Poly Director of Choral Activities Scott Glysson, to provide an opportunity for talented high school singers to perform great music alongside collegiate singers and work with accomplished conductors.
Students arrive Thursday, Aug. 2, for the festival, when they will check in and begin their stay at Cal Poly. Throughout the weekend they will take part in rehearsals, live in campus housing and get a chance to experience some of the culture of San Luis Obispo.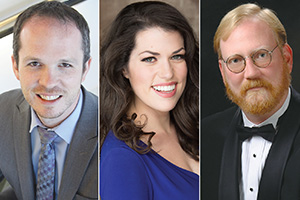 Scott Glysson, conductor; Amy Goymerac, soprano;
Paul Woodring, organ.
"The event is intended to give the students the full college experience and simulate what it is like to be a music major at Cal Poly," Glysson said.
As a part of the festival, each singer will also receive a private lesson from one of Cal Poly's world-class voice teachers: Katherine Arthur and Jacalyn Kreitzer.
The festival will culminate with a concert at the mission. The centerpiece of the concert will be the "Missa Brevis Sancti Joannis de Deo" by Joseph Haydn.
Glysson said, "This piece is often referred to as 'The Little Organ Mass' and is a charming work for choir, soprano solo, strings and of course, organ, played by University Organist Paul Woodring on Cal Poly's brand-new portative organ."
Woodring will also serve as the accompanist for the festival. The soprano soloist will be Amy Goymerac, a Cal Poly alumnus and recent graduate of the San Francisco Conservatory of Music.
Other repertoire will include works by Eric Whitacre, Camille Saint-Saëns and André Thomas.
Glysson will conduct the festival. As a conductor of university, high school and community ensembles, he has performed both nationally and internationally. Recent engagements include the Mozart Requiem with the Pazardzhik Symphony Orchestra in Bulgaria, and the Dan Forrest Requiem with members of the Royal Academy of Music in Dublin, Ireland. As a graduate student, Glysson was honored as one of eight finalists from across the country to compete in the National Choral Conducting Competition sponsored by the American Choral Directors Association (ACDA).
Glysson was recently selected to represent the U.S. in the ACDA International Conductors Exchange Program Fellowship. He and five other conductors will travel to Kenya this summer to work with choirs from across the country. Glysson will conduct the Nairobi Women's Chorus in Nairobi.
Mission San Luis Obispo is located at 751 Palm St. in downtown San Luis Obispo. The concert is free and open to the public; no tickets or advanced reservations are required. Donations will be accepted at the door to support the Cal Poly Choral Program.
Cal Poly Choirs Fall Concert: Luminous
Night of the Soul
Saturday, Oct. 27, 2018
8 p.m., Mission San Luis Obispo
This concert, featuring Cal Poly's University Singers and PolyPhonics, will include music that ranges from the Middle Ages to modern times. It will also feature a variety of soloists, both instrumental and vocal. The centerpiece of the concert will be Ola Gjeilo's "Luminous Night of the Soul" for string quartet, piano and choir.
Tickets ($14 general, $9 students)
Cal Poly Choirs: Holiday Kaleidoscope
Saturday, Dec. 1, 2018
3 p.m., Harold J. Miossi Hall, Performing Arts Center

An annual holiday tradition, this concert is a collaborative celebration of choral music in the greater San Luis Obispo area! Along with all three Cal Poly Choirs, the performance will feature three local high school choirs: Cabrillo (Lompoc), Morro Bay and San Luis Obispo. The choirs will each perform their own repertoire, as well as join together with the Cal Poly Brass Ensemble to perform Daniel Pinkham's festive "Christmas Cantata." Audience members will have a chance to experience the beauty of the season through traditional holiday favorites, modern masterworks and participatory singing of carols.
Tickets ($12 and $14 general, $9 and $12 students)
Cal Poly Choirs Winter Concert: All of Us
Saturday, March 16, 2019
8 p.m., Harold J. Miossi Hall, Performing Arts Center
A collaborative effort of several Cal Poly departments, this concert will be centered around the themes of diversity and acceptance. The musical selections will challenge the audience to confront some of the more difficult topics in our world today, such as racism and mental health, while also celebrating our differences and encouraging unity. Visual elements will be woven into the concert as well, creating a complete sensory experience for the audience.
Tickets ($12 and $14 general, $9 and $12 students)
Cal Poly Chamber Choir Concert: John Rutter 'Requiem'
Saturday, May 11, 2019
8 p.m., Mission San Luis Obispo
The Cal Poly Chamber Choir will perform John Rutter's beloved setting of the Requiem text, accompanied by chamber orchestra.
Tickets ($14 general, $9 students)
Cal Poly Choirs Spring Concert: For the Beauty of the Earth
Sunday, June 2, 2019
3 p.m., Harold J. Miossi Hall, Performing Arts Center
This concert will include musical works centered around the themes of nature and the natural world. Selections will include works by Pyotr Tchaikovsky, Charles Stanford, Stephen Chatman and many more.
Tickets ($12 and $14 general, $9 and $12 students)