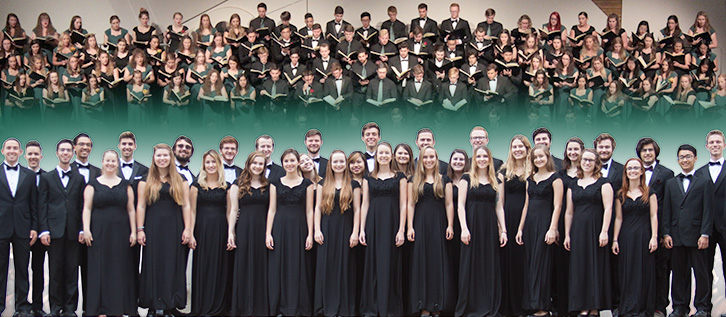 Cal Poly Choirs Winter Concert: All of Us
Saturday, March 16, 2019
8 p.m., Harold J. Miossi Hall, Performing Arts Center
A collaborative effort of several Cal Poly departments, this concert will be centered around the themes of diversity and acceptance. The musical selections will challenge the audience to confront some of the more difficult topics in our world today, such as racism and mental health, while also celebrating our differences and encouraging unity. Visual elements will be woven into the concert as well, creating a complete sensory experience for the audience.
Tickets ($12 and $14 general, $9 and $12 students)
Cal Poly Chamber Choir Concert: John Rutter 'Requiem'
Saturday, May 11, 2019
8 p.m., Mission San Luis Obispo
The Cal Poly Chamber Choir will perform John Rutter's beloved setting of the Requiem text, accompanied by chamber orchestra.
Tickets ($14 general, $9 students)
Cal Poly Choirs Spring Concert: For the Beauty of the Earth
Sunday, June 2, 2019
3 p.m., Harold J. Miossi Hall, Performing Arts Center
This concert will include musical works centered around the themes of nature and the natural world. Selections will include works by Pyotr Tchaikovsky, Charles Stanford, Stephen Chatman and many more.
Tickets ($12 and $14 general, $9 and $12 students)