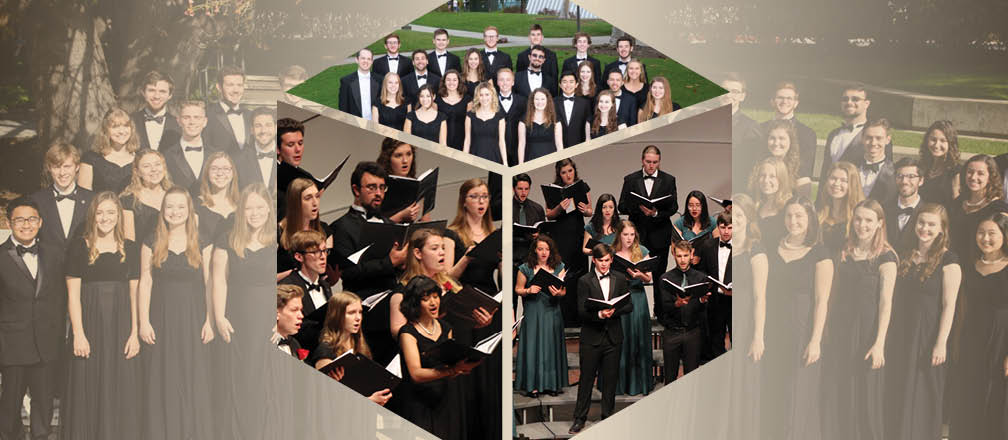 Cal Poly Chamber Choir and Women's Chorus: Cantata Nuovo
Friday, May 1, 2020
7:30 p.m., First Presbyterian Church of San Luis Obispo
A concert featuring 20th-century cantatas in a variety of textures. The concert will feature the famous "Rejoice in the Lamb" by Benjamin Britten, performed by the Chamber Choir. The Women's Chorus will present "Winter Cantata" by Vincent Persichetti for marimba and flute, as well as the epic "Songs of Sanctuary" by Karl Jenkins.
Suggested donation at the door: $10 general, $5 students
Cal Poly Choirs and Symphony Spring Concert
Saturday, June 6, 2020
7:30 p.m., Miossi Hall, Performing Arts Center
The Cal Poly Choirs and Symphony have commissioned world-renowned composer Stacey Gibbs to compose a work for chorus and orchestra, which will have its San Luis Obispo premiere at this concert. The commission, which is a partnership with San Jose State University, is a way to celebrate the music of living American composers. Gibbs is best known for his modern and exciting — yet stylistically appropriate ­— arrangements of African American spirituals. The choir and symphony will also perform the work while on a performance tour of France in the summer of 2020.
The combined ensembles will also perform Dan Forrest's "i thank You God for most this amazing day," a lyrical setting of one of E.E. Cummings' well-known poems.
Separately, the choirs will present several motets of Camille Saint-Saëns, and the symphony will perform works of Debussy, Delibes and Piazzolla.
Tickets ($12 and $14 general, $9 and $12 students)