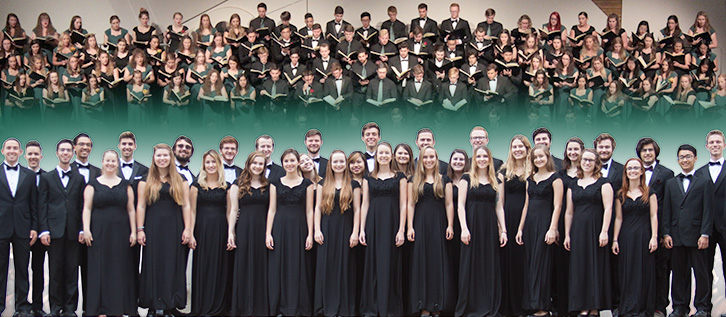 Choirs
A Year of Thanksgiving: Thomas Davies celebrates his final year as director of choral activities and vocal studies
Make a submission to Davies' Memory Book!
Cal Poly Choirs Spring Concert: With Thanks to All!
Sunday, June 11, 2017
2 p.m., Harman Hall, Performing Arts Center
The Cal Poly Choirs will celebrate Thomas and Susan Davies at a Spring Concert titled "With Thanks to All" on June 11, as the couple acknowledges their extended family of university students and colleagues during their final concert.
Tom Davies is retiring after 34 years as Cal Poly's director of choral activities and vocal studies. Susan Azaret Davies has accompanied the choirs all the years her husband has conducted them.
The Davies' final Cal Poly concert will include performances by students and an alumni choir. It will be held at 2 p.m. in Harman Hall of the Performing Arts Center's Christopher Cohan Center.
Cal Poly's Early Music Ensemble, European Tour Choir, and an 80-voice combined choir will perform. All have been members ofPolyPhonics and/or the University Singers in recent quarters.
An 85-voice alumni choir will also perform. A special salute to the day will be made by Men-So-Forte, Cal Poly's award-winning men's barbershop quartet from 2003-05. The group's bass, Paul Tabone, is traveling from Minnesota for this event. In addition to the men's quartet, other surprises are planned, including an offering of women's barbershop music.
During the second half of the concert, students and alumni will combine forces for Handel's exciting "Zadok, the Priest," with Paul Woodring featured on the organ. This will be followed by the final number, Beethoven's "Choral Fantasy" for piano solo, chorus, and orchestra. Azaret Davies will be the soloist. Cal Poly students, faculty, and community members will make up the orchestra.
Tom Davies has taught at Cal Poly since 1983. He has been conducting three choirs: PolyPhonics, the University Singers and the Early Music Ensemble, and teaches conducting, as well as a course in literature and rehearsal techniques. He was a recipient of Cal Poly's Distinguished Teacher Award for 2010-11.
Born in Toledo, Ohio, Tom Davies earned his Bachelor of Music Education degree at Bowling Green State University and his Master of Music and Doctor of Musical Arts degrees from the University of Southern California.
In addition to his work at Cal Poly, he is the musical director and conductor of the San Luis Obispo Master Chorale, a community ensemble that performs major works for chorus and orchestra. He served as the director of the Master Class in Choral-Orchestral Conducting at the Taipei Bach Festival in 2010 and 2012 and the Oregon Bach Festival from 2007-11, and he was a faculty member of the Idyllwild Summer Arts Choral Festival from 2004-07. He is a former President of the ACDA Western Division.
Azaret Davies holds bachelor and master of music degrees in piano and accompanying from the University of Southern California. A professional singer as well as pianist, her festival appearances include the Oregon Bach Festival, the Cabrillo Festival, the Festival Internacional de Musica de Morelia, Mexico, Idyllwild Summer Arts, CSU Summer Arts and a series of concerts with the Gachinger Kantorei of Stuttgart and the New York Philharmonic at Lincoln Center. She is an accompanist for the San Luis Obispo Master Chorale, the choir director/organist at St. Paul's Catholic Church, and principal keyboardist for the San Luis Obispo Symphony. She will continue in the department as a lecturer and staff accompanist.
Concertgoers are invited to attend a reception in the Performing Arts Center's Rossi Grand Lobby following the concert.
The Music Department is compiling anecdotes and well wishes for a memory book for Tom Davies. Those wanting to contribute can do so on the Music Department website.
The tour choir will depart June 21 for concerts in England and Wales. Tour support donations honor of the Davies can be made securely online.
Tickets ($12 and $14 general, $9 and $12 students)