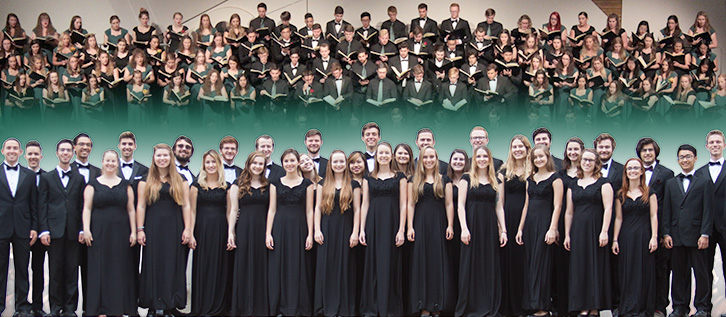 Choirs
The inaugural season with Cal Poly's new director of choral activities and vocal studies, Scott Glysson.
Cal Poly Choirs: Holiday Kaleidoscope
Saturday, Dec. 2, 2017
7:30 p.m., Harman Hall, Performing Arts Center
The Cal Poly Choirs will present the festive "Holiday Kaleidoscope" at 7:30 p.m. in Harman Hall of the Performing Arts Center.
Cal Poly's PolyPhonics, the University Singers and Early Music Ensemble will be joined on the concert by three local high school choirs: Cabrillo (Lompoc), Morro Bay and San Luis Obispo.  The groups will perform holiday favorites and new works.
Additional special guests will be featured, including string and brass players, and even some special guest speakers.
Works to be perfomed include "Magnificat in G Major" by Charles Stanford, a selection from the "All Night Vigil" by Sergei Rachmaninoff, and various arrangements of popular carols and seasonal tunes.
Newer works include "Serenity" for unaccompanied chorus and cello by Ola Gjeilo, "The Rune of Hospitality" for choir and guitar by jazz composer Alf Houkom, and a spiritual setting by Moses Hogan.
Audience members can participate in a carol sing-along, and enjoy fun-spirited "cameo" pieces.
Cal Poly staff member Paul Woodring will accompany the choirs on piano and organ.
Jennifer Peterson conducts the Cabrillo High School choir, Holly Banfield conducts the Morro Bay High School choir and Colleen Chester conducts the San Luis Obispo High School choir. Scott Glysson is Cal Poly's new director of choral activities. This will be his premiere holiday concert on campus.
Tickets ($14 and $18 general, $9 and $14 students)
Cal Poly Choirs Winter Concert: Lux Perpetua
Saturday, March 17, 2018
8 p.m., Harman Hall, Performing Arts Center
Lux perpetua, or "light eternal," is the final portion of the traditional Requiem Mass. Join the Cal Poly Choirs in an exploration of works that revolve around the theme of light. Works by Maurice Duruflé, Eriks Esenvalds and others.
Tickets ($12 and $14 general, $9 and $12 students)
Cal Poly Choirs Spring Concert with the Cal Poly Symphony
Sunday, June 3, 2018
8 p.m., Harman Hall, Performing Arts Center
The Cal Poly Choirs join forces with the Cal Poly Symphony to perform Maurice Duruflé's "Requiem."
Tickets ($12 and $14 general, $9 and $12 students)