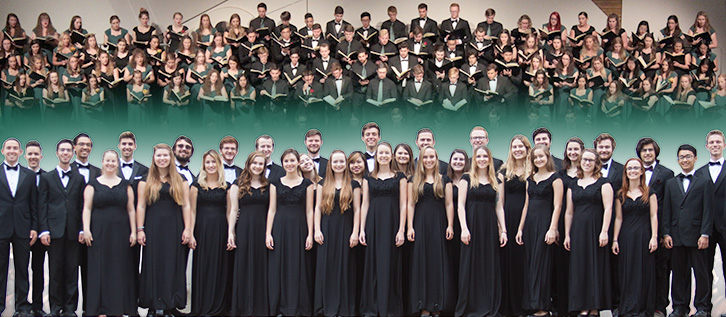 Choirs
A Year of Thanksgiving: Thomas Davies celebrates his final year as director of choral activities and vocal studies
Make a submission to Davies' Memory Book!
Cal Poly Choirs Winter Concert: Conductor's Choice
Saturday, March 4, 2017
8 p.m., Harman Hall, Performing Arts Center
The Cal Poly Choirs will perform favorite works of Thomas Davies, the university's retiring director of choral activities and vocal studies, for the Winter Concert.
Titled "Conductor's Choice," the concert — a spin down memory lane of the choirs' choral library — will feature PolyPhonics and the University Singers. The choirs will be accompanied by Susan Azaret Davies and Paul Woodring. 
PolyPhonics' program will include "Cry Out and Shout" by Knut Nystedt, "Trois Chansons" ("Three Songs") by Claude Debussy, "O Tod, wie bitter bist du" ("Oh, Death, How Bitter You Are") by Max Reger, and other favorites by Randall Thompson and Norman Dello Joio.
The University Singers will sing Gabriel Faure's "Cantique de Jean Racine" ("Hymn of Jean Racine"); selections from "Songs of Innocence" by Earl George; and works for men's and women's choruses, including some barbershop.
Davies' final on-campus concert with the Cal Poly Choirs will be on June 11.
Tickets ($12 and $14 general, $9 and $12 students)
Cal Poly Choirs Spring Concert: With Thanks to All!
Sunday, June 11, 2017
2 p.m., Harman Hall, Performing Arts Center
Come celebrate Tom and Susan Davies' 34 incredible years at Cal Poly. Susan has accompanied the choirs all the years Tom has conducted them. The combined choirs will be joined by an alumni choir. The music will include selections from the upcoming performance tour of England and Wales.
Tickets ($12 and $14 general, $9 and $12 students)