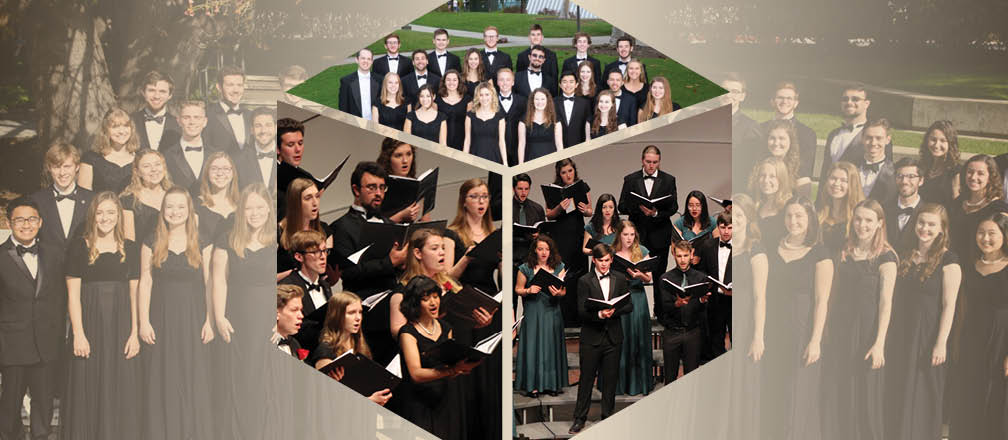 Cal Poly Choirs Fall Concert: Cry Out
Saturday, Oct. 26, 2019
7:30 p.m., San Luis Obispo United Methodist Church
Titled "Cry Out," the concert celebrates the choral tradition of passionate and powerful singing, said Scott Glysson, director of choral activities. Choral music is full of bold exclamations of faith, love, fear, hope and a wide variety of human emotions.
All four Cal Poly choral groups will perform: PolyPhonics, University Singers, the Women's Chorus and Chamber Choir. These groups, as well as several soloists, will give the audience a taste of what is to come for the numerous 2019-20 choral concerts. 
PolyPhonics, the university's premier choir, will perform John Mackey's "Rumor of a Secret King," an exciting and rhythmically complex work commissioned for the Eric Whitacre Singers in 2017. A beautiful setting of the William Blake poem "The Lamb" by Kim André Arnesen — a popular modern Norwegian composer — will also be performed. 
The Women's Chorus will begin its second year since being formed with selections from the famous "Ceremony of Carols" by Benjamin Britten. The group is comprised of 45 highly skilled and experienced choral singers. 
The Chamber Choir — the nucleus of the annual Cal Poly Bach Week — will perform a selection from J.S. Bach's Mass in B Minor, which is the grand finale piece for Bach Week in January. The University Singers will perform a delightful lesser-known "Magnificat" setting by J.S. Bach's son, C.P.E. Bach. 
Several vocal solos will highlight the diversity and skill of the department's vocal performance majors.
The concert will conclude with a gospel piece featuring guest artist Thomas Bolling Epps.
Paul Woodring is the accompanist for the choirs. Glysson conducts the choirs. Glysson conducted in New York at Carnegie Hall in May and in Nairobi, Kenya, in July and has upcoming conducting engagements in France, Bulgaria and Poland.
Tickets ($14 general, $9 students)
Cal Poly Choirs: Holiday Kaleidoscope
Saturday, Dec. 7, 2019
7:30 p.m., Miossi Hall, Performing Arts Center

An annual holiday tradition in its third year, this concert is a collaborative celebration of choral music from the Central Coast and beyond. In addition to Cal Poly's four choirs, the performance will feature local choirs including Cabrillo High School and the Central Coast Youth Chorus. Each choir will perform its own repertoire, as well as join together for several majestic combined works. Audience members will have the opportunity to sing along to favorite carols of the season.
Tickets ($12 and $14 general, $9 and $12 students)
Cal Poly Choirs Winter Concert: Traditions
Sunday, March 15, 2020
3 p.m., Miossi Hall, Performing Arts Center
A celebration of both American and African traditions, with the special guest ensemble, Bel Canto Chorus of Nairobi, Kenya. This concert will feature works from several American traditions of music, including spirituals, folk song, Western classical, Native American traditions and more. The Bel Canto Chorus will be conducted by its director, Abbey Chokera.
Tickets ($12 and $14 general, $9 and $12 students)
Cal Poly Chamber Choir and Women's Chorus: Cantata Nuovo
Friday, May 1, 2020
7:30 p.m., First Presbyterian Church of San Luis Obispo
A concert featuring 20th-century cantatas in a variety of textures. The concert will feature the famous "Rejoice in the Lamb" by Benjamin Britten, performed by the Chamber Choir. The Women's Chorus will present "Winter Cantata" by Vincent Persichetti for marimba and flute, as well as the epic "Songs of Sanctuary" by Karl Jenkins.
Suggested donation at the door: $10 general, $5 students
Cal Poly Choirs and Symphony Spring Concert
Saturday, June 6, 2020
7:30 p.m., Miossi Hall, Performing Arts Center
The Cal Poly Choirs and Symphony have commissioned world-renowned composer Stacey Gibbs to compose a work for chorus and orchestra, which will have its San Luis Obispo premiere at this concert. The commission, which is a partnership with San Jose State University, is a way to celebrate the music of living American composers. Gibbs is best known for his modern and exciting — yet stylistically appropriate ­— arrangements of African American spirituals. The choir and symphony will also perform the work while on a performance tour of France in the summer of 2020.
The combined ensembles will also perform Dan Forrest's "i thank You God for most this amazing day," a lyrical setting of one of E.E. Cummings' well-known poems.
Separately, the choirs will present several motets of Camille Saint-Saëns, and the symphony will perform a set on its own.
Tickets ($12 and $14 general, $9 and $12 students)