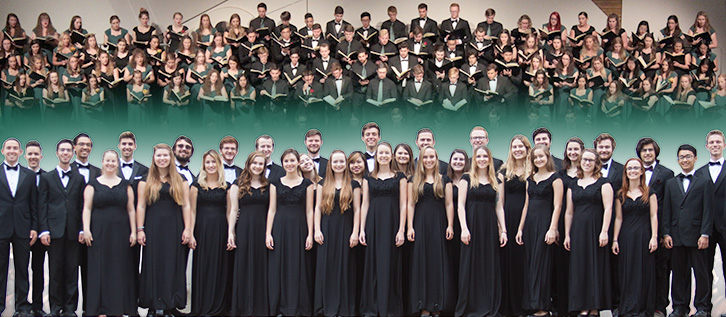 Cal Poly Choirs: Holiday Kaleidoscope
Saturday, Dec. 1, 2018
3 p.m., Harold J. Miossi Hall, Performing Arts Center

The Cal Poly Choirs will present the second annual "Holiday Kaleidoscope."
Cal Poly's PolyPhonics, the University Singers and Chamber Choir will be joined on the concert by three local high school choirs: Cabrillo (Lompoc), Morro Bay and San Luis Obispo. Each group will perform some works individually, and will also perform a few works together as a combined choir.
Additional special guests will be featured, including string and brass players, a guest speaker and something especially for children in the audience.
The Cal Poly Choirs will perform works by Wolfgang Amadeus Mozart, Dieterich Buxtehude, Herbert Howells, Ēriks Ešenvalds and others, as well as various arrangements of popular carols and seasonal tunes.
The combined forces of the university and high school choirs will perform Daniel Pinkham's exciting "Christmas Cantata" for brass ensemble, organ and choir.
Audience members can participate in a carol sing-along, and enjoy fun-spirited "cameo" pieces.
Cal Poly staff member Paul Woodring will accompany the choirs on piano and organ.
Jennifer Peterson conducts the Cabrillo High School choir, Holly Banfield conducts the Morro Bay High School choir, and David Alm conducts the San Luis Obispo High School choir. Scott Glysson is Cal Poly's director of choral activities.
Tickets ($12 and $14 general, $9 and $12 students)
Cal Poly Choirs Winter Concert: All of Us
Saturday, March 16, 2019
8 p.m., Harold J. Miossi Hall, Performing Arts Center
A collaborative effort of several Cal Poly departments, this concert will be centered around the themes of diversity and acceptance. The musical selections will challenge the audience to confront some of the more difficult topics in our world today, such as racism and mental health, while also celebrating our differences and encouraging unity. Visual elements will be woven into the concert as well, creating a complete sensory experience for the audience.
Tickets ($12 and $14 general, $9 and $12 students)
Cal Poly Chamber Choir Concert: John Rutter 'Requiem'
Saturday, May 11, 2019
8 p.m., Mission San Luis Obispo
The Cal Poly Chamber Choir will perform John Rutter's beloved setting of the Requiem text, accompanied by chamber orchestra.
Tickets ($14 general, $9 students)
Cal Poly Choirs Spring Concert: For the Beauty of the Earth
Sunday, June 2, 2019
3 p.m., Harold J. Miossi Hall, Performing Arts Center
This concert will include musical works centered around the themes of nature and the natural world. Selections will include works by Pyotr Tchaikovsky, Charles Stanford, Stephen Chatman and many more.
Tickets ($12 and $14 general, $9 and $12 students)