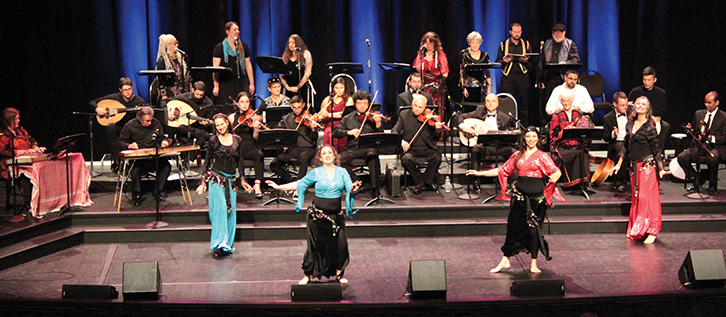 Arab Music Ensemble
Featuring diverse programs of classic and contemporary music and dance, the Arab Music Ensemble will give three main contrasting shows during the concert season. While focusing on the Eastern Mediterranean, the programs will also feature selections from historically interconnected cultures of the larger region.
The instrumental and vocal repertoire will include a variety of composed and improvisational genres that stem from the Middle Ages to the present. Also on the programs will be examples from among the oldest continuously performed art-music genres in the world and the most popular songs in the region.
Critically acclaimed guest artists will join the students in the ensemble, bringing their professional skill and virtuosity to the performances and to the educational experience. Colorfully costumed dancers will also join the ensemble to put a variety of selections into graceful motion.
Cal Poly Arab Music Ensemble Fall Concert
Saturday, Nov. 4, 2017
8 p.m., Harman Hall, Performing Arts Center
The Cal Poly Arab Music Ensemble and special guest artists will perform a diverse program of Arab and Iranian music.
Half of this special program will be dedicated to the presentation of vocal and instrumental music as well as dance stemming from the art and folk traditions of historical and contemporary Iran.
An ensemble of critically acclaimed guest artists from the San Francisco Bay Area will perform Iranian music and dance, including Neema Hekmat as director and on santur (hammered zither), Nasser Sabouri on vocals, Azadeh Nemat-Gorgani on piano, Nariman Assadi on tombak (goblet drum) and daff (frame drum), and Hannah Romanowsky as choreographer and on dance.
The other half of the program will feature the Cal Poly Arab Music Ensemble presenting works by some of the most celebrated composers, performers and poets of the Eastern Mediterranean, including Sayyid Darwish and Muhammad Abd al-Wahhab of Egypt, Fairuz and the Rahbani Brothers of Lebanon, and Adham Efendi of Turkey.
The concert will feature traditional and contemporary genres of music, including the muwashshah, a poetic and musical genre with origins lying in the Southern Iberian Peninsula of the 10th century.
Additional genres to be performed come from the shared music traditions of the Ottoman era, including the short introductory dulab and the more elaborate samai with its 10-beat metric mode.
The evening will conclude with a collaboration of the instrumentalists, singers and dancers from both ensembles performing a selection from the shared traditions of Arab and Iranian music.
San Luis Obispo dance director Jenna Mitchell will lead the Arab Music Ensemble dance troupe in colorful choreographies in dialogue with the music.
Tickets ($12 and $14 general, $9 and $12 students)
Cal Poly Arab Music Ensemble Winter Concert
Saturday, Feb. 24, 2018
8 p.m., Harman Hall, Performing Arts Center
Tickets ($12 and $14 general, $9 and $12 students)
Cal Poly Arab Music Ensemble Spring Concert
Saturday, May 26, 2018
8 p.m., Spanos Theatre
Tickets ($14 general, $9 students)