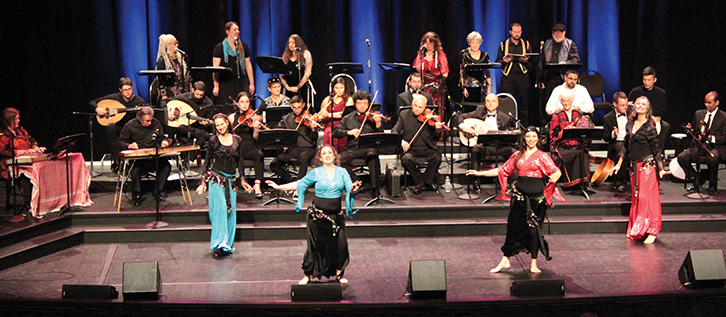 Arab Music Ensemble
Featuring diverse programs of classic and contemporary music and dance, the Arab Music Ensemble will give three main contrasting shows during the concert season. While focusing on the Eastern Mediterranean, the programs will also feature selections from historically interconnected cultures of the larger region.
The instrumental and vocal repertoire will include a variety of composed and improvisational genres that stem from the Middle Ages to the present. Also on the programs will be examples from among the oldest continuously performed art-music genres in the world and the most popular songs in the region.
Critically acclaimed guest artists will join the students in the ensemble, bringing their professional skill and virtuosity to the performances and to the educational experience. Colorfully costumed dancers will also join the ensemble to put a variety of selections into graceful motion.
Cal Poly Arab Music Ensemble Spring Concert
Saturday, May 25, 2019
8 p.m., Spanos Theatre
The Cal Poly Arab Music Ensemble's Spring Concert will celebrate seasonal themes.
"Our program is blooming with themes of spring," said Samuel Shalhoub, the ensemble's acting director. "From exciting travels and warm sunny days, to occasional rainstorms and moonlit nights, prepare to be carried away in an evening of popular Lebanese music, amusing bits of theatre and energetic dances."
The Arab Music Ensemble is a multi-instrumental orchestra and choir with vocal and instrumental soloists. Its membership represents a wide range of majors on campus and professions off campus.
The ensemble will be joined on stage by professional guest artists Faisal Zedan, percussion, and Fathi al-Jarrah, violin. Al-Jarrah, born in Aleppo, Syria, is considered one of the great contemporary masters of classical Arabic music. Zedan, who was born in Beirut, Lebanon, and raised in Oum Dbaib, Syria, has worked with such musicians as Aieto Moreira, The Gorillaz and Joan Baez.
San Luis Obispo dance director Jenna Mitchell, a Cal Poly alumna, will lead her dance troupe in original choreography that dialogues with the music.
Shalhoub, a composer, performer, lecturer in the Liberal Studies Department and president of the Coast Unified School District Board of Trustees in Cambria, is directing the Arab Music Ensemble in its third concert of the 2018-19 season. This will be Shalhoub's final concert as acting director of the Arab Music Ensemble.
Tickets ($14 general, $9 students)