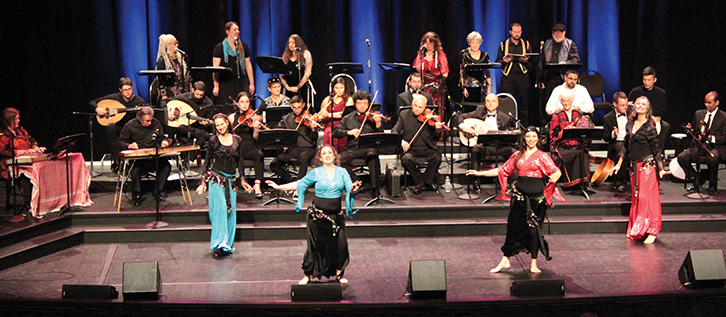 Arab Music Ensemble
Featuring diverse programs of classic and contemporary music and dance, the Arab Music Ensemble will give three main contrasting shows during the concert season. While focusing on the Eastern Mediterranean, the programs will also feature selections from historically interconnected cultures of the larger region.
The instrumental and vocal repertoire will include a variety of composed and improvisational genres that stem from the Middle Ages to the present. Also on the programs will be examples from among the oldest continuously performed art-music genres in the world and the most popular songs in the region.
Critically acclaimed guest artists will join the students in the ensemble, bringing their professional skill and virtuosity to the performances and to the educational experience. Colorfully costumed dancers will also join the ensemble to put a variety of selections into graceful motion.
Cal Poly Arab Music Ensemble Winter Concert
Saturday, Feb. 23, 2019
8 p.m., Harold J. Miossi Hall, Performing Arts Center
The Cal Poly Arab Music Ensemble's Winter Concert will feature the theme of love.
"The deep, passionate love of the works in the concert will be presented in a 'wasla' or suite of 'muwashahat,' one of the longest continuously performed genres of high art music in the world," said Samuel Shalhoub, acting director of the ensemble. "The concert will be a celebration of the power of love through music and dance."
A special feature of the concert will be the suite titled "Alf Layla Wa Layla" or "A Thousand and One Nights," a four-movement composition based on Persian, Arabic and Indian stories. These stories have been told for centuries and have influenced other great literature in turn, as in the case of the art songs of the famous Lebanese Rahbani Brothers and musical icon Fairuz. These songs form a suite in the "muwashshah" genre, which dates to the Middle Ages.
The Arab Music Ensemble is a multi-instrumental orchestra and choir with vocal and instrumental soloists. Its membership represents a wide range of majors on campus and professions off campus. The ensemble will be joined on stage by critically acclaimed guest artists: Faisal Zedan, percussion; Fathi al-Jarrah, violin; and Elias Lammam, accordion.
San Luis Obispo dance director Jenna Mitchell will lead her dance troupe in original choreography that dialogues with the music. Shalhoub, a composer, performer, lecturer in the Liberal Studies Department and president of the Coast Unified School District board of trustees in Cambria, is directing the Arab Music Ensemble in its second concert of the 2018-19 season.
Tickets ($12 and $14 general, $9 and $12 students)
Cal Poly Arab Music Ensemble Spring Concert
Saturday, May 25, 2019
8 p.m., Spanos Theatre
Tickets ($14 general, $9 students)