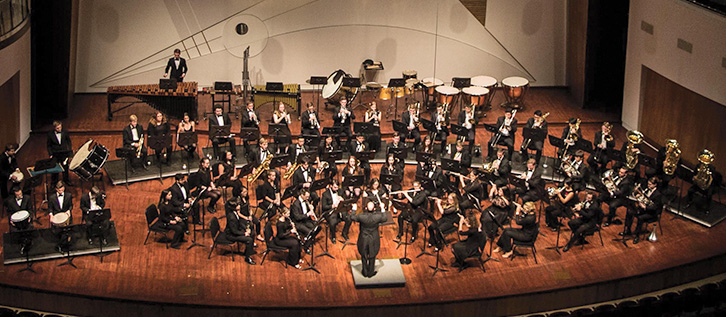 Wind Orchestra and Wind Ensemble
The wind band program at Cal Poly maintains a tradition of excellence that dates back to 1916. From those humble beginnings as a military-style marching band, the band program has grown in scope and quality along with the university itself. Today, approximately 300 students perform in at least one of Cal Poly's bands each year.
With CD recordings and international tours, Cal Poly's Wind Ensemble and Wind Orchestra have established a wide reputation for musical excellence and often receive invitations to perform at music festivals and conventions in both the U.S. and abroad. The bands toured Europe performing throughout the British Isles and Ireland in 2013, as well as in Budapest, Munich, Prague, Salzburg, and Vienna in 2006. The ensembles have also performed in the Sydney Opera House in Australia, Beethoven Hall in Tokyo, and the Michael Fowler Centre in New Zealand. Performances in the U.S. include Carnegie Hall in New York City and Walt Disney Concert Hall as a part of the Los Angeles International Music Festival.
In 2022, the Wind Ensemble performed for the Western and Northwestern Regions Conference of the College Band Directors National Association. The Wind Ensemble has performed for conferences hosted by the California Music Educators Association. The ensemble's first performance for the American Bandmasters Association (ABA) was in 1991, on the campus of Arizona State University. In 1997, the group again performed for the ABA Conference held in San Diego and then once again here in San Luis Obispo in 2007. The Wind Ensemble most recently performed for ABA in 2016 when Cal Poly once again served as host.
Auditions
Audition sign-ups will be available on the Wind Ensemble and Wind Orchestra website by August.
Auditions will begin during Orientation and continue through the first full week of classes. Auditions are designed to give the directors an opportunity to learn more about you on a personal basis, as well as to determine how to make you a better performer. Auditions are also used to decide which ensemble is best for you and to determine which chair position you will hold for the fall quarter.
Please visit the Wind Ensemble/Wind Orchestra audition page for more detailed information. There you will find audition repertoire, a complete schedule, information regarding the use of school instruments for auditions, and a list of frequently asked questions.

Qualifications
Some new students assume that qualifying for participation in a university concert band requires years of private instruction, coming from a large high school band program, and/or a history of being in honor groups such as the All-State Band. Although there are many students who fall into one or more of these categories, they are definitely not required for eligibility. If you have been an active member of your high school and/or college band, you already have the basic skills necessary for membership. So, even if you have never performed an audition, please feel comfortable scheduling your time with the directors. They work hard to make the process relaxed and stress-free for all new students.
Credit for participating
Wind Orchestra

MU 172-01/372-01
Rehearsals

Wind Ensemble


MU 173-01/373-01
Rehearsals
First Meeting
MONDAY EVENING, SEPT. 19, 7:10-8:30 p.m.

It is very important that you attend the Organizational Meeting of the Wind Orchestra and Wind Ensemble to be held in Room 216 of the Davidson Music Center even though the audition results will not have been posted. This will be an informational meeting and you will not need to bring your instrument.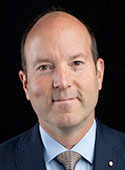 Ensemble Director
Christopher J. Woodruff, Director of Bands
Email Woodruff
Phone: 805-756-6856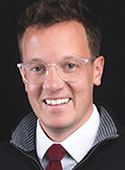 Ensemble Director
Nicholas P. Waldron, Associate Director of Bands
Email Nicholas Waldron
Phone: 805-756-2658