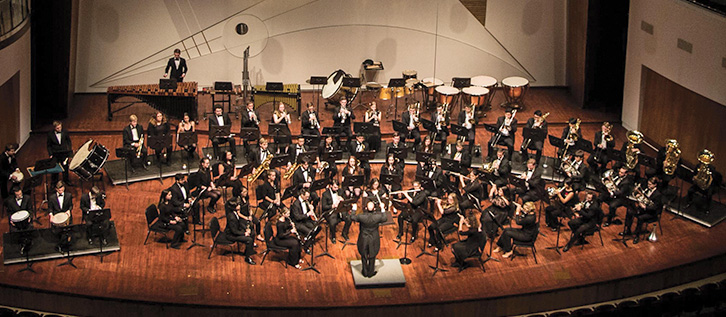 Cal Poly Bandfest 2016: American Masters
Wind Orchestra, Wind Ensemble and Mustang Marching Band
Sunday, Nov. 13, 2016
3 p.m. Harman Hall, Performing Arts Center
Nearly 300 students will perform at Cal Poly's annual Bandfest!
The show, titled "American Masters," will feature the Cal Poly Wind Orchestra and Wind Ensemble in an evening of bold and powerful works by living American composers for the modern symphonic band.
The evening will also include the Mustang Marching Band performing high-energy selections for the traditional stadium band.
The concert will begin with the Wind Orchestra performing Brian Balmages' "Elements," Eric Whitacre's "Lux Arumque," Steve Danyew's "Magnolia Star" and Robert Sheldon's "Stormchasers."
The Wind Ensemble will continue with performances of John Zdechlik's "Celebrations" Frank Ticheli's "Rest," Karel Husa's "Al Fresno," selections from Julie Giroux's "Culloden" and John Williams' "March of the Resistance" from "Star Wars: The Force Awakens."
The Mustang Band will conclude the concert with arrangements they are performing at this fall's football games in Spanos Stadium. Along with traditional favorites, the band will perform music from the great rock bands Rush and Queen as well as selections from the "Star Trek" films and soundtrack scores of John Williams.
Tickets ($12 and $14 general, $9 and $12 students)


Cal Poly Wind Bands' Winter Concert: Music for the Moment
Wind Orchestra and Wind Ensemble
Friday, March 17, 2017
8 p.m. Harman Hall, Performing Arts Center
Music is perhaps the most powerful method by which a moment in time can be expressed. Great composers have used their gifts to frame a person, place or event in a way that can forever convey the emotions of those who experienced them. This will be a night to remember as the Cal Poly wind bands set the stage for an exciting concert featuring some of the most powerful musical moments ever written.
Tickets ($12 and $14 general, $9 and $12 students)


Cal Poly Wind Bands' Spring Concert: Winds of Change - Music of the 21st Century
Wind Orchestra and Wind Ensemble
Saturday, June 3, 2017
8 p.m. Harman Hall, Performing Arts Center
The wind band is somewhat unusual in that its performers and directors tend to adore and gravitate toward "new" music. From early ensembles, such as the Sousa Band or the Goldman Band, through the era of the Eastman Wind Ensemble and the Tokyo Kosai Wind Orchestra, wind bands have consistently championed contemporary music. That wonderful tradition continues with a program that features works written in the 21st century. Exciting, bold, romantic, traditional, heart-warming, pleasant and intense are just some of the words that could be used to describe this incredible concert.
Tickets ($12 and $14 general, $9 and $12 students)