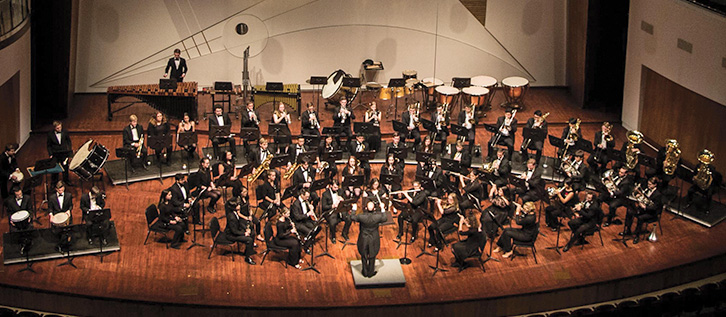 Cal Poly Wind Bands' Spring Concert: Color of Sound
Wind Orchestra and Wind Ensemble
Sunday, June 9, 2019
3 p.m. Harold J. Miossi Hall, Performing Arts Center
Cal Poly's Spring Band Concert will feature the 50-member Wind Ensemble and 55-member Wind Orchestra at 3 p.m. Sunday, June 9, in Harold J. Miossi Hall of the Performing Arts Center's Christopher Cohan Center.
The concert — the third in the bands' season series — is titled "Color of Sound."
The Cal Poly Wind Orchestra will open the program with Eric Whitacre's "Lux Aurumque" ("Light and Gold") followed by works from the expanded wind band repertoire, including Alex Shapiro's "Tight Squeeze," Gustav Holst's "Second Suite in F" and Steven Bryant's "Bloom."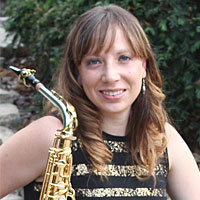 Laura M. Kramer
Guest saxophone soloist Laura M. Kramer will perform on James Stephenson's "Möbius Trip," with the Wind Ensemble, which was part of the national consortium that commissioned the work. "The composer makes a play on the term Möbius strip, as the piece does take the soloist on a journey that wraps around to return to where they started … almost!" said Christopher J. Woodruff, director of bands. The term, also called the twisted cylinder, is a one-sided nonorientable surface, like the universal symbol for recycling, which is found printed on the backs of aluminum cans and plastic bottles.
The program will conclude with David Maslanka's Symphony No. 4, which was inspired in part by the composer's fascination with President Abraham Lincoln, and for this piece, his funeral train in particular.
Kramer, who teaches saxophone and theory at Cal Poly, is a founding member of the Los Angeles-based Noir Quartet. She has performed her original saxophone works at various national concerts, including for the California State University at Fullerton's annual New Music Festival, North American Saxophone Alliance conferences, What's Next? ensemble concerts and for the Midwest Composers Symposium. She performed on Presidio Brass' "Rhapsody in Brass" album.
As a composer, her works have been commissioned by several artists and ensembles. She recently composed music for the short film "Reveries," directed by Jacob Ball. Kramer also teaches at the California State Summer School for the Arts.
Tickets ($12 and $14 general, $9 and $12 students)