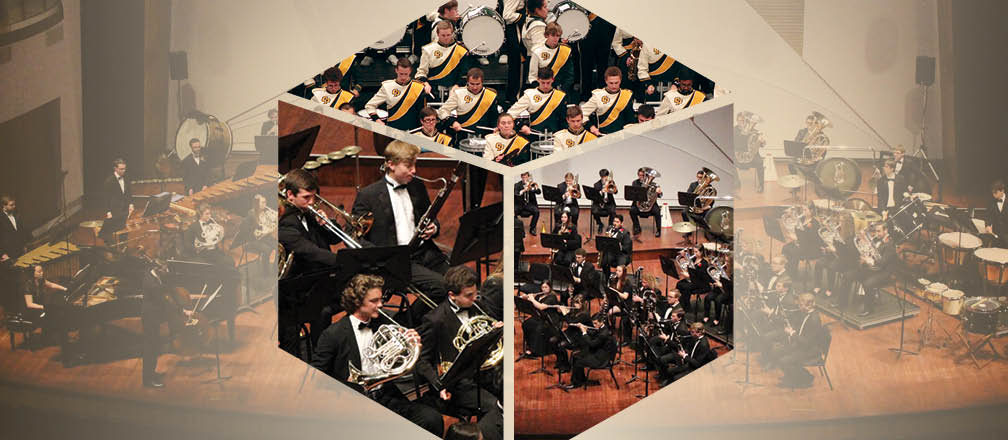 Cal Poly Bandfest 2019: Boston Brass!
Friday, Nov. 15, 2019
7:30 p.m. Miossi Hall, Performing Arts Center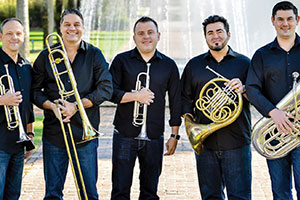 Nearly 300 Cal Poly students will be joined by Boston Brass at the university's annual Bandfest concert!
The show will feature Cal Poly's Wind Ensemble, Mustang Marching Band and Wind Orchestra. The Wind Orchestra will be conducted by Nicholas P. Waldron, Cal Poly's new associate director of bands. Director of Bands Christopher J. Woodruff will conduct the Wind Ensemble. The evening will feature works ranging from the sublime to the powerful.
Members of Boston Brass — acclaimed for their musical brilliance, lively repartee, humor and personality — tour internationally and appear in over 100 annual solo and group performances for concerts, educational clinics, and jazz festivals. The group regularly performs with orchestras, wind ensembles, brass bands, marching bands and a variety of other ensembles.
Bandfest will begin with the Wind Orchestra's performance of John Mackey's "Until the Scars" and Ron Nelson's "Courtly Airs and Dances." The Wind Ensemble will continue with Roshanne Etezady's "Shoutout" and Robert Kurka's satirical suite from "The Good Soldier Schweik."
Boston Brass will join the two bands with their arrangements of "Malagueña" and "Pluto: The Lost Planet."
"We're opening our season with a real bang," said Woodruff. "We have Boston Brass on board to work with our students and present an amazing program. We're also fortunate to welcome our alumni back for Homecoming weekend with this concert."
The Mustang Band will conclude the concert with arrangements the group is performing at this fall's football games in Spanos Stadium. Along with traditional school songs, the band will perform music by Blood, Sweat and Tears; Blue Swede; and The Who.
The Mustang Band will return to San Francisco to march in the Southwest Airlines Chinese New Year Parade on Feb. 8, 2020.
The members of Boston Brass will give a free master class on Nov. 14 with Cal Poly students.
Tickets ($12 and $14 general, $9 and $12 students)


Cal Poly Wind Bands' Winter Concert: Winds of Change
Sunday, March 8, 2020
3 p.m. Miossi Hall, Performing Arts Center
Music has the ability to reflect artistic shifts and, on occasion, even to stir cultural change. From the adventurous storytelling of Michael Colgrass to the electroacoustic soundscapes of Alex Shapiro, the listener is invited to consider the development of our musical language in the context of a search for cultural direction and to examine our own roles in defining meaning in our communities.
Tickets ($12 and $14 general, $9 and $12 students)


Cal Poly Wind Bands' Spring Concert: What Dreams May Come
Friday, May 29, 2020
7:30 p.m. Miossi Hall, Performing Arts Center
The performing arts are a means by which we can look inward in study of the self. The works of John Mackey and David Maslanka have pushed the wind band medium and its possibilities. The Wind Orchestra and Wind Ensemble will end their season of performances with a program of compositions — both familiar and new — with the aim of extending our thoughts skyward, toward the future, and into our dreams.
Tickets ($12 and $14 general, $9 and $12 students)