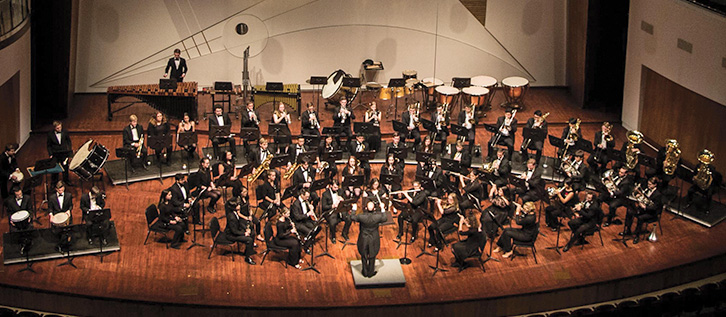 Cal Poly Wind Bands' Spring Concert
Wind Orchestra and Wind Ensemble
Saturday, June 2, 2018
8 p.m. Harman Hall, Performing Arts Center
For the concert titled "Earth and Sky: A Metamorphosis," Cal Poly's Wind Orchestra and Wind Ensemble will perform a range of new works for wind band written in the past 20 years.
The 65-member Wind Orchestra will begin the concert with "Night on Fire" by John Mackey, "To the Sky" by James Stephenson, and "Be Glad Then, America" by William Schuman.
The concert will continue with the 60-member Wind Ensemble accompanying the student saxophone quartet Six Four as it makes its Harman Hall debut performing Jerome Naulais' "Saxtory." The quartet is comprised of software engineering major Victor Wei on soprano saxophone, history major Paige Rooney on alto saxophone, mechanical engineering major Isaac Becker on tenor saxophone and civil engineering and music double major Noah Scanlan on baritone saxophone.
"Our audiences have seen the members of the quartet performing with energy and enthusiasm as members and leaders in Cal Poly's Mustang Band for the last four years. They are amazing musicians whose individual lyricism and technical facility really needed to be front and center in concert," Interim Director of Bands Christopher J. Woodruff said. "'Saxtory' is an expansive work that gives them the opportunity to have fun and make a powerful presentation that I know will delight the audience."
The Wind Ensemble will also perform a new transcription of Antonín Dvořák's "Golden Spinning Wheel," by Music Professor Emeritus William Johnson, as well as Paul Hindemith's masterwork "Symphonic Metamorphosis on Themes by Carl Maria von Weber."
Woodruff will conduct the concert. He was recently named Cal Poly's director of bands, and he'll assume the new role in September.
Tickets ($12 and $14 general, $9 and $12 students)