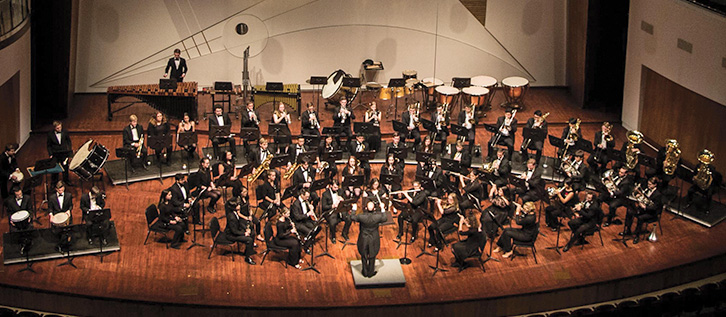 Cal Poly Wind Bands' Spring Concert: Winds of Change - Music of the 21st Century
Wind Orchestra and Wind Ensemble
Saturday, June 3, 2017
8 p.m. Harman Hall, Performing Arts Center
Featuring the 70-member Wind Ensemble and 80-member Wind Orchestra.
Titled "Winds of Change," the performance features a range of new works for wind band written in the past 20 years.
The Wind Orchestra will begin the concert with "Red Rock Mountain" by Rossano Galante, "The Story of Anne Frank" by Otto M. Schwarz, Joel Puckett's "Emory's Barcarolle" and "Danzón No. 2" by Arturo Márquez.
The concert continues with select members of the Wind Ensemble accompanying Emelia Banninger as she performs the first movement of Frigyes Hidas' "Concerto for Bassoon." Banninger is a Cal Poly student who is majoring in music and will graduate in June.
The Wind Ensemble will also perform "Mother Earth Fanfare" by David Maslanka, "Butterflies and Bees" by Thomas Duffy, "Firefly" by Ryan George and "Red Cape Tango" by Michael Daugherty.
Andrew McMahan, Cal Poly director of bands, and Christopher J. Woodruff, associate director of bands, will conduct the concert.
Tickets ($12 and $14 general, $9 and $12 students)