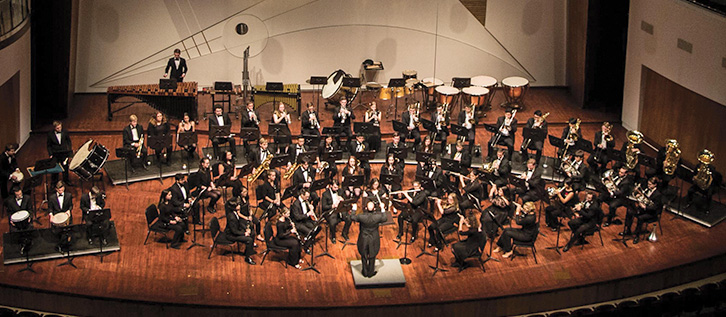 Cal Poly Wind Bands' Winter Concert
Wind Orchestra and Wind Ensemble
Saturday, March 3, 2018
8 p.m. Harman Hall, Performing Arts Center
Music has the ability to evoke images in the mind and paint with sound. The Wind Bands present music in which the horizon is defined from below and above in various forms. The program invites the audience to consider our existence between the polarities of earth and sky. The "Four Scottish Dances" of Malcolm Arnold celebrates our energetic connection to the earth, while Igor Stravinsky's "Fireworks" ignites the air above. The program will include the world premiere performance of Matsuhito Ogino's "Percussion Concerto" featuring Cal Poly faculty percussionist John Astaire.
Tickets ($12 and $14 general, $9 and $12 students)


Cal Poly Wind Bands' Spring Concert
Wind Orchestra and Wind Ensemble
Saturday, June 2, 2018
8 p.m. Harman Hall, Performing Arts Center
The performing arts are a means by which humanity moves itself beyond the earthly or the mundane. We strive for our highest form of expression through dance, theater and music. The works of Alex Shapiro, Paul Hindemith and David Maslanka have pushed the possibilities of the wind band medium. The Wind Orchestra and Wind Ensemble will end the season of performances with a program of compositions — familiar and new — that aim to extend our thoughts skyward, toward the future and into our dreams.
Tickets ($12 and $14 general, $9 and $12 students)