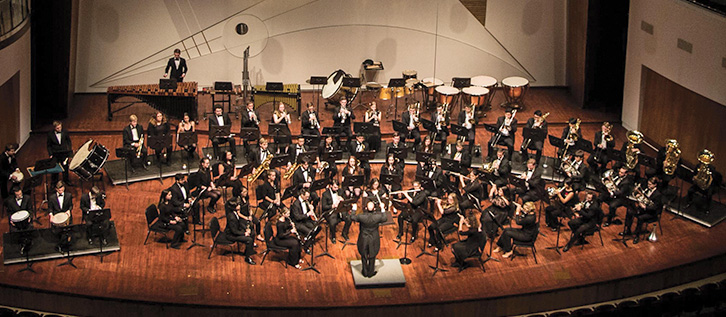 Cal Poly Wind Bands' Winter Concert: Time in Space
Wind Orchestra and Wind Ensemble
Sunday, March 10, 2019
3 p.m. Harold J. Miossi Hall, Performing Arts Center
The musicians of the Cal Poly Wind Bands explore works that invite a consideration of the relationships among the four dimensions. The boundaries of Miossi Hall will be pushed — and pulled! Composers to be featured on the program include Libby Larsen and Joseph Schwantner.
Tickets ($12 and $14 general, $9 and $12 students)


Cal Poly Wind Bands' Spring Concert: Color of Sound
Wind Orchestra and Wind Ensemble
Sunday, June 9, 2019
3 p.m. Harold J. Miossi Hall, Performing Arts Center
We encounter wave behavior through numerous sensory experiences including sight, touch and aural experiences. Music has been described as the "transfer of energy," and in live performances, the energy moves in waves from the stage to the audience to excite not only the senses, but also the emotions. The Wind Orchestra and Wind Ensemble investigate the relationship between spectra of music and visual color through works by James Stephenson and Michael Colgrass.
Tickets ($12 and $14 general, $9 and $12 students)