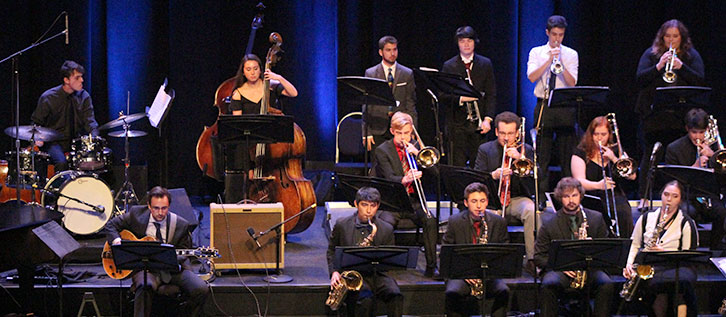 University Jazz Bands
Cal Poly's University Jazz Bands program combines the professionalism of a working big band with the academic rigor of cutting-edge big band repertoire, showcased at concerts in the Performing Arts Center's Spanos Theatre and Harman Hall.
Cal Poly Jazz Night Concert
Friday, June 2, 2017
8 p.m., Spanos Theatre
Tickets ($14 general, $9 students and Jazz Federation members)
The concert will feature works from several jazz composers who are pushing the boundaries of what jazz is and can be.
The University Jazz Band I will perform two works by Grammy award winning composer Jim McNeeley, who has composed for and led several prominent U.S. and European big bands. McNeeley's "Finally" is a fascinating, asymmetric, post-bop composition and "Absolution" is a haunting, ethereal work. Several jazz bands soloists will have the chance to offer their take on McNeeley's themes through their improvisations.
The University Jazz Band II will perform "Nightfall" by Adam Theis, the leader of the Jazz Mafia collective of jazz bands. Based in San Francisco, Theis is one of a younger generation of jazz composers and performers who are bringing rap and hip-hop into the contemporary big band.
Also featured will be a humorous composition by Cal Poly's Director of Jazz Studies Paul Rinzler that strings together a series of cliche endings, titled "One More Time."