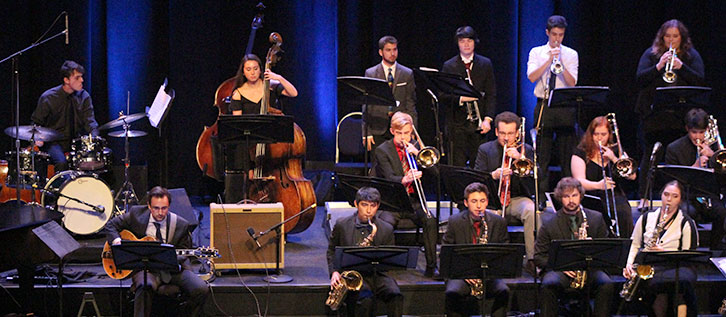 University Jazz Bands
The University Jazz Bands combine the professionalism of working jazz bands with the rigor of cutting-edge repertoire. In addition to the concerts in the Performing Arts Center's Miossi Hall and Spanos Theatre, the University Jazz Bands perform regularly at the Jubilee by the Sea jazz festival in Pismo Beach in October, the Strawberry Festival in Arroyo Grande in May, various swing dances and other concerts in the community.
Pieces for the concerts can draw from almost any source — including genres such as cartoon music, Ethiopian pop music, rock, rhythm and blues, and swing — by groups such as Led Zeppelin and Tower of Power, past jazz masters and rising new musicians, as well as the most advanced modern big band compositions, often as recorded and performed by the original artists.
Cal Poly Jazz Night Concert
Saturday, June 1, 2019
8 p.m., Spanos Theatre
Paul Rinzler will direct Cal Poly's University Jazz Bands for the last time!
Rinzler has been the director of jazz studies at Cal Poly since 1997. Under his tutelage, the University Jazz Bands have won first place at collegiate jazz festivals and performed hundreds of gigs on- and off-campus.
The concert will feature two big bands — with vocalists — and two combos. Among the pieces to be performed will be one of Rinzler's compositions, "One More Time." Other works include "Tank!" from the Japanese anime TV series "Cowboy Bebop;" "Fever," which was made popular by the great jazz vocalist Peggy Lee; and "I'm Late," as recorded by Maureen McGovern.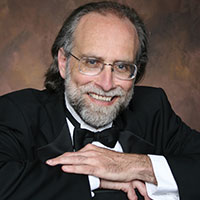 Paul Rinzler is retiring as director of jazz studies.
More information is posted in the Music Department's
latest newsletter.
Concertgoers are invited to attend a reception honoring Rinzler on the theatre's patio following the concert.
Beginning this fall, Arthur White will be Cal Poly's new director of jazz studies. White previously served as director of jazz studies at the University of Missouri and Northeastern State University in Oklahoma.
Tickets ($14 general, $9 students and Jazz Federation members)