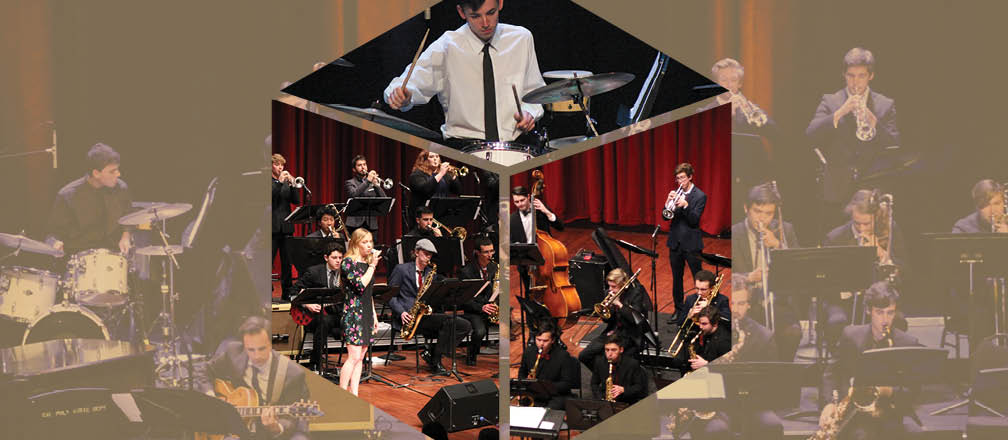 University Jazz Bands
The jazz ensembles at Cal Poly are moving forward in 2019–20 under new leadership, as the Music Department welcomes Arthur White as its new director of jazz studies.
White was previously the director of jazz studies at the University of Missouri and Northeastern State University in Oklahoma.
He looks forward to creating a new legacy for jazz at Cal Poly, while honoring the foundation of excellence established by his predecessors.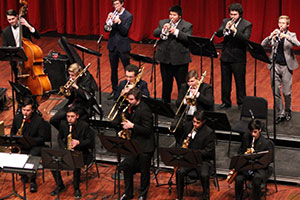 Cal Poly Fall Jazz Concert
Friday, Nov. 22, 2019
7:30 p.m., Spanos Theatre
A new era for jazz at Cal Poly begins with the first student concert of the 2019-20 academic year as the new director of jazz studies leads three ensembles in concert. The Cal Poly Jazz Ensembles will present the annual Fall Jazz Concert with new director Arthur White.
The Cal Poly Jazz Ensemble, formerly University Jazz Band I; and the Cal Poly Jazz Band, formerly University Jazz Band II; will perform, as will the newly re-formed Cal Poly Vocal Jazz Ensemble.
The jazz program has expanded to include six chamber jazz groups — combos of five-to six members each — with styles including hard bop, fusion, Latin jazz and contemporary jazz. These new groups are slated to perform at upcoming concerts.
Through the years Cal Poly jazz groups have performed with jazz luminaries James Carter, Kevin Mahogany, Louie Bellson, T.S. Monk, Arturo Sandoval and Joshua Redman, among others. The bands have gone on numerous performance tours and perform at a variety of festivals, including the annual Pismo Beach Jubilee by the Sea in October. 
Prior to his appointment at Cal Poly, White was the director of jazz studies at the University of Missouri (MU) and Northeastern State University. He produced six critically acclaimed recordings by the MU Concert Jazz Band, and ensembles under his direction were selected to perform at conferences for the International Society for Music Education, Missouri Music Educators Association, Jazz Education Network and International Society for Improvised Music. On Oct. 18, White, a saxophonist, gave his Cal Poly debut recital, premiering his new work, "Pictures of the Heartland," with vibraphonist Joe Locke and drummer Peter Erskine.
Tickets ($14 general, $9 students and Jazz Federation members)
Cal Poly Winter Jazz Concert
Saturday, Feb. 29, 2020
7:30 p.m., Miossi Hall, Performing Arts Center
Tickets ($12 and $14 general, $9 and $12 students and Jazz Federation members)
Cal Poly Spring Jazz Concert
Friday, June 5, 2020
7:30 p.m., Spanos Theatre
Tickets ($14 general, $9 students and Jazz Federation members)