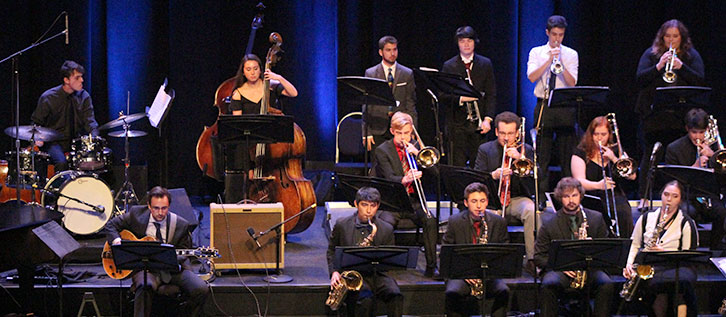 University Jazz Bands
The University Jazz Bands combine the professionalism of working jazz bands with the rigor of cutting-edge repertoire. In addition to the concerts in the Performing Arts Center's Miossi Hall and Spanos Theatre, the University Jazz Bands perform regularly at the Jubilee by the Sea jazz festival in Pismo Beach in October, the Strawberry Festival in Arroyo Grande in May, various swing dances and other concerts in the community.
Pieces for the concerts can draw from almost any source — including genres such as cartoon music, Ethiopian pop music, rock, rhythm and blues, and swing — by groups such as Led Zeppelin and Tower of Power, past jazz masters and rising new musicians, as well as the most advanced modern big band compositions, often as recorded and performed by the original artists.
Cal Poly Just Jazz Concert: The Art of Improvisation
Saturday, March 2, 2019
8 p.m., Harold J. Miossi Hall, Performing Arts Center
The art of improvisation will be showcased at Cal Poly's University Jazz Bands annual Just Jazz concert.
"The excitement and surprise inherent in the art of improvisation will be in the hands of a new generation of jazz musicians," said Paul Rinzler, director of jazz studies. "It's great to hear the emotion and the attitude that the students bring to the craft of jazz improvisation. Their personalities really shine through in a way that makes it easy for an audience to appreciate and to accompany the musician on the journey that is jazz improvisation."
Two big bands — each with four trumpets, four trombones, five saxophones, rhythm section and a vocalist — as well as two smaller jazz combos, will present jazz repertoire from several different eras and styles. Included will be "Rush!" from the anime TV series "Cowboy Bebop"; "Big Swing Face," originally recorded by the big band of drummer Buddy Rich; an epic combination of jazz and hip-hop titled "Grass is Greener"; as well as traditional jazz, Latin jazz and more.
Tickets ($12 and $14 general, $9 and $12 students and Jazz Federation members)
Cal Poly Jazz Night Concert
Saturday, June 1, 2019
8 p.m., Spanos Theatre
Tickets ($14 general, $9 students and Jazz Federation members)