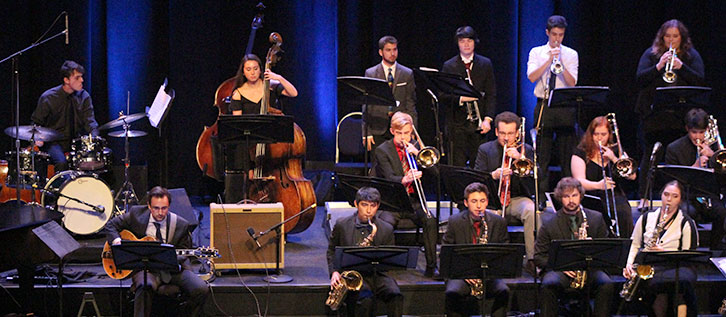 University Jazz Bands
The University Jazz Bands perform regularly at events such as the Jubilee by the Sea jazz festival in Pismo Beach in October and the Strawberry Festival in Arroyo Grande in May, as well as at Spanos Theatre and Harman Hall of the Performing Arts Center. The repertoire ranges from that of Count Basie, Duke Ellington, Tito Puente and Tower of Power, to advanced cutting-edge repertoire as recorded and performed by the most acclaimed jazz ensembles.
Cal Poly Just Jazz Concert
Friday, March 2, 2018
8 p.m., Harman Hall, Performing Arts Center
The rhythmic complexity, harmonic adventurousness and surprises inherent in jazz will be apparent at the annual "Just Jazz" concert presented by Cal Poly's University Jazz Bands.
"Jazz is often noted for being complex and sophisticated music, but it also has a great groove and a rhythmic sensibility that makes it easy for the average listener to appreciate," Director of Jazz Studies Paul Rinzler said. "Even a beginning listener can get hooked on the fascinating rhythms of jazz, and then have their ears opened up to its harmonic sophistication. And because it's improvised, you never know what might happen."
The repertoire for the concert includes a slow, soulful blues number titled "I Lost My Sugar in Salt Lake City," a rousing flag-waver featuring trumpet, "Bugle Call Rag," and a Latin-jazz version of the jazz standard "Mack the Knife" called "Jack the Knife." Two big bands — with four trumpets, four trombones, five saxophones, rhythm section and vocalist — and two jazz combos will be featured.
Tickets ($12 and $14 general, $9 and $12 students and Jazz Federation members)
Cal Poly Jazz Night Concert
Saturday, June 9, 2018
8 p.m., Spanos Theatre
Tickets ($14 general, $9 students and Jazz Federation members)