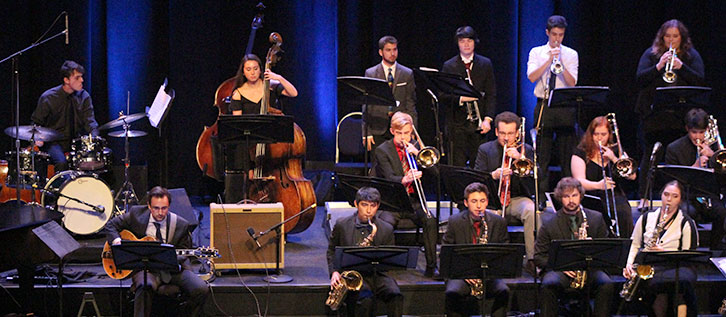 University Jazz Bands
Cal Poly's University Jazz Bands program combines the professionalism of a working big band with the academic rigor of cutting-edge big band repertoire, showcased at concerts in the Performing Arts Center's Spanos Theatre and Harman Hall.
Cal Poly Just Jazz Concert
Saturday, Feb. 25, 2017
8 p.m., Harman Hall, Performing Arts Center
Tickets ($12 and $14 general, $9 and $12 students and Jazz Federation members)
Cal Poly's best student jazz musicians will display their dedication to America's great art form — jazz — at the annual "Just Jazz" concert presented by University Jazz Bands.

Most of the musicians in the jazz bands — as well as in the other Music Department ensembles — are not music majors, but are very dedicated to jazz and enjoy playing it. The enthusiasm from everyone in the bands is easy to hear and to see at the jazz bands' concerts.

The students help produce "Just Jazz" and form the direction it will take. This is especially apparent during the improvisations, in which musicians must make up the music on the spot. Students have input into other aspects of the concert as well.

Some of the tunes the bands will play range from the John Coltrane classic "Lazy Bird;" a jazz/funk arrangement of the Average White Band's popular "Pick up the Pieces;" a rhythmically complex and multi-meter composition by Todd Munnik titled "Guten Tag, Zigaretten?" (Good Day! Cigarette?); to original compositions by band members.

Cal Poly Jazz Night Concert
Friday, June 2, 2017
8 p.m., Spanos Theatre
A special guest soloist to be announced!
Tickets ($14 general, $9 students and Jazz Federation members)