Applied Faculty
Heidi Butterfield
Heidi Butterfield, oboe, holds a Master of Music degree in oboe performance from the University of Northern Colorado, and a Bachelor of Arts degree in music education from California State University, Fresno. She plays in the San Luis Obispo Symphony, Opera San Luis Obispo, Symphony of the Vines, PCPA (Pacific Conservatory Theatre), among others, and is a founding member of the Neptune Reeds, a multi-genre chamber ensemble. More information on Butterfield is on the faculty website.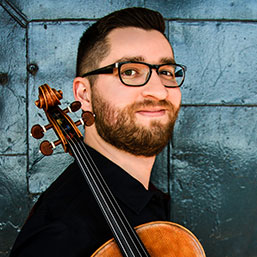 Jonathan Morgan
Jonathan Morgan, viola, holds a Doctor of Musical Arts from the UCSB, Master of Music from the Cleveland Institute of Music and a Bachelor of Music from the Peabody Institute of the Johns Hopkins University. He is a founding member of the Now Hear Ensemble, the resident ensemble at UCSB. Morgan has served as the principal violist of the Santa Barbara Choral Society and the Santa Ynez Valley Master Chorale for the 2015 and 2016 seasons. Prior to settling in Santa Barbara, he served on the violin, viola, and chamber music faculty at the Cleveland Institute of Music's Preparatory and Continuing Education Department. More information on Morgan is on the faculty website.
Lecturer
Emma Levine
Emma Levine is teaching sections of music appreciation this year. She earned a Master of Arts in musicology from the University of California, Santa Barbara, and a Bachelor of Arts in music from Cal Poly, San Luis Obispo. In 2016, she was awarded UCSB's campuswide Excellence in Teaching Award. She is writing her dissertation as a Ph.D. candidate at UCSB. On Oct. 8, she appeared on stage with Bill Murray in the Performing Arts Center for Cal Poly Arts' presentation: "Bill Murray, Jan Vogler and Friends." She was page turner for the pianist. More information on Levine is on the faculty website.