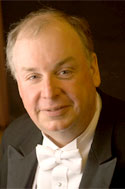 As a species, we've always been singers. It is likely that our early ancestors vocalized even before the development of speech, singing partly to communicate, and partly to imitate the sounds of nature. Singing has become for many cultures an indispensible avenue for expression, both individually and in groups. We sing together on special occasions to celebrate, commemorate, worship and mourn. Other times, we sing together to reflect on everyday things such as the seasons, weather and love. There is something in making music collaboratively that joins us to others with a special bond — it is an affirmation of community, an implicit recognition of the fact that we're all in this together, and that, when we work in harmony, beautiful things can happen.
At Cal Poly, we have a wonderful community built around singing. Talented vocalists from across the university make music together in a warm environment that challenges and encourages them, and that helps them express and understand music as they never have before. This musical world is the creation of my friend and colleague Dr. Thomas Davies.
Dr. Tom has decided it is time to pass his musical torch on to a successor, and to retire this coming spring. It is impossible to itemize all that Tom has done in his 34 years on campus. Suffice it to say, he has brought the joy and challenge of music making to thousands of student singers and to tens of thousands of audience members. He is an outstanding musician and conductor, and can be a demanding taskmaster for his students, especially if they haven't learned their music! His choirs have performed repeatedly at special university events, across the country and around the globe — and he always gets the best out of those ensembles. The musical and social experience of singing together, of achieving together, has broadened horizons for many vocalists; additionally, our supportive choral "home" has probably saved the degrees of many stressed-out students!
In Shakespeare's "Twelfth Night," he wrote, "If music be the food of love, play on, play on." For Dr. Tom's students, that phrase has changed to "sing on, sing on." Thank you, my friend, for coaxing beautiful music out of Cal Poly voices for 34 years. May your retirement be full of even more beauty.