Dublin Brass Week
By Leah Anderson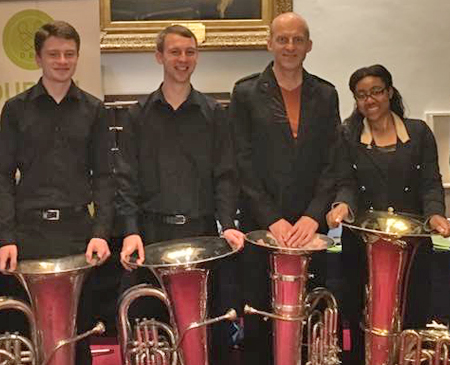 Leah Anderson (right) with Øystein Baadsvik and other students
Dublin Brass Week was amazing! The annual event is hosted at the Royal Irish Academy of Music and provides an opportunity for a limited number of serious brass students from around the world to work with internationally renowned brass professionals in a series of ensemble coachings, mock auditions and individual lessons. The intense schedule also includes performances each night at various venues across Dublin.
Thank you to Prof. Christopher J. Woodruff for recommending it. I learned so much and feel like a completely different tuba player. It was really great to hear what accomplished brass players actually sound like in a group. The master classes were really great, too. I met Øystein Baadsvik, the best tuba soloist in the world, and he targeted a lot of minor issues I was having in my tone, performance, etc. I was astounded at how much we got through in just a few days. Mr. Baadsvik knows so much and he was very nice — I even had dinner with him three nights in a row. This truly was the best way to end my senior year. I couldn't be more pleased with how things went. This short review doesn't even begin to cover all the things I learned/heard/did. It actually changed how I play and was hands down the best musical experience of my life.
Two Music Majors Awarded Watson Scholarship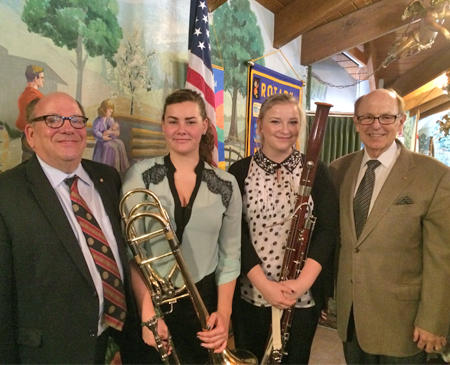 Rose Doylemason and Emmie Banninger with
Rotary Club President Jeffrey D. Stulberg
and Professor Emeritus William Johnson
Two music majors were winners of the Rotary Club's 2016 Billy Watson Memorial Scholarship: Rose Doylemason, bass trombone, received $3,000, and Emmie Banninger, bassoon, received $1,000. The awards were presented at the club's annual Scholarship Day on May 16. As a part of the awards ceremony, the two recipients performed Steven Verhelst's duet titled "Devil's Waltz." According to Professor Emeritus William Johnson, the performance was flawless and the students received an enormous ovation.
Doylemason is a spring 2016 graduate of the department. She studied bass trombone with Sonny Galvan and Mark Miller. She was active in many ensembles, including Brass Ensembles, Mustang Marching Band, Symphony, University Jazz Band and Wind Ensemble. She is pursuing a master's degree in bass trombone performance from UCLA's Herb Alpert School of Music. Banninger, a music senior, studies bassoon with Lisa Nauful and has been active in the Mustang Marching Band, Symphony, Wind Ensemble and chamber ensembles.