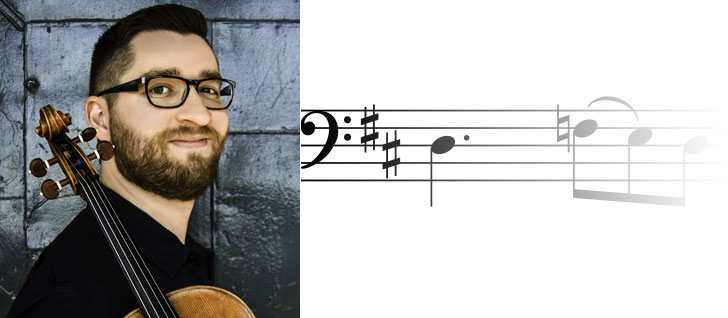 Jonathan Morgan is a violist and violinist specializing in the music of living composers, and a founding member of the Now Hear Ensemble, the resident ensemble at the UC Santa Barbara Department of Music. He is on the artist roster of the San Francisco based record label Aerocade Music on which he released a ​recording of Nick Norton's "Elegy II" and is donating all proceeds from the recording to the ACLU. During 2017-18, Morgan is giving world premiere performances of newly commissioned music for solo viola at the Santa Barbara Center for Art, Science, and Technology (SBCAST), Synchromy, the New York City Electroacoustic Music Festival, the Eureka Musical Minds of California Conference, the Roy and Edna Disney CalArts Theater (REDCAT), the UCSB Summer Music Festival, and the Carlsbad Music Festival.
Morgan has served as the principal violist of the Santa Barbara Choral Society, and the Santa Ynez Valley Master Chorale for the 2015 and 2016 seasons. In the recording studio, he has worked with RAYMOND​, a boutique studio based in Buenos Aires and Santa Barbara, performing violin and viola tracks to TV commercials for the Argentine fashion house, VER. He is the featured soloist with the Choir of St. Barbara Parish, at the Old Mission Santa Barbara on their recent album ​"My Hope is Arisen​," released in 2015. Other works in Morgan's discography include ​"Made in California" — the debut album of the Now Hear Ensemble — released in 2013, the ​Lament Cycle by Joel Feigin — performed by Helen Callus and the UC Santa Barbara Viola Studio — released on MSR Classics, 2012.
Morgan performs regularly with wildUp, as well as various orchestras throughout southern California. Prior to settling in Santa Barbara in 2010, he served on the violin, viola, and chamber music faculty at the Cleveland Institute of Music's Preparatory and Continuing Education Department. He has participated in several music festivals, notably the Banff Centre where he was part of impromptu recordings later used in the 2008 Beijing Olympic Games Opening Ceremony. He holds a Bachelor of Music from the Peabody Institute of the Johns Hopkins University, a Master of Music from the Cleveland Institute of Music, and a Doctor of Musical Arts from the University of California Santa Barbara. His teachers and mentors include Helen Callus, Jeffrey Irvine, Lynne Ramsey, Victoria Chiang, Richard Field, WIlliam Preucil, Peter Salaff and the Cavani Quartet.
Morgan performs on three instruments: a viola commissioned in 2006 from New York luthier Guy Rabut, a violin of anonymous origin, and a carbon fiber viola by Mezzo Forte Strings, with bows by Bernard Walke, CodaBow and CarBow. When appropriate, his instruments are generally amplified using a DPA 4061 microphone.
For more about Morgan, visit his personal website.