India D'Avignon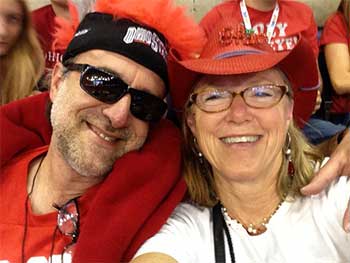 India D'Avignon at right with Ignati Vakalis
India D'Avignon will retire at the end of August. She is simultaneously a proud Mustang and Buckeye since she came to campus in 2008 from Columbus, Ohio, where she taught and chaired the piano and organ department at the Capital University Conservatory of Music; and earned her graduate degree from The Ohio State University. She began serving a three-year term as chair at Cal Poly in fall 2019, then just months later was faced with canceling concerts due to COVID-19. She, along with faculty and staff, worked tirelessly to find ways for students from all over campus who participate in the department's performing ensembles to safely meet in person, while following the protocols of the university, county and state. Having been fully back in person since fall 2021, the department will have presented nearly 70 in-person presentations by finals week. D'Avignon developed several new initiatives to foster student success including a Curriculum Innovation Committee, Mentor/Mentee program, Student Ambassador Outreach Program, Music Major Workshops and Chat with the Chair meetings. She also helped put the renovation of the Davidson Music Center back on the CSU's schedule. She hopes the center, which houses the Music and Theatre and Dance departments, will be the hub of a campus arts district. A highlight for her was when she traveled to Kenya with several choir members to participate in a choral exchange arranged by Director of Choral Activities Scott Glysson. She has served on the Academic Senate, has been involved with two national accreditation reviews of the department and is a member of the Cal Poly Arts board of directors. In the community she was a member of the San Luis Obispo Symphony board of directors and also served as its president. She currently serves on the board for the Paderewski Festival and is a judge for several local piano competitions. She will be joining in retirement her husband Ignati Vakalis, who chaired the Computer Science and Software Engineering Department for 11 years.
Sign D'Avignon's virtual card.
Craig H. Russell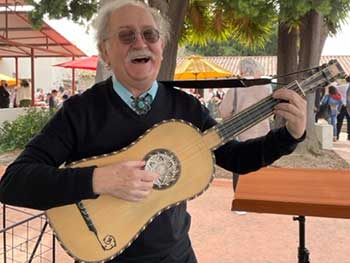 Craig Russell Playing Guitar at Mission San Luis Obispo
Craig H. Russell had retired from full-time teaching, but he has kept busy as usual, and has been teaching part-time for the past five years.
The 2016 newsletter highlighted his many career achievements, which can be viewed on his faculty web page.
Sign Russell's virtual card.