The department's ensembles have been busy both on and off campus.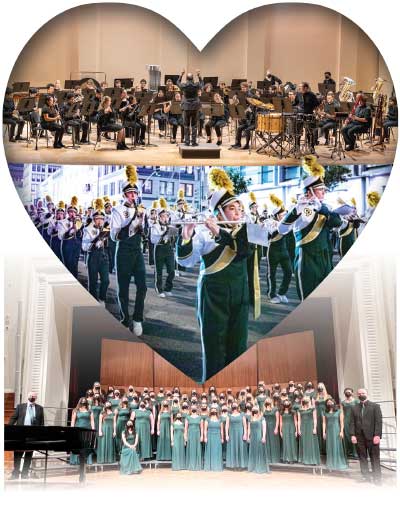 On Feb. 18, the Women's Chorus performed a concert for the California All-State Music Education Conference in Fresno. It was one of only two college choirs invited to perform. The next day the Mustang Band returned to San Francisco to march in the Chinese New Year Parade. Read more about the band in this Cal Poly News Story. On March 17, the Wind Ensemble gave a concert at the College Band Directors National Association Western/Northwestern Division Conference in Schneebeck Hall at the University of Puget Sound in Tacoma. From March 20-21, PolyPhonics made a four-performance tour of Southern California. More travel plans are in the works for next year.
Read more student news.
Pictured: The Wind Ensemble in Tacoma, Washington; the Mustang Band in San Francisco; and the Women's Chorus in Fresno.