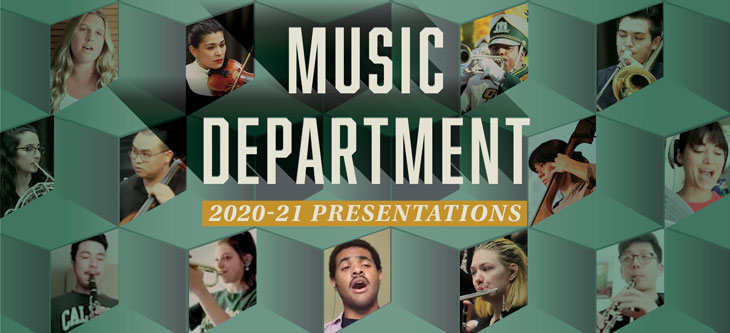 calendar of virtual events
Guests Galore
Join us virtually for the remainder of our events season!
Virtual Events
June 4-6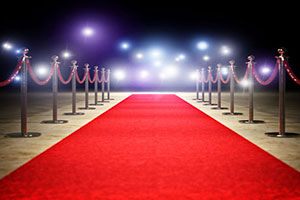 The Cal Poly Music Department's student production ensemble RSVP will present "RSVP XXV: Call and Response" in three video episodes starting at 7:30 p.m. on Thursday, Friday and Saturday, June 4-6.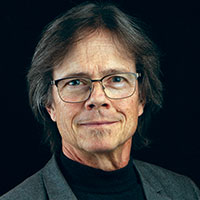 Antonio G. Barata will retire from
full-time teaching in June


This year marks not only the 25th anniversary of RSVP, but also the departure of its founder and artistic director, Antonio G. Barata, who is retiring from full-time teaching at Cal Poly after 35 years. There will be more on this in the summer newsletter.
This year the transmedia series picks up where last year's left off: in a combination of music, costume, dance and video editing. The story of heavy metal shredder Peter Estrella continues, with the focus on his mysterious disappearance and otherworldly reconciliation. 
"This production challenges our attachment to normalcy," Barata said. "The show embraces the unexpected and examines how both humans and non-humans connect from afar. Based on our current society, this show is incredibly timely as it forces us to grapple with reality and uphold the will to be creative during unusual times. Simultaneously the story seamlessly carries over themes showcased in its preceding installment, such as inspiration and darkness."
The composition, performance, soundscape and costuming combine the creativity of students in Barata's Sound Design classes with choreography by Cal Poly students Evan Ricaurté, Lindsay Eklund and Justine Teoh, plus several dancers from past productions.
The students have been especially creative this year due to the COVID-19 shelter-in-place orders.

"I believe that the virtual setting, while it has its own unique challenges, also comes with its unique opportunities," said Teoh, an architectural engineering major. "By going virtual, we will be able to do things no traditional RSVP has been able to do — and perhaps will never be able to do again.

"For example, we can reach out further and wider through online viewing, no longer limited by theater space. Through video presentations we open ourselves to all the possibilities and tools video editing has to offer. Overall, I believe that this will be an amazing and memorable production, fitting of the 25th show."
YouTube links to the three episodes will be posted to the RSVP calendar page.
Donations can be made to support future RSVP productions.
Guests Galore
The department was fortunate to have numerous special guest artists visit on campus during fall and winter quarters, including those listed below.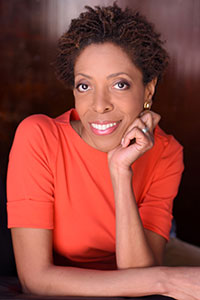 Diane White-Clayton, soprano, pianist and composer, started the department's season on Oct. 3 with a presentation titled "The Many Colors of Spirituals"— a musical journey of Afro-American spirituals as they made their way from the plantation to the concert stage. From classical arrangements by prominent African American women composers to a cappella soul-stirring folk renditions, the program featured powerful spirituals that accompanied Civil Rights-era marches.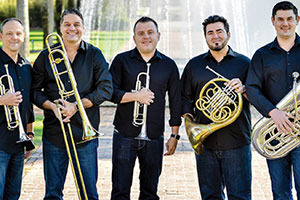 Boston Brass performed at the Nov. 15 Bandfest concert, and gave a master class. Pictured: Grace Paananen, Christian Roberts, Christian Cueto, Dane Dormedy, Domingo Pagliuca*, Kent Giese, William Russell*, Davis Zamboanga, Jose Sibaja*, Marianna Pallas, Hailey May, Chris Castellanos* and Jeff Conner* (*Boston Brass member)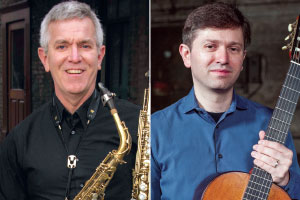 Duo Montagnard gave a recital on March 3. Based in Pennsylvania, saxophonist Joseph Murphy and guitarist Matthew Slotkin have performed more than 300 concerts in all 50 states, in 20 countries and on six continents. The performance at Cal Poly included music written especially for saxophone and guitar by California composers, including faculty member Laura M. Kramer. Her work, "on the edge," explores soundscapes inspired by the variety of terrains that can be viewed from tall cliffs when hiking in California.
June 8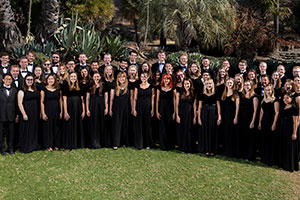 The Cal Poly Choirs will present a virtual concert that will include a special set to recognize graduating seniors at 7 p.m. Monday, June 8.
The choirs will perform selections they have been working on through online rehearsals this quarter and works they were going to perform at the Winter Concert, which was canceled due to the shelter-in-place order. There will also be a post-concert talk.
PolyPhonics and the University Singers will present three works as a combined virtual choir: "If Ye Love Me" by Thomas Tallis; the infamous "Confutatis" and "Lacrimosa" from Mozart's "Requiem in D Minor," K.626; and "Sleep" by the famous modern composer Eric Whitacre. Choir members will have an opportunity to interact virtually with Whitacre in the coming weeks.
The video recordings of PolyPhonics from last quarter are the thrilling "Lamentations of Jeremiah" by Argentinian composer Alberto Ginastera, and "My God is a Rock" by Stacey Gibbs.
The Women's Chorus will sing a movement from "Winter Cantata" by Vincent Persichetti and a portion of "Songs of Sanctuary" by Karl Jenkins.
"This quarter the members of the choirs have been working on a brief survey of the development of choral music spanning the last 500 years," said Scott Glysson, director of choral activities. "The June 8 concert is a result of the students learning about different eras of music history through presentations and lectures, and of course virtual rehearsals for the first time in the choral program's history."
Those who attend the concert are also invited to a post-concert talk and will be able to interact with students and faculty members. The session will include interviews with a student panel, a talk by faculty member Laura Kramer on the process of rehearsing and putting together a virtual choir, and notes from Glysson.
Paul Woodring is the accompanist for the choirs. The choirs are conducted by Glysson.
Tickets to the concert are $5. A $10 backstage pass ticket includes both the concert and the post-concert session. Tickets are sold through FeelitLive.