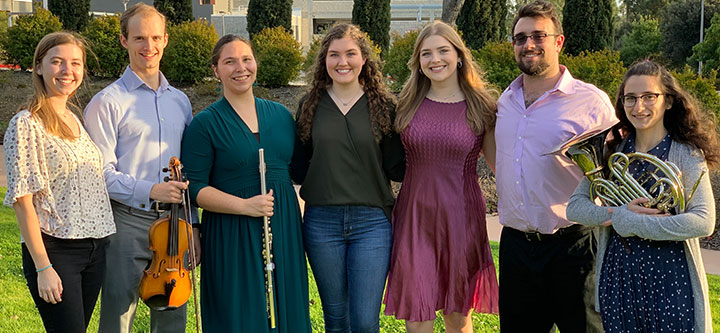 Solo Competition Winners
The students pictured above were the winners of the Cal Poly Symphony's Solo Competition held in November: Molly Gooch, soprano; Timothy Shanks, violin; Talia Phillips-Ortega, flute; Annemarie Schalde, soprano; Jenna Hansen, soprano; Joshua Mueller, bass; and Marianna Pallas, horn. All were invited to perform at the group's March 1 concert.
Violinist Alex Krenitsky Honored in Sacramento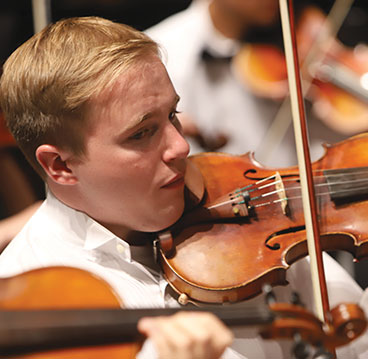 Alex Krenitsky, a violinist in the Cal Poly Symphony pursuing a master's degree in mechanical engineering, was one of 16 students recognized for their accomplishments by state lawmakers on the floors of the state Assembly and Senate in Sacramento on March 2. Krenitsky is part of a five-member team of mechanical engineering students working on NASA's Moon to Mars Ice & Prospecting Challenge, which aims to further the agency's goal of prolonged space missions. Read more on the Cal Poly News website.
Krenitsky has been a member of the orchestra for more than four years and plans to go on tour with the group on its next tour, to France. He also toured with the group to Budapest, Prague and Vienna.
Symphony Conductor David Arrivée and Virtual Teaching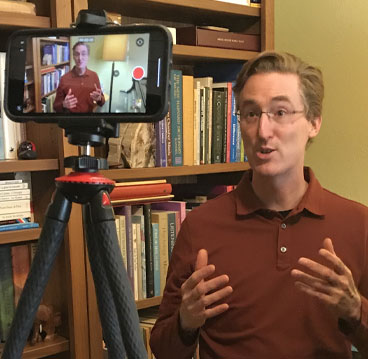 Virtual teaching is new territory for most faculty. David Arrivée is in the rather unexpected position of making video podcasts for his History of the Symphony class. He said it's been a steep — but fun — learning curve, and he's made 14 of about 30 podcasts. Arrivée is also conductor of the Cal Poly Symphony. The group is exploring repertoire together, like the music found in productions of the Ballets Russes. A virtual, collaborative performance of Beethoven's "Ode to Joy," taken from sections of his Symphony No. 9, is in the works. Any virtual performances available to the public will be posted to the department's calendar website.