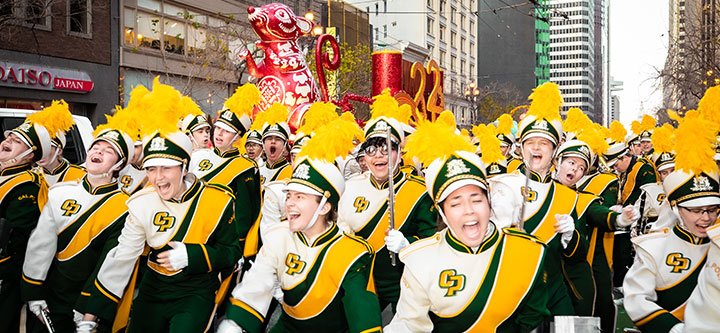 Mustang Band in Chinese New Year Parade
The Mustang Marching Band participated for the sixth time in the Southwest Airlines Chinese New Year Parade on Saturday, Feb. 8, in San Francisco. Prior to the parade, the group performed with the UC Davis Marching Band in front of the Ferry Building.
Mustang Band's 'Remote Ride High'
Mustang Band members recorded one of their favorite tunes, "Ride High, You Mustangs!" for Cal Poly's Virtual Open House in April while they were sheltering in place. Music major Davis Zamboanga was the video and sound engineer. The popular video was even mentioned in a KTLA news broadcast in Los Angeles.
With Cal Poly's Virtual Open House in mind, Director of Bands Christopher Woodruff assembled a video compilation of a variety of department ensembles.