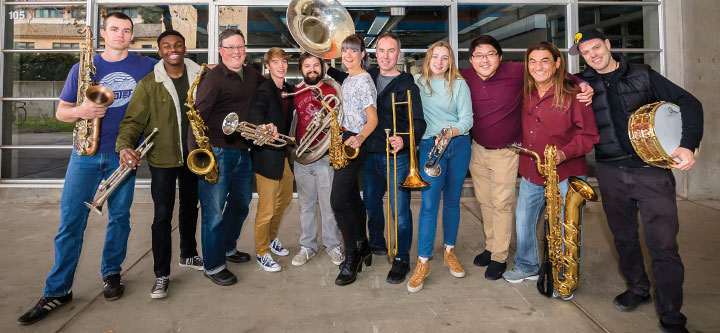 Alumni Update
Keep in touch with your fellow alumni! Submit an alumni update.
Brass Mash
Brass Mash, pictured above, left-to-right: Sam Franklin, Malcolm Fraser Smith, Tim Crooks, Ben Kerr, Brett Malta, Laura Foxx, Colin Dean, Breanna Chambers, Anthony Yi, Art Esparza and Sean Sullivan
At first glance, the local group Brass Mash might be mistaken for a traditional New Orleans-style jazz band, but sonically the band blends pop, rock and other slices of popular culture. On even closer inspection, one will find many faces are recognizable as current and former members of Music Department ensembles. Operated like a mini-big-band jazz ensemble, the group has become a popular act in San Luis Obispo County and has played at the Live Oak Music Festival and Whalerock Music Festival. The group also plays a monthly gig at Liquid Gravity Brewing Co.
In November 2019, Brass Mash released a video album titled 'Hard Brass' to YouTube, Instagram and Facebook.
Colin Dean (Music, '05) is the Brass Mash band leader and arranger. While at Cal Poly, he focused on intermedia composition and playing trombone in many university ensembles, including Wind Orchestra, University Jazz Band, Trombone Choir and the RSVP transmedia series. He played trombone in local rock and pop acts before attending CSU East Bay, where he earned a teaching credential. In 2015 he returned to the Central Coast with his wife, Diana, and their children, Abrianna and Ashton. Dean said, "I had played others' gigs for years: jazz, brass bands, reggae acts, rock bands. I wanted to write, arrange, play, and run a band the way others hadn't. You have to create your own group to do that." In addition to running Brass Mash, he teaches band and music electives at Judkins Middle School in Pismo Beach, California.
Brett Malta (Music, '14) is featured in the Brass Mash lineup on tuba/sousaphone. He also assists in band operations, writing arrangements and pushing the band's electronic narrative with a tuba pedalboard/amplifier much more associated with a rock bass player's equipment. He freelances as a sound/lighting technician — often at the Performing Arts Center — and operates a small brass repair shop. He and Milly Barizo (Music, '14) are planning their wedding.
Since its inception, Brass Mash has employed many Cal Poly students and alumni. Music majors Ben Kerr, trumpet, and Davis Zamboanga, trombone, and Mustang Band member and art and design major Breanna Chambers, trumpet, currently perform on a regular basis. Alumni have included Jordan Adams (Physics, '16), trumpet; Nate Conrad, (Music) trombone; Tim Crooks (Computer Science, '94), saxophone; Burlie Fisher (Mathematics, '17), trumpet; Malcolm Smith Fraser (Biomedical Engineering, '19), trumpet; Tyler Stockton (Music, '18) trombone; and Matt White (Journalism, '18), trombone.
In November 2019, Brass Mash released a video album titled "Hard Brass" to YouTube, Instagram and Facebook. Some notable mashes include mixing the bubble-gum-chew of Britney Spears' "Hit Me Baby One More Time" with Black Sabbath's dark and brooding "War Pigs." Another band favorite, "California Mind Me Up" is a surprising mix of Boston's "Peace of Mind," Katy Perry's "California Gurls" and Avicii's "Wake Me Up." The video for the mashup celebrates everything summer with absurd costuming and synchronized swimming with instruments. "Don't worry, no instruments were harmed in the making of this film!" Dean said.
In April, after this article was written, Dean posted "Stuck at Home Special: Helplessly Following," a mashup of Crosby, Stills and Nash's "Helplessly Hoping" and Deathcab For Cutie's "I Will Follow You into the Dark."
Alissa Aune Honored with Award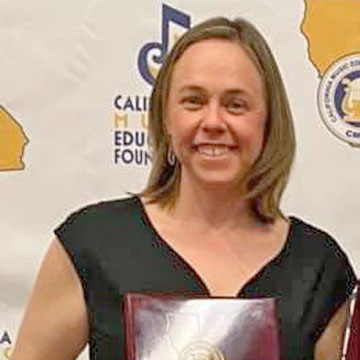 Alissa Aune (MU, '01), was honored in February at the California State Music Educators Assocation (CMEA) Conference in Fresno with the CMEA Pearson/Silver Burdett Choral Educator Award in recognition of her work as a choral educator.
Aune is in her 18th year of teaching. She has taught at Enterprise High School — her alma mater, in Redding, California — the past seven years. She conducts the Chamber Singers, A Cappella Choir, High Voice Ensemble, Low Voice Ensemble, two jazz choirs, and is the director of Enterprise Starship and the Victorian Dinner. She also taught for five years at Bear River High School in Grass Valley, and started her career at Nipomo High School.
While at Cal Poly, she actively participated in Wind Orchestra, Wind Ensemble, the Mustang Marching Band, and the band fraternity Kappa Kappa Psi. She earned her Masters of Music, with an emphasis in conducting and education, from Colorado State University.
She has performed with and/or directed a variety of choral and instrumental organizations, as well as musical theatre companies, throughout the state. She is the current choir representative chair to the Northern California Band and Choral Director's Association, for which she helps organize the annual select choir and honor jazz choir for all high schools in the northern part of the state. She is also the Northern Region representative to the California Choral Director's Association.
When not in rehearsal, she's probably jogging with her dog, Alice, traveling, or cooking, while listening to the Dave Matthews Band.
Addy (Davis) Lerner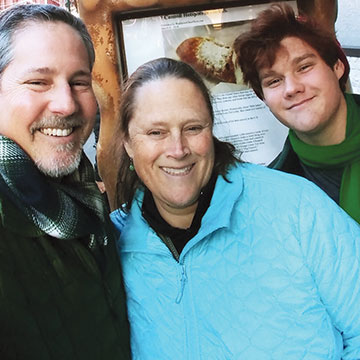 Matt, Addy and Davis Lerner
Addy (Davis) Lerner (Music, '95) is happy to be back enjoying music at Cal Poly. Her son, Davis Lerner, is a first-year music major studying bassoon. Addy Lerner lives in Orange County with her husband, Matt Lerner (Business, '95), and daughter Sabine, who plays the euphonium. Addy Lerner is the annual giving and events director at Girl Scouts of Orange County and enjoys listening to her family play music.
Melissa Parkhurst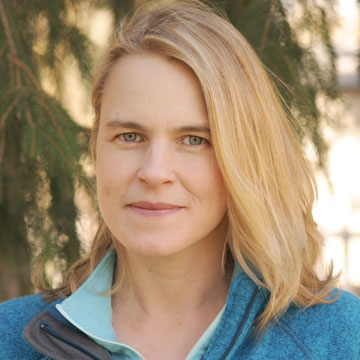 Melissa Parkhurst (Music, '97) is now a faculty fellow with the Center for Arts and Humanities at Washington State University. The grant is funding her project, "Field Recordings of Nez Perce Singers, 2019-2020." She directs a team — an audio engineer, two video engineers from Northwest Public Broadcasting, and a Nez Perce research assistant — in making recordings of the eldest and most capable Nez Perce singers living today. They record the songs, histories and teachings that elders wish to preserve for their families and for the tribe.
Tyler Stockton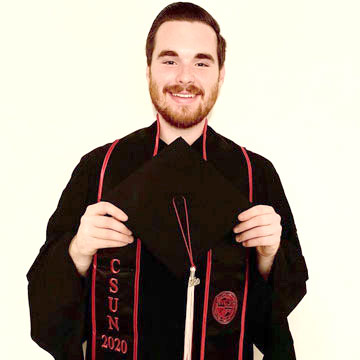 Tyler Stockton (Music, '18) has lived in Palms, a neighborhood in Los Angeles north of Culver City, since graduating from Cal Poly. In October 2018, he started his first post-university job — a coordinator at Jill Meyers Music Consultants in Santa Monica — thanks to Kelsey Beisecker (Music, Economics, '17) who worked there at the time. Stockton assisted in both the clearance and synch licensing of music for various films, documentaries and music competition television shows. In December 2019, he was promoted to contract administrator, and he is now responsible for the processing, tracking and transmittal of all payments and licenses. He says though the JMM team is small, Jill Meyers is a wonder to work with, and his co-workers are like family. He began the Master of Arts in Music Industry Administration program at CSU Northridge in August 2018 and will graduate on May 17. He has become close to his cohort members, who he says are the future leaders of the music industry. He said it has been both humbling and gratifying to develop professionally and academically alongside them. The courses, including business law, publishing, recorded music, organizational behavior, accounting and everything in between, have not been a cake walk, but he is thankful to professors McLamore and Barata for pushing him to pursue this master's degree. Stockton still composes, arranges and practices trombone in his free time, and once he graduates, he plans to find a performing group to join because he misses being on stage. He said, "I am enjoying my time outside of work and school with my girlfriend and our dog. Going on many adventures all over Los Angeles, Hermosa Beach and the Comedy Store have played no small part in keeping me sane during this time! I wish you all a successful spring quarter, and to the graduating seniors, I wish you luck and happiness in postgraduate life!"