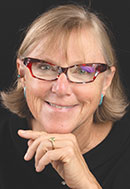 Just a few months ago, this would have been a typical chair's letter to you, filled with stories about our on-campus performances and what our graduates are doing out in the world. We still have stories to share, but now they are through the lens of the coronavirus pandemic. As we all struggle to cope with the effects of this on our lives, you can be proud of how your Music Mustangs are responding. Even in these unsettling times, we move forward.
We had several virtual presentations for Cal Poly's Open House in April, including the Mustang Band's very popular "Remote Ride High" produced by music major Davis Zamboanga.
Faculty are working tirelessly to present both academic and ensemble classes online. You're invited to experience the fruits of some of these labors as the student production ensemble RSVP presents "RSVP XXV: Call and Response" in three video episodes June 4-6, and the Cal Poly Choirs give a virtual concert on June 8.
Students and alumni are finding unique ways to engage online, and first-year music major Will Chant and his band have found a way to give safe in-person performances through their socially distant serenades.
We're preparing to bid farewell to our graduates in a virtual ceremony on June 14. These send offs are always bittersweet, and this year is particularly such.
We are in the process of welcoming our next class of music majors. We have implemented several new programs through our newly formed Retention Committee to support these talented students. Each will be assigned a volunteer upper-class music major mentor who will help them navigate their first year at Cal Poly. Students are paired by applied instrument area and professional and personal interests. The committee also organizes two quarterly workshops based on best practices for supporting first-year students and from feedback from current students. Guests from across campus have spoken about musician self-care and interpersonal relationships, and 2014 graduates Milly Barizo and Brett Malta focused on networking in the field. Andrew Sewell of the San Luis Obispo Symphony recently spoke on "The Thrills and Spills of Becoming a Professional Musician." As flowers in spring, our new ideas are blossoming — all in support of our many students.
Even though our concerts have been canceled for the foreseeable future, our music-making classes and ensembles continue. Read more in this edition.
Be well,
India D'Avignon