Vocal News
October Chock-full of Vocal and Choral Artists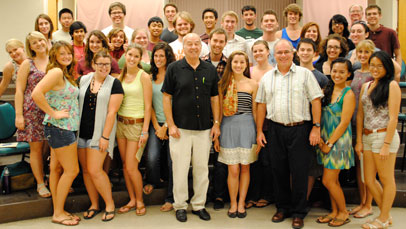 Eichenberger and Davies with members of PolyPhonics
Rodney Eichenberger, a distinguished teacher, choral educator and conductor, spent Oct. 11-12 on campus working with the members of the Cal Poly Choirs. Eichenberger is professor emeritus from Florida State University and also taught at the University of Southern California and the University of Washington. Thomas Davies, Cal Poly director of choral activities, was a student of Eichenberger's at USC. Eichenberger is internationally known and is often a headliner at conventions sponsored by the American Choral Directors Association. Our students had a wonderful time working with this giant in the choral music field.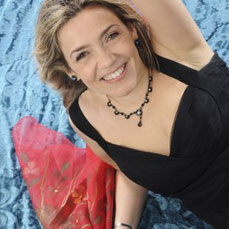 Patricia Caicedo
Patricia Caicedo, one of the world's leading authorities on Latin American and Spanish art song, presented a vocal master class and recital in October. The recital program was titled "A Musical Journey Through Latin-America and Spain."
Caicedo founded Mundo Arts, a company that publishes and distributes Latin American art song, and is the founder and artistic director of the Barcelona Festival of Song, a summer course and concert series dedicated to the study of the history and interpretation of the Latin American and Spanish art song.
Christopher M. Cock, director of choral and vocal activities at Valparaiso University in Indiana, presented a vocal recital and master class, also in October.
At the recital, the tenor performed Franz Schubert's "Winterreise," Op. 89, one of the most significant song cycles in the history of Western composition.
Cock holds the Phyllis and Richard Duesenberg Chair in Lutheran Music and is director of the Bach Institute. As a solo artist his extensive range and communicative performances have established him as a premier lyric tenor with wide critical acclaim.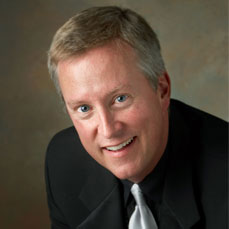 Christopher M. Cock
Through his activities as a choral music educator and as a distinguished solo artist, he has forged a unique career path combining the roles of conductor and performer.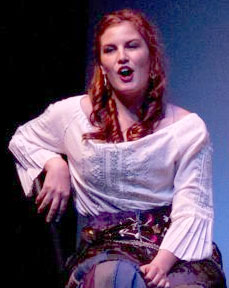 Report on AlpenKammerMusik
by Music major Claire MacKenzie
Traveling is one of the many advantages of being a musician. This past summer my music brought me to Austria and Germany, the heartland of German Lieder. In a month-long intensive chamber music festival called AlpenKammerMusik, I collaborated with professional musicians from around the world to put on a series of master classes and concerts. I was one of three singers chosen to perform a variety of repertoire by the German and Austrian composers Johannes Brahms, Gustav Mahler, Robert Schumann and Hugo Wolf. Rehearsals began every day at 9 a.m. and ran until 7 p.m. (with a break for lunch), and after dinner sight-reading sessions commenced until midnight, sometimes even later. Although I was constantly running from one rehearsal to the next, I found myself relaxed in the music and fortunate to work with such talented musicians. The enthusiasm and professionalism emanated by the festival directors and participants were so moving, that I departed the festival a new and humble musician. My interpretation of the music was also altered to a higher state of understanding. Every morning I woke up to great, white, cumulonimbus clouds cascading down the Alpen peaks, an image straight out of one of Wagner's operas. The forests surrounding Mahler's Hut, where he composed over half of his symphonies, were eternally illuminated by what Austrians refer to as "Halbschatten," or half shadow, specifically the light that shines through the leaves of the trees. To be there and to witness this same natural beauty that inspired those great composers was in and of itself an extraordinary experience.