In Memoriam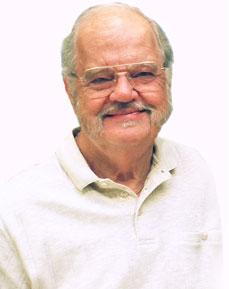 Roy Main
This past spring the Music Department lost a wonderful member of our family. Roy Main, our extraordinary low-brass teacher and Trombone Choir director, passed away Monday, May 9, following a stroke. He will be missed by many admiring and grateful students and colleagues, and by many close friends. He is survived by his wife, Kathy, four children, two grandchildren and a great-grandchild.

A native of California, Main served in the U.S. Navy during the Korean War. He had a long career as a freelance studio trombonist in Los Angeles. He performed at television and film studios and played with many orchestras and bands including those led by Nelson Riddle, Henry Mancini, Michel Legrand, Bill Conti, Les Brown and Harry James. Main's motion picture, television and recording credits include performances with great artists such as Frank Sinatra, Mel Torme, Bob Hope and Tony Bennett. He was an internationally renowned teacher and educator sought out by students and professional brass players.

Our 2011 Jazz Night Concert on May 21 featured trombonist Bill Watrous. Watrous, a friend of Main's, dedicated the concert to him. The department's May 17 All That Brass concert was also dedicated to him.

The Music Department will host a memorial recital in Main's honor. It is still in the planning stages; details will be announced soon. Please visit our Roy Main Web page for updates.

While our music community misses his gracious, smiling presence and his inspired teaching, we are grateful that we all received the benefit of his artistry, pedagogy, determination and patience.
The Main family asks that memorial donations be made to the "Roy Main/Olga Termini Music Scholarship," a student scholarship Main originated when he retired from Cal State Los Angeles, administered by the CSULA Friends of Music.
Peggy Peterson
The Music Department — and the entire San Luis Obispo arts community — lost a wonderful and generous friend and advocate when Peggy Peterson passed away on Tuesday, April 19. Peggy, along with her late husband Gerry, who passed away in 2008, supported the arts and education with a joyous dedication and passion for many, many years. Peggy summed up her philosophy of life quite simply: "When you have two hands and two arms, it would be terrible to have them glued to your sides. It's absolutely imperative that you use them to serve, to love and to give."

Peggy lived by this philosophy, and the entire San Luis Obispo and Cal Poly community benefited from her service, love and generosity. She helped virtually every arts organization in the community, and was a fixture at concerts — especially those involving young people. She continued to attend performances and events even when she was in a great deal of pain. In fact, she attended a gala dinner celebration on stage at the Performing Arts Center less than two weeks before she passed away. Peggy's spirit of generosity — and the determination with which she lived her exemplary life — are wonderful examples of what we can do with our time on earth. She leaves an impressive legacy, and will be missed.