Mustangs are Multiplying!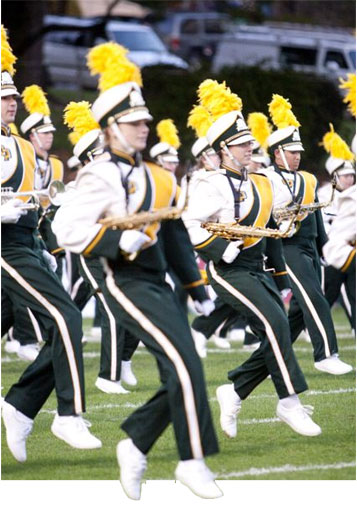 The 2011 Cal Poly Mustang Marching Band recently exceeded their recruiting goal of 150 members, a target that was set in 2005. Now at 176 members, the band — comprised of students from nearly every major on campus — has already made eight appearances. The band performs at volleyball, both men's and women's basketball games, as well as for football, for a total of about 25 services in fall quarter alone. To lighten the load on each student, the band is now able to split into three "pep bands" to provide service for the indoor games.

Not that size really matters. Other marching bands in the Big West conference range anywhere from 68 players to more than 300. Each provides their own style of energy to their game-day experiences. The Mustang Band works closely with the Cal Poly Stunt and Dance Teams to foster an environment of good spirit and sportsmanship whether in Mott Gym or Spanos Stadium. According to Associate Director of Bands Christopher Woodruff, "the prime directive of the Mustang Band has been and always shall be to make a beautiful sound. Of course, that's a lot easier when you have 25 clarinets and 15 tubas!"

ASI President Kiyana Tabrizi said, "A strong band brings a great energy to campus — one that athletic events would not be the same without. The Mustang Band not only puts on an amazing performance, but also has fun doing it. This is evident by everyone who has seen them perform. It does not surprise me that our membership base has been growing over the years. As long as we have the resources to support the Mustang Band, the bigger the group the better!"

On Oct. 15, the Mustang Band was joined by 40 band alumni to celebrate Cal Poly's homecoming weekend. The occasion set a new Cal Poly record for total band members on the field. The alumni were featured in an up-tempo arrangement of "Tonight" from "West Side Story."
On Nov. 5, the band will travel to Davis in support of the Mustangs in their annual rivalry and battle for the Golden Horseshoe.