Alum Michael Leopold Sighted in Barcelona
by Craig Russell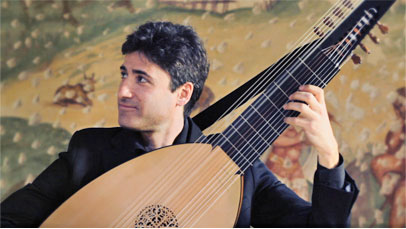 This summer I was in Barcelona at the invitation of the Barcelona Festival of Song, founded and directed by the Colombian soprano Patricia Caicedo. A poster announced an upcoming performance of Handel's opera "Tamerlano" in Barcelona's opera house, the Grand Teatre del Liceu, starring such artists as Plácido Domingo, Sarah Fox, Bejun Mehta and Anne Sofie von Otter. Naturally I bought tickets.

From my seat I could see the performers well. What a surprise when I realized the fabulous baroque guitar and theorbo player accompanying the arias and recitatives was Michael Leopold who graduated from the Cal Poly Music Department in 1995! He had been my guitar student, and it was so incredibly exciting to see and hear him.

Michael and I met later to catch up. After Cal Poly, he earned his master's degree in historical plucked instruments from Sacramento State University (1998) and a degree in lute and theorbo from L'Instituto di Musica Antica of the Accademia Internazionale della Musica (2004) in Milan, Italy. He has risen in his career to be "the" basso continuo player, especially in Baroque opera. He has played with the most prestigious groups around, including the Orchestra Verdi di Milano, Opera Australia and Washington National Opera. Major recording labels Stradivarius, Glossa, Naïve, and Naxos, all have Michael prominently featured on their releases.

What exuberant reviews he has been receiving! In the Glimmerglass Opera review by Brenda Tremblay, she states: "I had a good feeling when I walked into the Alice Busch Opera Theater and saw the long neck of a theorbo jutting out the orchestra pit. This Baroque instrument, expertly handled by Michael Leopold, laid a funky, percussive groove during Handel's 'Tolomeo.'"

Soon Alyson McLamore, W. Terrence Spiller and I will be hearing Michael play in the San Francisco Opera production of "Serse" ("Xerxes"). What a delight to see a Cal Poly graduate become the "top of the top" in a highly competitive professional music environment. The hard work that Michael put in throughout his career has paid off with this remarkable fruit!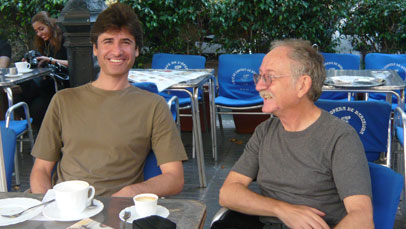 Leopold and Russell