Davies Receives Distinguished Teaching Award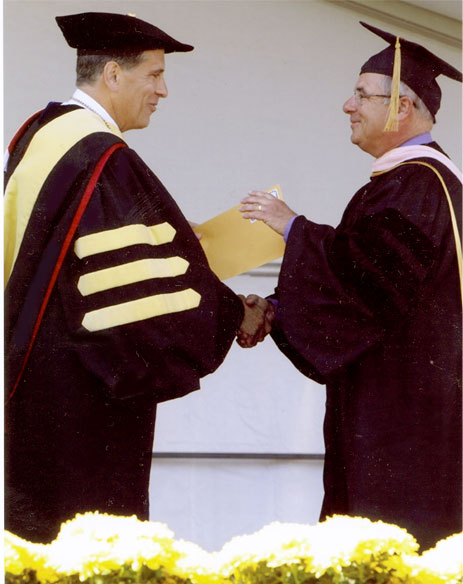 President Jeffrey D. Armstrong presents Davies with award
The Music Department is pleased to announce that Thomas Davies, director of choral activities and vocal studies, was awarded the Cal Poly Distinguished Teaching Award for 2011. This award — one of only two given this year — is the highest honor that Cal Poly bestows, and comes out of a rigorous process beginning with student nominations and ending with extensive observation and evaluation of teaching by previous recipients of the Distinguished Teaching Award.
Davies ("Dr. Tom" as he is affectionately referred to by students), came to Cal Poly in 1983. Since then he has conducted hundreds of performances and given extraordinary musical experiences to audiences and performers alike. He is active not only with the extensive performances of his choirs at Cal Poly (PolyPhonics, The University Singers and Early Music Ensemble), but also with the Cuesta Master Chorale, which he has directed since 1984, and the Central Coast Boys Choir. Beyond the state, he runs choral conducting master classes for the Oregon Bach Festival and Taiwan Bach Festival. He serves as the California representative to the National Collegiate Choral Association and is a past president of the Western Division of The American Choral Directors Association.
Born in Toledo, Ohio, Davies earned his bachelor's degree in music education from Bowling Green State University and his master's and doctorate from the University of Southern California, where his principal conducting teacher was Rodney Eichenberger, who worked with the Cal Poly Choirs in mid-October.
We are delighted that the Cal Poly Distinguished Teaching Committee has publicly acknowledged what we in the Music Department have known for many years — that Davies does extraordinary things with his choral program and that we're lucky to have him as one of the pillars of our music community!