Faculty Activities
India D'Avignon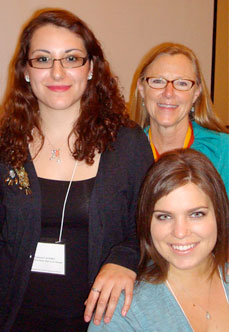 D'Avignon (background) with
Castro and Drury
India D'Avignon presented a paper, "The Nationalistic Movement in Spanish Piano Music," at the Phi Beta Delta International Conference in Long Beach in April. She performed the piano work "Andaluza" by Enrique Granados as part of her presentation and was assisted by Music majors Lauren Castro and Brigid Drury who both performed works by Isaac Albéniz, "Prelude" from "Suite Española" and "Asturies" from "Espagne." Phi Beta Delta promotes scholarly international endeavors by faculty, students, and staff and celebrated its 25th year during the conference. D'Avignon is the first vice president for the Cal Poly chapter of Phi Beta Delta and served as international president of the society when it was headquartered in Washington, D.C.

D'Avignon continues work on her class piano textbook, "Piano for Fun," by writing original solo and duet works for piano as well as arranging well-known folk and classical compositions. She is using several of those pieces with her current piano classes.

She is a member of the San Luis Obispo Symphony board of directors and serves on their executive and artistic committees. This year, she is a new member of the Paderewski Festival Board, promoting the legacy of Ignacy Jan Paderewski, the famous Polish statesman and concert pianist who visited Paso Robles for the hot springs that brought relief to his ailing hands. He became enchanted with the area and in the early 1900s purchased land where he planted zinfandel and petit syrah grapes that produced award-winning wines. The Los Angeles Times stated: "Some of his Zinfandel was as coveted as his music." Paderewski events promote this wedding of excellent music and wines.
Jacalyn Kreitzer
Jacalyn Kreitzer, applied voice teacher and lecturer, attended a two-day symposium in Salt Lake City, Utah, titled "Semi-Occluded Vocal Tract Voice Therapy and Diagnostic Techniques," which was presented by the National Center for Voice and Speech and the University of Utah.

She attended because she has encountered many students suffering from gastrointestinal reflux disease (GERD) and temporomandibular joint disorder (TMJ dysfunction). There were numerous speech language pathologists and otolaryngologists from Europe and the U.S. who outlined solutions and healing techniques for poorly functioning vocal cords; including nodes, breathiness, striations and weakness. She has already begun introducing some of these simple healing techniques into the lesson regime.

On July 1, Kreitzer was appointed artistic advisor for Opera San Luis Obispo and is working with Executive Director Sharon Dobson, Artistic Director Brian Alhadeff and Board President Duejean Garrett to strengthen and build the organization. In addition to working with Alhadeff in developing the Gerald and Peggy Peterson Young Artist Program and a new Singfest competition, she oversees a new outreach group for high school, college and "20-something" singers called OperaSLO To Go. It is an energy-infused, sometimes "flash mob"-style group of singers who perform mostly classical repertoire with vigor and high notes in coffee shops, farmers' markets, and wineries.

As part of Festival Mozaic's Wintermezzo series Oct. 21-23, Kreitzer sang the mezzo-soprano solos in Earl Kim's beautifully ethereal "Three Poems in French" with Scott Yoo, violin; Madeleine Kabat, cello; and Susan Grace, piano.