Student Plays for 'Kinky Boots'
On Jan. 30, music major Taylor O'Hanlon played trumpet with the touring production of the Broadway show "Kinky Boots." The regular trumpeter was ill, so the show's director reached out to the Music Department first thing in the morning and O'Hanlon was contracted to perform that evening!
Tuba Christmas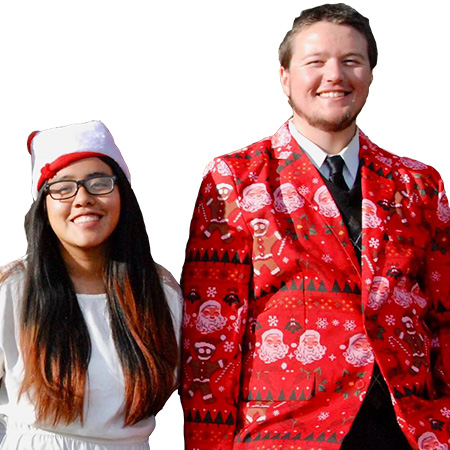 Tuba player and animal science major Teresa Marcial organized San Luis Obispo's first-ever Tuba Christmas. Rehearsals were held on campus, and the performance took place outside Mission San Luis Obispo de Tolosa. Marcial is a member of Cal Poly's Mustang Band, Brass Ensemble, Wind Ensemble and Symphony. The tuba-euphonium ensemble was conducted by Mustang Band tuba section leader, Alec Marnoch. Tuba Christmas was conceived in 1974 by Harvey Phillips as a tribute to his teacher and mentor William J. Bell. It was first conducted by Paul Lavalle in New York City's Rockefeller Plaza ice skating rink on Dec. 22, 1974. San Luis Obispo was one of 194 cities across the globe last December to hold an official event. There were a total of 35 registered performers, including 25 tuba and euphonium players. The ensemble included musicians who traveled from Long Beach, Los Angeles, Sacramento and Santa Barbara. Cal Poly alumni and faculty were among the players.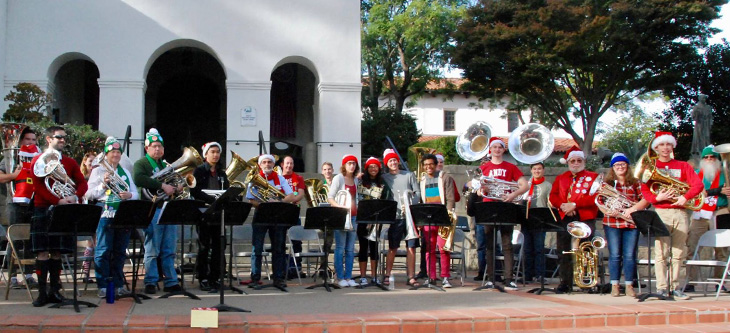 Low Brass Activities
Winter and spring quarters have been a whirlwind of activity for Cal Poly's low brass students and their instructor, Mark Miller. On Jan. 28, Miller sat in with the Fresno Philharmonic to perform Tchaikovsky's Symphony No. 4, and and he performed with the Monterey Symphony Nov. 18-19. Music major Ian Bewley successfully performed his senior recital of challenging repertoire on Jan. 26. Ralph Sauer, principal trombonist of the Los Angeles Philharmonic from 1974-2006, presented a master class at Cal Poly on Feb. 3. It was a wonderful opportunity for the trombone students and brass quintet which performed, getting input from one of the most respected trombonists in the world. Everyone played well and represented Cal Poly with professionalism, poise and musicality. In other trombone news, music major Tyler Stockton performed the first movement of Launy Grøndahl's Concerto for Trombone and Orchestra with the Cal Poly Symphony on March 16 as one of the winners of the symphony's solo competition. He is also working on his senior recital. On March 1, Davis Zamboanga and Kent Giese performed a duet at one of the winter quarter student recitals.