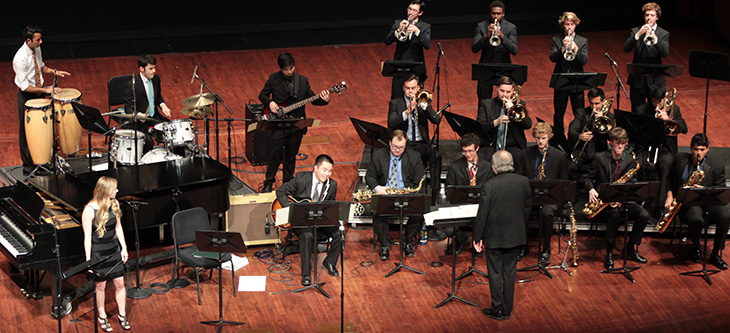 The University Jazz Band (UJB) I will perform the closing concert for the 2018 SLOx, a three-day swing dance exchange — a type of festival — from 9 p.m. to midnight Sunday, April 29, in Cal Poly's Chumash Auditorium.
SLOx draws attendees from throughout California. It is produced by the
Cal Poly Swing Club, a student club devoted to swing and blues dancing. The 2018 exchange is the 12th annual event in the series. The dances were originally called "Lindy exchanges," in reference to the Lindy Hop, a common style of swing dancing.
UJB I has performed for several exchanges, including in 2011, 2012 and 2016. "Playing a swing dance exchange is a very unique experience for jazz musicians," said Paul Rinzler, Cal Poly's director of jazz studies and the director of UJB I. "The enthusiasm and energy of the dancers is quite amazing: after dancing for most of two or three days, the dancers are still wanting to dance more. One year, even after UJB I finished its three-hour performance at midnight, with a full dance floor, a DJ immediately started to play more tunes and the dance floor was again immediately full of people. They were truly indefatigable. It's a pleasure to play for such a devoted audience."
Discounted tickets will be available on the Cal Poly Swing and Blues website up to a week before the event. Tickets will also be sold at the door.