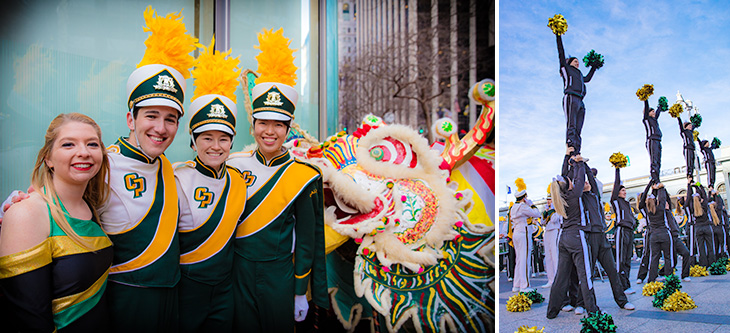 Women's Volleyball at NCAA Tournament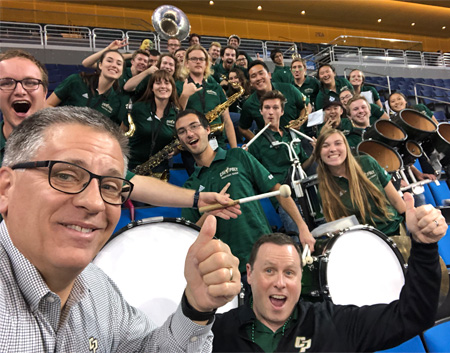 Mustang Band members supported Cal Poly Women's Volleyball
Dec. 1-3, in the first and second rounds of NCAA Tournament play at UCLA, the first appearance for the team since 2007. In the first round, the Mustangs soundly defeated University of Denver. However, the next day Cal Poly fell to UCLA in four sets. The band filled Pauley Pavilion on the UCLA campus with its unique sound and spirit. Cal Poly President Jeffrey D. Armstrong (pictured, at left) and Vice President Keith Humphrey stopped by to thank the band for helping represent the university on the national stage.
San Francisco Chinese New Year Parade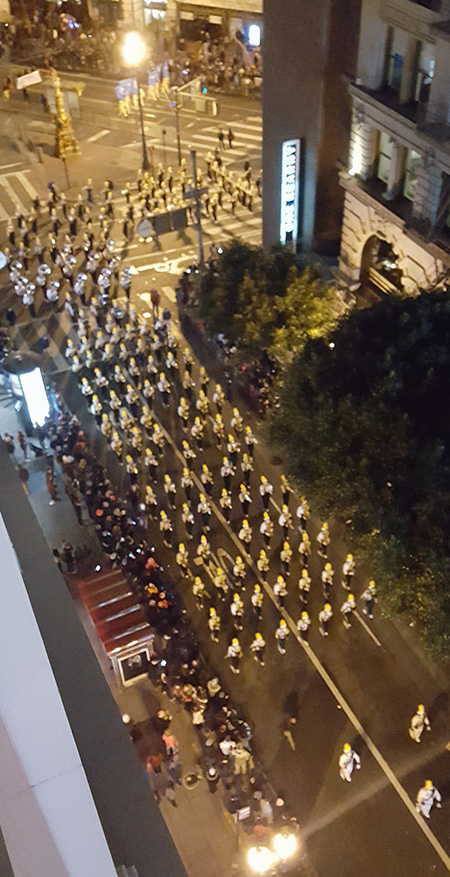 The band had a fifth successful trip to San Francisco for the Chinese New Year Parade on Feb. 24. Its performance in front of the Ferry Building — a collaboration with the UC Davis Band — drew large numbers of Cal Poly alumni, family members and passersby. Among the tunes performed were "Mustang Fire," composed by band member and music major Austin Tinkess. The Pride of the Pacific sounded great! The parade performance went smoothly, and the band was able to maximize TV time to include its special arrangement of the traditional "Horses in the Spring Meadow" and the Cal Poly fight song, "Yea, Poly!" for both the local feed and the Chinese-language capture sent abroad. The 220 students, including the Cal Poly Stunt Team, put in several weekends' worth of rehearsals toward preparation.
Thanks to College of Liberal Arts Dean Douglas L. Epperson and President Jeffrey D. Armstrong for their support of this trip. It means a great deal to the students to participate in such a huge event for the Bay Area community, and to proudly represent Cal Poly.
Pictured: the band in San Francisco at the intersection of Market, Kearney and Geary streets. A complicated double turn!
San Luis Obispo Holiday Parade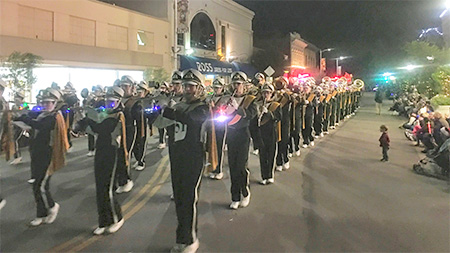 On Dec. 1, members of the Mustang Band performed in the 42nd San Luis Obispo Holiday Parade. Organized by the San Luis Obispo Downtown Association, the parade had over 100 entries, including floats, high school bands and Santa Claus. The band brought its characteristic sound and joyful spirit to the event, which was routed primarily along Higuera and Monterey streets. The band's musical rotation included "Yea, Poly," "Downtown" by Macklemore and "Christmas Promenade."