Keep in touch with your fellow alumni!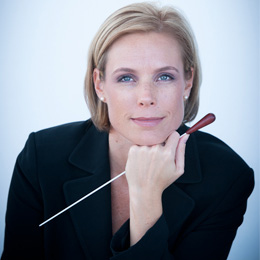 Anna Binneweg
Anna Binneweg (Music, '95) was featured in a Baltimore Sun article on Feb. 9. Mary Johnson wrote:
"When it comes to the music scene in Anne Arundel County, Anna Binneweg has been carrying the baton — figuratively and literally — for more than a decade. Through her work as music director and conductor of Anne Arundel Community College Symphony Orchestra and the Londontowne Symphony Orchestra in Annapolis, the 42-year-old Binneweg has not only been a trailblazer in making orchestral music accessible to county residents, but in solidifying her role among female conductors. 'Dr. Binneweg is one of the most talented, clear, and hard-working and inspiring conductors I know,' said Douglas Byerly, former music department chairman and current coordinator of music at Anne Arundel Community College — who hired Binneweg in 2007. 'That she is a young female conductor is inspiring to students who work with her,' he said. 'She is a model for women in our industry.'"
The complete article is posted on the Baltimore Sun website.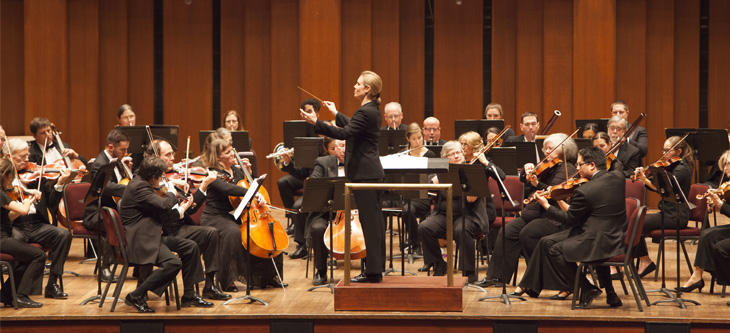 Kelsey Beisecker
Kelsey Beisecker (Music, Economics, '17) started working as a music licensing administrator for Jill Meyers Music Consultants in Santa Monica in October. She works primarily with TV shows.
P. Eugene Mehlschau
P. Eugene Mehlschau (Field Crops, '56) participated in the Collegians 1925-56, the Glee Club when needed, performed for school dances and went on high school spring tours. He currently plays piano at the Nipomo Community Presbyterian Church and plans to attend Cal Poly's 2018 Open House!
Ninety Alumni Band Members Performed for Homecoming
On Nov. 4, more than 90 alumni band members performed with the Mustang Band at the Homecoming football game vs. Portland State. It was the football team's only win this season — perhaps with the help of the alumni band? At half time, the alumni band members took to the field and performed with the Mustang Band. Three alumni members marched alongside their children, pictured below.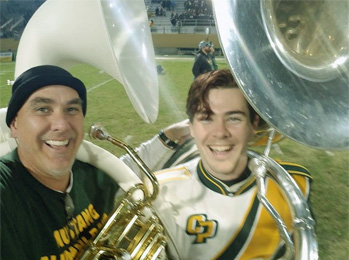 Michael Blakely (Electronic Engineering, '90) Band: 1986-90, tuba | son: computer engineering junior Steven Blakely, tuba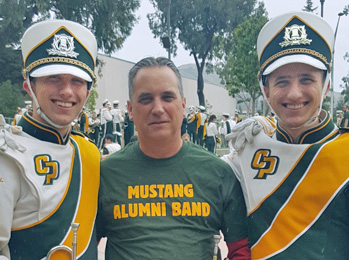 Ken Holman (Construction Management, '86) Band: 1982-84, trumpet | twin sons: second-year mechanical engineering students Nicholas Holman and Stephen Holman, trumpet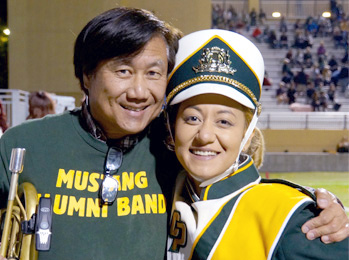 Nelson Iwai (Architectural Engineering, '78) Band: 1974, French horn | daughter: English senior Mary Iwai, French horn