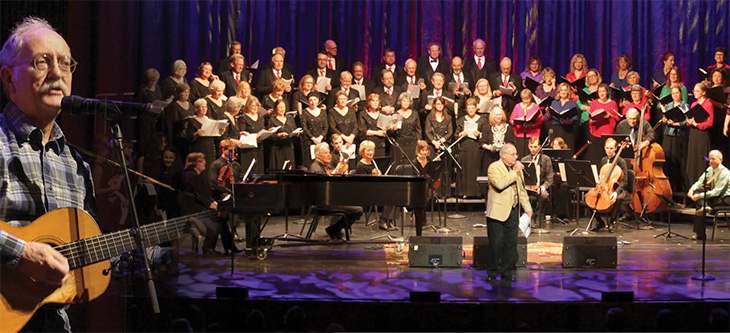 On Feb. 23, members of the San Luis Obispo community came together for a benefit concert in the shared goal of raising funds for disaster relief in Puerto Rico, in the aftermath of Hurricanes Irma and Maria, and in Santa Barbara County following the Thomas Fire and the subsequent mudslides. The concert, "San Luis Obispo Responds," took place in the Performing Arts Center (PAC) with an audience of 1,150. It was the brainchild of music Professor Craig Russell, who started planning in October. He said he sought volunteers to make the vision a reality: "They offered the most precious and sacred part of themselves: their music!"
There were three local choirs: the San Luis Obispo Vocal Arts Ensemble, Canzona Women's Ensemble, and the Advanced Vocal Ensemble, which consists of the most accomplished vocalists in the Central Coast Children's Choir. Notable singer-songwriters also filled out the bill, including Music Department alumna Inga Swearingen, Guy Budd, and Louie Ortega with his daughter, Talia, who is a music major. Vocalist Kathryn Summersett traveled from Bloomington, Indiana, to sing a Handel aria and a cantata by the Baroque Mexican composer Manuel de Sumaya. Professor Emeritus Thomas Davies conducted the chamber orchestra that accompanied Summersett's set — half of the orchestra consisted of past and present Cal Poly string players. In addition, faculty member Susan Azaret Davies played the piano part that Russell wrote for the final song. San Luis Obispo Mayor Heidi Harmon emceed the event.
A new work by faculty member Meredith Brammeier titled "Refuge in the Storm" was performed by Canzona. Russell wrote the grand finale piece, "What Will I Do With This Day?" that closed the evening with a sing along by the musicians and the audience.
At a critical moment in the planning stages, Chris Miller, managing director of the PAC, offered to have PAC Outreach Services sponsor this complex event. He cheerfully said, "It's the right thing to do!" With that sponsorship and that of community partners, plus a generous gift from Joan Gellert-Sargen, the ticket revenues and donations went entirely to disaster relief. Media sponsors for the event included KSBY-TV, KCBX and The Tribune in San Luis Obispo. Over $36,000 was raised, and was split evenly between Direct Relief, the United Methodist Committee on Relief and the United Way. Countless community members strove to make the event a success, serving on planning committees, rehearsing, working with the charities, housing musicians and speakers, supplying food for starving musicians and publicizing the event. To all involved, including the hundreds who attended and/or donated, Russell exclaims, "Hat's off. Kudos. Mil gracias. Thanks!"
Pictured above: Craig Russell at rehearsal and the grand finale. Photos courtesy of Peter Russell.