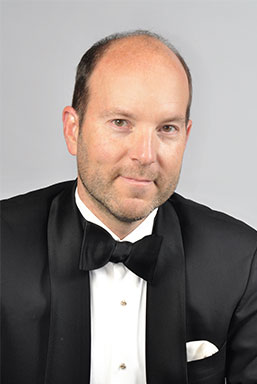 The department is delighted to announce that Cal Poly Interim Director of Bands Christopher J. Woodruff became Cal Poly's director of bands in September.
Woodruff, who served as interim director of bands for the 2017-18 school year, has been associate director of bands since 2006.
"Chris brings a wealth of conducting and teaching experience to Cal Poly," Music Department Chair W. Terrence Spiller said. "We look forward to his building on our wonderful band tradition."
Woodruff earned a bachelor's degree in music education at Louisiana State University. He continued his studies in conducting at Northwestern University in Evanston, Illinois, where he was awarded the Eckstein Band Conducting Grant and earned a master's degree in music.
His principal conducting teachers have included Frank Wickes, John Paynter, Stephen Peterson and Mallory Thompson. In Chicago, Woodruff served as music director of the Spring Valley Concert Band and was a guest conductor for the Northshore Concert Band and the Northshore Chamber Orchestra.
His involvement in the San Luis Obispo music community includes numerous performances with area ensembles both as a conductor and trumpet player. He has conducted performances of the San Luis Obispo Wind Orchestra, San Luis Obispo Symphony and San Luis Chamber Orchestra. As a trumpeter, he has performed with numerous ensembles across California, including as featured soloist with the San Luis Obispo Wind Orchestra.
Woodruff said, "Cal Poly students of all disciplines have an amazing capacity for artistry and expression. I look forward to working with them and with stellar colleagues to bring the Cal Poly band program to the next level, and sharing that with audiences near and far!"