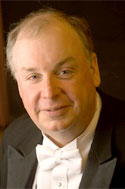 Harry Potter's arch-nemesis is Lord Voldemort. His name is seldom spoken; most call him "He Who Must Not Be Named." An academic process that is viewed with the same dread is called "accreditation."
The U.S. Department of Education says that "the goal of accreditation is to ensure that institutions of higher education meet acceptable levels of quality." Federal funding means that the government can insist that universities prove themselves worthy of that money. For music programs, the accrediting body is the National Association of Schools of Music (NASM), and the NASM logo on our website shows that the Cal Poly Music Department is fully accredited.
We are currently preparing for NASM reaccreditation. The centerpiece is our self-study, followed by a campus visit by two NASM reviewers. All of our faculty and staff are contributing to the massive document, "studying" our personnel, students, recruiting, demographics, graduation and retention rates, curriculum, ensembles, lessons, funding, fundraising, publicity, facilities, equipment, university governance, library resources, outreach — and the list goes on.
We can learn a lot from an honest self-evaluation process. Of course, our goal is reaccreditation: We want to show that we meet — and often exceed — NASM's high standards. But we hope for program improvement as well. After a past NASM review, our ever-supportive administration focused on our equipment needs, and over the past several years, we have received a much-appreciated $900,000 for new instruments. That's a pretty good direct result from the "frightful" process of accreditation!
There; I said the name!
W. Terrence Spiller