in this section
Keep in touch with your fellow alumni!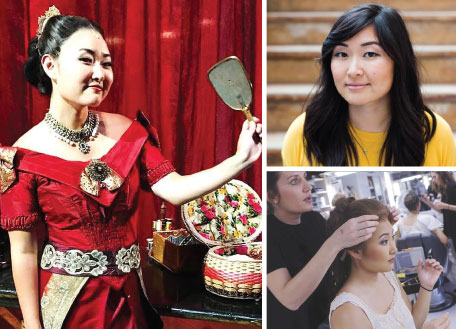 Kristen Choi
Kristen Choi (Music, '09), pictured above, earned a master's degree from the San Francisco Conservatory of Music, and since then has been performing opera professionally throughout the U.S. She made her European debut in Toulouse, France, in 2016 with another Cal Poly alumna, Corrie Stallings (Music, '09). This past year she made her Broadway national tour debut with the Lincoln Center production of "The King and I" as the understudy of Lady Thiang and an ensemble member. For six months she traveled the U.S. and closed the tour with five weeks in Toronto, Canada. While in Toronto she reunited with Cal Poly alumnus Jon Hall (Music, '10), who was performing the role of Fiyero on the "Wicked" national tour. During the tour, she made her debut as Lady Thiang with only two hours notice before going on! Other highlights of Choi's past seasons singing opera include performing at the Kennedy Center in Washington, D.C., as Suzuki in Washington National Opera's "Madame Butterfly," singing Paquette in a production of "Candide" that traveled to Toulouse and Bordeaux, France, and participating as a young artist at the Glimmerglass Festival in Cooperstown, New York, and the Santa Fe Opera in New Mexico. She is currently singing the role of Suzuki in the Lyric Opera of Kansas City's "Madame Butterfly." Choi said, "Performing onstage with some of my Broadway heroes like Jose Llana has been a dream, and this past year so far has been so wonderful for my career as a crossover singer in opera and musical theater … Life as a professional singer is quite a nomadic one, but I am enjoying every moment of it. See you on the road!"
Steve Leitner
Steve Leitner (Electrical Engineering, '76) was active in the University Jazz Band/Collegians. He's been performing continuously for fun since graduating from Cal Poly. His musical experiences include being the principal clarinet/concertmaster in the Newark Symphonic Winds for over 14 years (newarksymphonic.org) and performing on tenor saxophone each year for 35 years with the Santa Band woodwind quintet, and over 10 years with the Newark Saxophone Quartet. Look up the groups' performances on YouTube!
Ryan Putt
Ryan Putt (Music, '06) separated from the Navy music program after eight years, leaving on a high note. His last command understood he wasn't going to be able to be promoted any further. He worked as a staff arranger the last three years of his career and was ultimately an enlisted conductor. He and his wife, Jennifer, relocated to Fort Worth, Texas. She grew up in El Paso and went to Texas Christian University. After moving around with the Navy, she wanted to return and Putt was happy to become a Texan and pursue teaching. He completed all of the course work and most of the observation hours during his last year on active duty, and wrapped up the observation hours and passed his subject matter competency exam after arriving. He made some connections in the Fort Worth Independent School District during his observations and at Texas Music Educators Association in February, and he was recently hired. He is assistant band director at Jacquet Middle School and Dunbar High School. He teaches sixth grade beginning band, seventh and eigth grade bands, and works with the high school — primarily the ninth grade — students.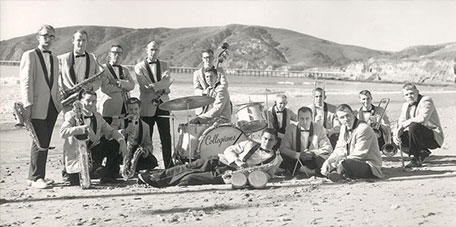 The Collegians in 1961 at Avila Beach, California.
Chuck Stefanetti (in middle) with the bass he found for the department.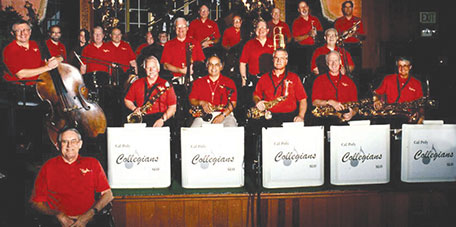 The Collegians in 2002 in the Madonna Inn. Stefanetti at left with the
bass he purchased for himself in 1962, then donated to the department.
Chuck Stefanetti
Chuck Stefanetti (Electronic Engineering, '62) has ties to two department basses. He acquired the very first bass for Cal Poly's Collegians/jazz bands. Though he auditioned for the Collegians in 1959 on piano, there was an opening for bass, so then-department chair Harold P. "Davy" Davidson asked the pianists if any were interested since they knew how to read bass clef. Stefanetti volunteered, and with help from the department's George Beatie, and a lot of self study, he filled the role. Since the department had only one bass in its instrument inventory at the time, and due to scheduling conflicts — even though there were only two players between the Collegians and the Concert Band — Davy tasked Stefanetti with finding a bass that would be used solely by the Collegians. Stefenetti found one at a music store in San Luis Obispo for $100.
Playing bass at Cal Poly began Stefanetti's lifelong experience as a bass player. When he graduated in 1962, he needed a bass of his own to play in local groups. Once again, he started searching, and he finally found one at a pawn shop in Santa Maria, which was also only $100.
Stefanetti played his bass with the Collegians at the group's annual reunions, plus in several other jazz bands over the years.
This summer, Stefanetti donated to the department his bass which he has had for over 55 years. The department is extremely grateful to Stefanetti, not only for the donation, but for finding the first bass for the department's jazz program. How wonderful that it now has a pair!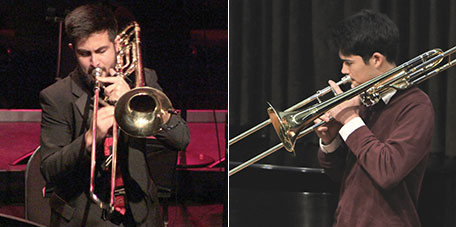 Davis Zamboanga and Kent Giese
Collegians Reunite Again
The Collegians Alumni Big Band celebrated its 51st annual reunion with a performance at the Madonna Inn Ballroom on Aug. 25. Winners of the 2017-18 Collegians Scholarship — trombonists Davis Zamboanga and Kent Giese — joined in the performance.