How Some Students Spent Summer 'Vacation'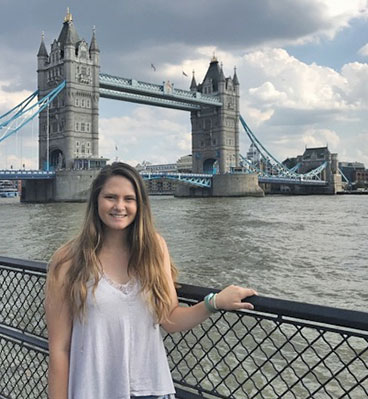 Michaela Donofrio in front of the Tower Bridge
Michaela Donofrio — a music major vocalist double majoring in biochemistry — studied abroad for part of the summer in London. She said it was one of the best experiences she has ever had. She was able to view original copies of music by composers such as Bach, Debussy and Handel in the British Library, and had the opportunity to go to Proms — promenade concerts organized by the BBC — in the Royal Albert Hall. Donofrio said she had such an amazing time exploring the city of London and learning more about its culture and history. "I would definitely recommend studying abroad to any student who is considering it. There are not many opportunities in life where you get to live and study in another country," Donofrio said.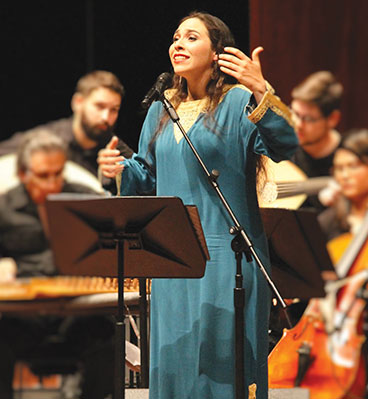 Talia Phillips-Ortega singing with Cal Poly's
Arab Music Ensemble
Talia Phillips-Ortega — a music major flutist who also sings, dances and plays tenor saxophone — took her first trip to the East Coast in August to attend the intensive, weeklong, internationally acclaimed Arabic Music Retreat at Mt. Holyoke College in Massachusetts. While there, she participated in chamber ensembles, orchestras, master classes, lectures and private lessons directed by some of the most prestigious Arabic musicians in the world, including Berklee School of Music's Simon Shaheen; violin virtuoso Layth Sidiq; and Tunisia's Minister of Culture, Sonia M'Barek. The experience culminated with a student concert that showcased the week's musical and linguistic developments. Phillips-Ortega said, "The knowledge, friendship and cultural tolerance that flowed alongside the music changed my life, and I am forever grateful."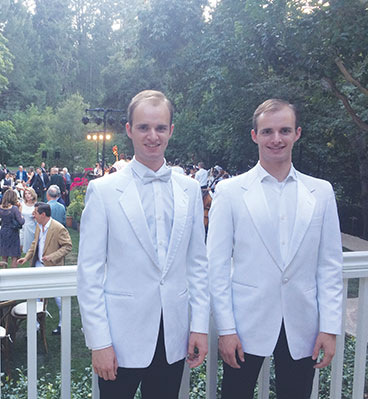 Titus and Timothy Shanks
at Festival Napa Valley
Timothy Shanks and Titus Shanks — twin brothers and music majors — said they had a fantastic summer musical experience. They spent 17 days in Napa, California, participating in Festival Napa Valley as a part of the Blackburn Music Academy. The academy offers a tuition-free immersive training and performance experience for up to 80 emerging pre-professional musicians from around the world. Timothy, violin, and Titus, cello, performed in chamber music and orchestral concerts, workshops, sectionals, and other professional development sessions, and played alongside musicians from the Russian National Orchestra, Metropolitan Opera Orchestra, San Francisco Opera Orchestra, San Francisco Ballet Orchestra and Seattle Symphony.
Music Major Published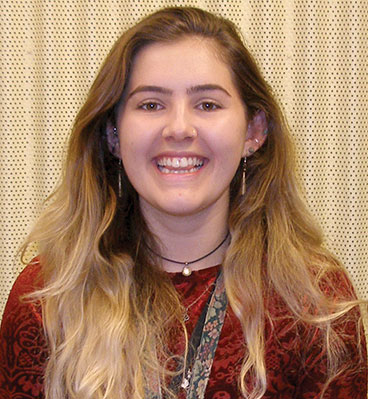 Lois Good
For the second year in a row, an essay written by a music major has been published in the English Department's "Fresh Voices: College Composition at Cal Poly." Lois Good's piece, titled "Disciplinary Action," was among 40 to be selected of 300 submissions. An awards reception was held Oct. 19 in the University Art Gallery.
Watson Scholarship Awardees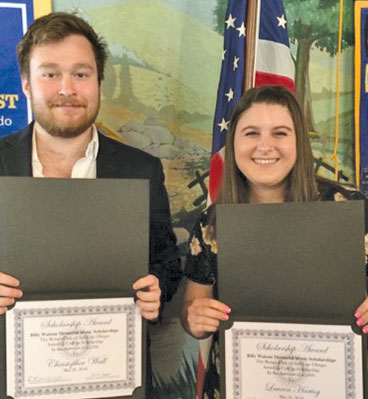 Christopher Wall and Lauren Hartog
Two music major vocalists were winners of the Rotary Club's 2018 Billy Watson Memorial Scholarship: Christopher Wall received $2,500 and Lauren Hartog received $1,000. The awards were presented at the club's annual scholarship meeting in May. Both students graduated at the end of spring quarter, and they each studied voice with Jacalyn Kreitzer. Wall is now attending the San Francisco Conservatory of Music, and Hartog has moved to the Sacramento area, where she plans to be active in choirs, as well as opera choruses, soloist positions and church choir section leader opportunities.