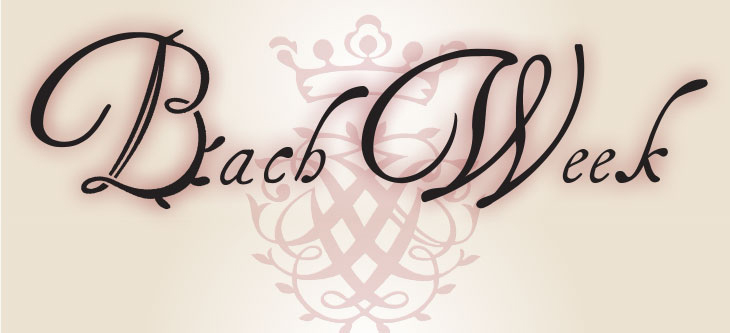 Music and Dance Start the Week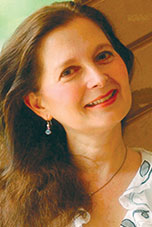 Catherine Turocy
Scheduled back to back on Tuesday evening, Jan. 22, there will be two free events that promise to provide a uniquely rewarding insight into Baroque music. The events bring together an internationally recognized expert in Baroque dance and three of our local community's leading musicians. The first event, this year's Akademie lecture, features Catherine Turocy, recognized as a leading choreographer, reconstructor and stage director in 17th- and 18th-century period performance. She will explore the relationship between Baroque dance forms and the cello suites of J.S. Bach with discussion, examples, dance instruction and audience participation! Barbara Spencer will play examples from Bach's second cello suite to help bring the discussion to life. After a short break, cellists Barbara Spencer, Jeanne Shumway and Hilary Clark will begin a two-year cycle of the cello suites of J.S. Bach. Each will perform one of these monuments of the solo cello literature.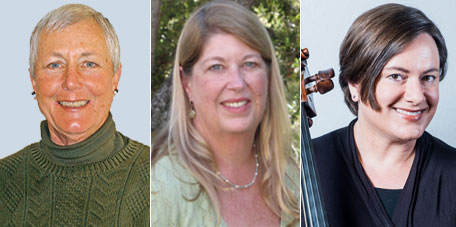 Barbara Spencer, Jeanne Shumway and Hilary Clark
Friday Chamber Concert Expands to Include Vocal Works
Traditionally, the Friday night chamber concert has consisted solely of instrumental music performed by the world-class period instrument ensemble Mensa Sonora California. This year, the concert will expand to include chamber vocal works as well. In addition to instrumental selections, three works for solo voice and small instrument ensemble will be performed. Two works by Handel, "Gloria in Excelsis Deo" and "Salve Regina," will be performed by guest artists, sopranos Cait Frizzell and Katya Gruzglina, respectively. Gruzglina is a graduate of the Juilliard School and an active performer with Chamber Music Silicon Valley as well as Orange County Opera. Frizzell is a graduate of the Royal College of Music and a member of the Grammy Award-winning vocal ensemble Seraphic Fire. Also on the concert will be the cantata "Thétis" by French baroque composer Jean-Phillipe Rameau. This work will be performed by guest baritone Matthew Goinz, a graduate of the University of Arizona and a former member of the world-famous male choir Cantus. The concert will also include "L'impériale" by Francois Couperin, performed by Mensa Sonora California.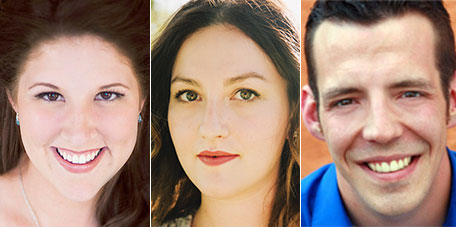 Kait Frizzell, Katya Gruzglina and Matthew Goinz
For a complete list of events Jan. 22-26, visit the Bach Week website.