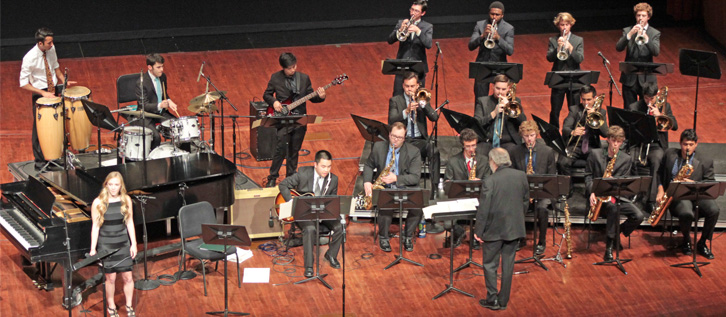 University Jazz Bands
The Cal Poly Jazz Bands combine the professionalism of a working big band with the academic rigor of cutting-edge big band repertoire. They participate in an exciting schedule of performance and educational opportunities, including:
Paid gigs

Sacramento Jazz Jubilee
opener for Bob Newhart
opener for Don Byron
Swing dances
Vina Robles Winery
Pismo Beach Jazz Jubilee
Morro Bay Jazz Festival
San Jose Jazz Society

Distinctive sets of big band repertoire

Ethiopian pop music
TV themes
Chinese folk music
concert jazz
heavy metal
cartoon jazz
swing dance
funk

Foreign tours

London, England 2016
San Juan, Puerto Rico, 2011
Rio de Janeiro, 2007
Beijing, Shanghai and Hangzhou, China, 2004

Auditions

Be ready to do some sight reading, some easy improvisation on the blues, and prepare a short piece of your own choosing.
For more information, visit the auditions link from the Jazz Bands Web page
Students who have auditioned and been accepted will enroll in one of the following (There are opportunities to play in jazz combos as well as in one of the big bands):

University Jazz Band I MU 170-01 or MU 370-01
Rehearsal: MTWF 11:10—12:00 p.m.

University Jazz Band II MU 170-02 or MU 370-02
Rehearsal: MW 3:10—4:30 p.m.
Note: Freshmen and sophomores enroll in lower division courses, juniors and seniors in upper division courses

If you have questions about participating in the jazz bands, the auditions or just want more information, contact Director of Jazz Studies Paul Rinzler at 756-5792 or email him.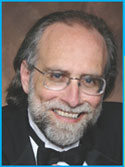 Ensemble Director
Paul Rinzler
Email Dr. Rinzler
Office phone: 805-756-5792
Office location: Davidson Music Center, building 45, room 122
Jazz Bands Website