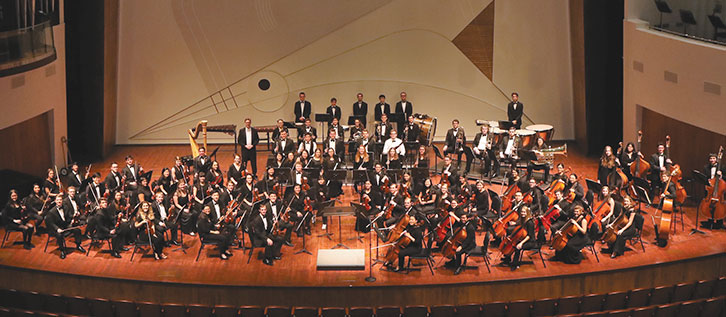 The Cal Poly Symphony …
Is a full Symphony Orchestra of 80-90 players: strings, woodwinds, brass and percussion.

Includes students from almost every major — 75% are from majors other than Music.

Performs one or two major concerts each quarter on the main stage of the Performing Arts Center.

Goes on tours. We performed in the Kennedy Center, Washington, D.C., in 2012; and in Central Europe in June 2016.
Provides subsidized lessons to members.

Has instruments available for check-out to members.
Is a class: MU 174/374.
Works Recently Performed

Tchaikovsky: Symphony No. 4

Music from the movies ("Spirited Away," "Star Trek Into Darkness," "Star Wars" and more)

Adams: "The Chairman Dances"

Marquez: Danzon No. 2

Rimsky-Korsakov: "Capriccio Espagnol"

Duruflé: Requiem (with Cal Poly Choirs)

World premieres by Daron Hagen, Antonio Barata, Meredith Brammeier and student composers
Rehearsals

Tuesdays and Thursdays during the quarter, 4:40-6:30 p.m.
Room 216 of the Davidson Music Center (building 45)
How Do I Join?

Auditions take place during the first week of classes. Over the summer, sign up to audition on the Symphony website. You can also come to the Davidson Music Center during the Week of Welcome or during the first few days of classes in the fall to sign up for a time. Sign-up sheets will be posted across from rehearsal Room 216 on the instrumental music bulletin board.

Sign up for a time (10 minutes) and bring a prepared piece (or pieces) of your choice. Choose music that shows you at your best, not necessarily the most difficult piece you know. You should choose a short section that is fast/technical, and a short section that is slow/lyrical, to give the conductor an idea of your playing.
Questions?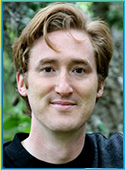 Ensemble Director
David Arrivée
Email Dr. Arrivée
Phone: 805-756-2358