W. Terrence Spiller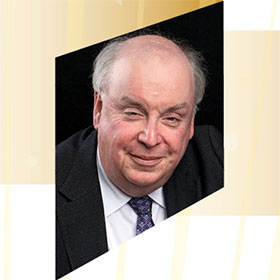 W. Terrence "Terry" Spiller retired at the end of winter quarter 2021 after nearly 30 years of making — and teaching — beautiful music in the Music Department. He served as department chair from 2004-19. He earned his doctorate from USC in 1991, the same year he began teaching at Cal Poly during its first year offering the new music major degree program. It was also then that he met newly hired colleague Alyson McLamore, who had just completed her doctorate at UCLA. Despite their collegiate rivalry, they married in 1994. During Spiller's years of teaching, administrating and concertizing, he had many notable experiences. He performed with vibrant and talented students of Cal Poly's ensembles and his colleagues in some extraordinary halls: the Kennedy Center for the Performing Arts, Washington D.C., with the Cal Poly Symphony conducted by David Arrivée; the Walt Disney Concert Hall in Los Angeles with the Cal Poly Wind Ensemble conducted by Christopher J. Woodruff; and Smetana Hall in Prague with the Wind Ensemble conducted by William V. Johnson. In 2010 he was honored with the College of Liberal Arts Richard Keller Simon Faculty Recognition Award for Outstanding Service. Spiller will continue to teach piano part time in the department for a while. Fishing, travel and reading books are on his horizon.
Sign Spiller's virtual card.
Antonio G. Barata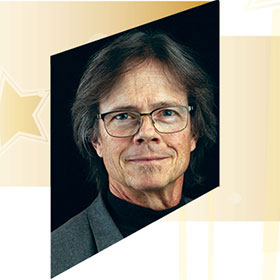 Music Professor Antonio "Greg" Barata, longtime director of the sound design program — as well as instructor of theory, composition and orchestration — retired from full-time teaching at the end of spring quarter 2020 after 35 years. He will teach part time for the next few years. He earned his Doctorate of Musical Arts in music composition from the University of Illinois in 1985, specializing in electroacoustic and computer music, the same year he started at Cal Poly. He founded the Sound Design program, and RSVP is the capstone of the sequential series of classes that evolved to a fully staged production, including theater, musical scenes, musical parody, dance, and live and pre-recorded music. The classes give students the skills and exposure to the technology and media elements needed to combine the composition, performance, soundscape and staging that bring these shows to life. Spring 2020 marked the 25th anniversary of RSVP, which was offered virtually in three video installments due to the pandemic. Barata is an active composer. In March 2020, the Cal Poly Wind Ensemble premiered his piece "Winds of Change." In 2006, he earned a Master of Pastoral Studies degree from Loyola University in New Orleans and is currently a deacon at St. Joseph's Roman Catholic Parish in Nipomo. Barata has generously served the Music Department by chairing almost every faculty search committee!
Sign Barata's virtual card.