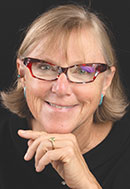 As I write this, Cal Poly is in week seven of fall quarter and still open for business, unlike many other universities in California and across the country. A triumph! We are offering the majority of our ensembles and lessons in-person on campus. Another triumph to announce is that the Davidson Music Center is on the Cal Poly list for renovation and expansion! More details will be announced in a future edition of Soundboard. Good things are happening in the Music Department even as we face significant challenges from a variety of fronts. We are focusing on those good things and want you to share in our excitement.
To secure approval for our face-to-face courses, we worked in collaboration with many supportive partners, both on campus and in the county. Special thanks start in-house: staff members Michele Abba, Druci Reese and Benjamin Reveley produced a 42-page Music Department Floor Plan, signage for Davidson that indicates entrances, one-way stairwells, and "in" and "out" doors for each classroom. They determined where sanitation stations would be placed in classrooms and hallways, moved furniture, and so much more in addition to their daily duties for the department. Thank you also to Debra Valencia-Laver, College of Liberal Arts (CLA) associate dean for operations, CLA Dean Philip Williams, all of our friends in Facilities, the CSU Chancellor, our Cal Poly EOC (Emergency Operatioons Center) Team — especially Tina Hadaway-Mellis — President Jeffrey Armstrong and his cabinet, Chris Miller and his staff at the Performing Arts Center, David Beals, Spanos Theatre manager, and Dr. Penny Borenstein, the county's public health director. We appreciate their input in promoting a safe environment for our students, staff and faculty, and we are grateful for their final approval for our offering in-person classes.  
Cal Poly's Choirs, Symphony, Wind Orchestra and Wind Ensemble as well as the Mustang Band are rehearsing outdoors in various locations. Many essential workers on campus have reported that they appreciate being serenaded, and we are overjoyed to have the opportunity to oblige.
We are also grateful for our faculty and staff who have committed to us for the long-term. They are an integral part of our music community and have played a significant role in our efforts to make a music degree at Cal Poly meaningful, rigorous and fun.
As the saying goes, "The best time to start thinking about your retirement is before your boss does," and some of our colleagues have made that momentous decision. In this issue we celebrate Druci Reese and Barbara Spencer. Stay tuned for the next issue for additional announcements.
As we say goodbye to these friends and colleagues, we are optimistic about starting a new year filled with more music-making and new initiatives. Read about them in the following pages.
We wish your friends and families happiness and good health in 2021.
India D'Avignon